I want to Thank everyone for for the helpful suggestions on my next build. I Wrestled with the idea several nights in bed. I wanted a canoe that I really like, and would be light enough for this Old Man to portage in the BWCA, and yet one that I could handle on the Iowa prairie streams, that I so often paddle.
My original Pearl has glued on gunnels. The only drawback, to use it for a male molded Carbon/Kevlar copy.
Solution, build another stripped Pearl, and use it for the mold.
A few weeks back I paddled with Alan on one of his Back yard lakes. I brought up my Pearl, and we compared to a J Winters Kite, that Alan picked up at the Auction in Minnesota. The Kite was an excellent build ! I liked it, but in all honesty, Pearl was faster, and had more cargo space.
So here I am ! I dug out the old Pearl forms, the RIGHT strong back took longer, but forms are up, aligned and the shear strips on .
As I share this build, I hope to share as much as I can, my method.
Three things I want to note !
1. Masking tape is great ! Actually I think I like it better than packaging tape, as you see here. Masking tape adds a little cushion between the strips and the forms. Things don't slide off of it as easily, and the big one, you can mark on it !
2. C-clamps, I use them exclusively to hold my forms to the cleats ! I can make minute adjustments, by hand ! No power tools or wrenches needed. It took me several years to figure that one out !
3. Lastly, Alignment strips. Two on each stem form. Not only do these tell you at a glance, that they are in alignment, up and down, but left and right ! I leave these on, until I have enough strips on, that I'm sure things won't move.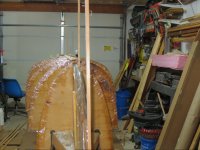 Last edited: