Joined

Dec 17, 2014
Messages

960
Reaction score

278
Location
Looking for some opinions and I know I'll get them here!
Maybe even a few related to my questions......
So my 17' Merrimack get rather unstable when someone north of 220 lbs is in the bow seat. The hull is a kevlar/carbon build and it's a symmetrical canoe.
First thwarts, there is no thwart on the bow side of the yoke. I'm thinking that adding a thwart on a 17' canoe would help, what do other canoes that length have?
Seats - the seats sit an inch or so under the gunnels ( hung from the gunnels) but 11-12" off the floor. I'm thinking of lowering them to 9" (don't kneel much anymore).
Also think I may move them to give more room for gear and pup between them. The bow seat is 25" wide at the front and 56" front the end of the canoe. The stern seat is 18" wide at the rear and 37" off the end of the canoe.
Don't want to make the seats too narrow or leg room uncomfortable. Also, use is mainly lake and rivers with no more than a class II. I'm a putzy paddler so not really concerned about speed and turning optimazation just stability and capacity. I also tend to end up with a different partner on most trips.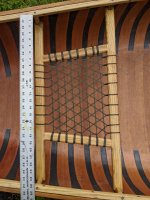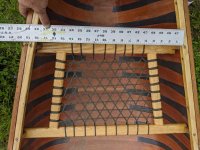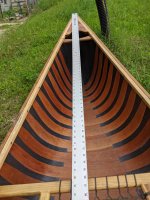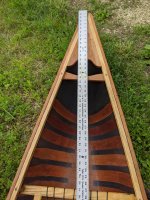 ​​​​​​​