Joined

Jun 12, 2012
Messages

4,036
Reaction score

1,896
Location
I recently received an message from Kim Gass (yellowcanoe) asking if I was interested in a wc canoe she had. I have 4 already, all Chestnuts and I just wasn't looking for any more. I asked around and couldn't find anyone interested who didn't already have many unfinished projects.
Kim and her husband Jim had already stripped the interior of varnish, which came out very nice. She mentioned that the hull was in good shape with only one rib needing attention.
(Jim stripping the hull)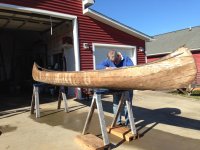 So after a week or so of going back and forth with myself, I picked the canoe up New Years Eve day. It was nice seeing Kim and Jim again and the canoe was as good as Kim had described, if not better.
While there are no records for Robertson canoes serial numbers, Kim's research puts it around 1911, 1938 was the last year they where built. It's a "closed gunnel" canoe, meaning they installed a cap over the gunnels to make for a very neat appearance. It also has only one thwart which is offset from the center of the canoe, a good indicator that this was a courting canoe used on the Charles River, Boston area, possible in a livery. Maybe that can explain the nice smooth planking on the hull, easy living, unlike every beat up Chestnut I have ever worked on.
So now I have a new winter project. Unlike my Chestnuts, this canoe will never be a work horse, it needs to be historically correct, I hope I'm up to the task.