Administrator
Staff member
Joined

Oct 24, 2012
Messages

4,272
Reaction score

2,251
Location
No, I don't mean the folks you've taken your trips with. I mean strangers you've met along the way who are memorable for some reason, such as being just interesting, helpful, entertaining, needing your help, annoying or even obnoxious. They could be other paddlers, hikers, rangers, fishermen . . . whoever.
I'll just mention some folks I encountered on a six day trip in the Adirondacks a few years back, which included the famous 1.1 mile carry around Raquette Falls. This carry was the much anticipated Jekyll-Hyde "highlight" of the trip for me because, given my age (69), not-so-great physical condition, and the almost 90
°
heat, I would have to triple carry. This carry starts with what has been likened to a climb up football stadium steps; its total rise being 187' and decline being 191'—5.5 miles for a triple carry.
So, to avoid a full triple, I decided to try to canoe cart most the carry even though some sources claimed it not to be wheelable. My collapsible canoe cart fit nicely in the deep bow of my Hemlock SRT as I began my trip at Blue Mountain Lake.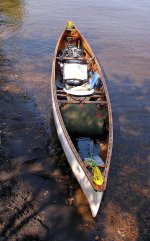 Around noon of the fifth day I entered the mouth of the Raquette River at the north end of Long Lake.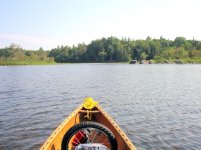 A few miles down is the junction of the Raquette and Cold Rivers, the latter having been called "the wildest and most remote river in [New York] state" (Jamieson & Morris, p. 76).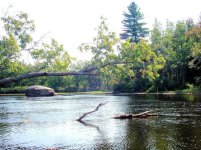 After exploring the Cold River and returning to the Raquette, I passed two massive guys in an aluminum tub engaged in "fishing", which is just a universal euphemism for drinking lots of beer. Being a non-fishing teetotaler, I regarded these louts with some disdain.
Forthwith, one comes upon a subtle hint that Mr. Hyde has arrived . . . Raquette Falls!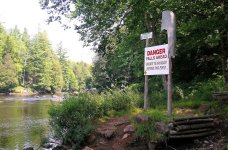 Dreading my triple carry up the football stadium to be followed by a possibly impossible wheeling experiment, I was further embarrassed by two guys and two gals, training for the 90 miler, who hoisted their GRB-Newman racing boats on their shoulders and sprinted up the hill.
"I coulda done that 40 years ago, you show offs!", I shouted in the caverns of my mind.
I was tired and hot, having paddled for nine hours since 6 am. The mid-afternoon sun was pushing 90
°
, and I plopped down amongst my boat and gear at the foot of the hill.
"Hello, sir, could we help you carry some of that stuff," said a voice from the water.
It was the aluminized, beer-swilling louts . . . now transformed into helpful gentlemen of the highest order of chivalry. Struggling with my ancient pride and self-reliance, I finally gave in and said, "yes". So, those two Samaritans carried my canoe up to the first part of carry trail that seemed arguably wheelable.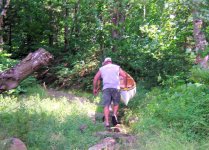 I only had to double carry to that point, at which time I loaded the canoe with all my gear in an attempt to wheel that unknown-to-me mountain goat trail.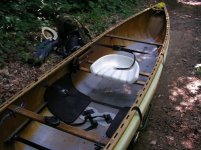 I dumped most of my drinking water to save weight. I muscled and struggled and tugged and pushed and hauled and finessed my loaded gear on a canoe cart for about a mile. Over rocks, around rocks, around corners, up hills and down hills. Frequently, my 100 pounds of wheeled canoe and gear got very stuck in washed-out ditches that would have been easy to step over with a canoe on shoulders or for a tandem team of wheelers.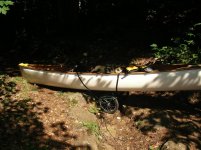 So I yanked and pulled and pushed and tugged. And sweated and sweated.
My heart was pounding against my chest so hard and so fast I knew -- just knew -- I was going to die. But I sort of accepted it. Die while canoeing. I'd thought about that for decades, and decided it would be my preferred way. Just to go out in my canoe . . . alone . . . and die. Leave no trace.
But I didn't die.
I completed the portage, out of water and out of energy.
The resident ranger at the base of Raquette Falls came over to me and expressed concern over my physical condition. He said I Iooked heat stressed and possibly dehydrated. He asked if I had water, and I told him no, I had dumped out all my reserves and would have to gravity filter some more. He told me to just sit in the pool at the base of the falls and cool off while he fetched something for me.
He came back with two cold bottles of apple juice, an apple, and a half gallon of fresh water. He gave me some packets of Gatorade to mix in the water for energy and electrolyte balance. And then asked if I needed any help reloading my canoe.
I probably looked worse than I really was, but this guy was a saint. I got the feeling he was equally solicitous to everyone who struggled out of that portage.
Evening was closing in, so he advised me where all the campsites and lean-to's were downstream. But every one of them was full and I was paddling like a bat out of hell to try to make the next one, and the next one, and it was getting dark, and . . . . Finally, I gave up and set up my tent on a small clearing next to the river that was not an approved campsite. This is against park rules, as you have to be 50 yards (or something) back from the water to wilderness camp. But I was too exhausted to bushwack into the forest.
The next morning a dangerous thunderstorm with high winds was predicted. Down river comes the same ranger in a motor boat, warning campers of the oncoming danger. He sees me breaking camp by the riverside. He says, "I didn't realize yesterday that all the campsites would be filled, and I bet you were in no shape to hike into the woods." I say, "You got that right." He says, "That was a smart and safe decision," and gives me a friendly good-bye salute.
I blasted through the storm that morning . . .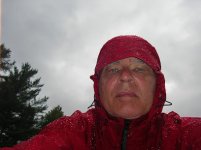 . . . took a whiz right behind those signs because they pissed me off . . .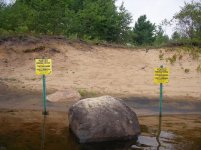 . . . and made it to the takeout under an Edgar Allan Poe sky.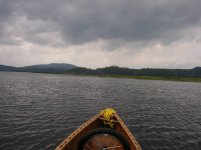 I'll never forget those fit young racers, the two beer-fishers-cum-gentlemen, and that most helpful park ranger.