This isn't going to be a big job, but I plan on doing it right. This week my in-laws who normally keep the kids are traveling and so we parents have to take care of our own kids. So unfair…
Luckily I have a fair amount of work I can do from home via Remote Desktop, and I have my field teams spun up to go do their things. Plates spinning and jugglers juggling, today I finished the rough draft pub reviews, and tomorrow I begin the improvement of our 16' Not-An-Explorer.
It's an Old Town of some belligerently heavy persuasion. I could barely load the dang thing on my truck by myself. A difficult task under normal circumstances, this boat has no portage thwart so it was much harder than I thought it was going to be. Taking it down at home was easier, because I decided to follow the adage "work smarter, not harder". My T-bar hitch rack has extendable ends to accommodate more boats. I pulled one out all the way, scooted the end of the canoe over onto it, then lifted the front end off the cab bar and walked away from the truck so I could set the tip on the ground without raking it down the side of the truck. Yes, I *can* be taught, but it's still a shame I had to learn that particular lesson the hard way.
The Plastic Fantastic: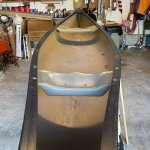 The documentation I have says it's a Discovery but I don't think so. Plastic seats in a Disco? And only one thwart (long since rotted out and not replaced). Not a Disco. I emailed Old Town the serial number but they couldn't tell me based on that. Odd, that. Not that it matters. It's about to be a lot better canoe than it's ever been before. It's getting contour web seats from Ed's Canoe and a new thwart.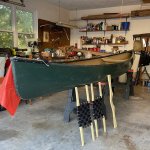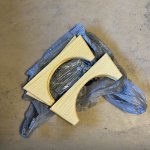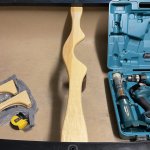 Tomorrow morning I'll take out the original plastic booty-shaped seats which preclude paddling bow-seat-backwards and I'll cut and fit the new seats and thwart. Since the users are decidedly not canoeists, at least not yet, I'll keep the seats low. Then I'll take it all apart again and start soaking the cut ends with drilled holes in Mike's Arkay oil. I want deep penetration in these vulnerable out-of-sight-out-of-mind spots. After I get those soaking, it'll be time to hop on Teams and conduct two interviews for my vacant driller's assistant position.
Questions
1. How long is enough soak time? These are thirsty ends, not a paddle with the grain filled up already. Half a day each end? 2 days each end?
2. The stern seat pulls in the gunwales a bit from the appleseed-shaped end that is most pleasing to my eye. The bow has a better shape. On an over 20 year old plastic boat, does it matter if I push the gunwales out a little? I suspect that being plastic and rather warm it would give me no trouble. Heck it's going to be shaped like a Dali canoe if I leave it on the sawhorses too long.
3. This thing oil cans like a sonuvagun. Could pulling in the gunwales at the thwart help, or would I just be making the handling worse? That new 36" thwart fits right in place without any consternation or fuss, or even any swearing on my part. At least not yet.
Once done with the soaking operation and drying, I have straight spar varnish (rustoleum brand) to top-coat the ends with. I'll probably do a couple full coats on the thwart as well. This boat lives outside, upside down on a well shaded rack.
Last time someone checked the canoe out, and before I let them leave with it, I drilled nice big drain holes in the tips of the plastic decks. I'm also sorely tempted to adopt Mike's / \ deck bungee pattern to manage some painters which in
our
parts won't be for lining (no one has ever cared about the shallow water consequences to the bottom of this poor old workhorse) but for tying off to the bank while fetching charcoal packs and water samples.
In one of Mike's most recent posts he demonstrated the genius of extreme packratting by installing salvaged camp chair cup holders in a utility thwart on his patient. I was gobsmacked. Have you ever been gobsmacked? My mind went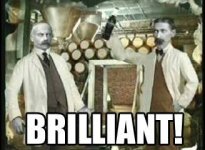 I just threw out a failed camp chair last weekend or the one before that. I had to show my bride what Mike had done, and used it to justify further and more extensive packrattery in my own life. She was mildly amused by the recycling but much less so by my vow to save more crap.
Time to help bathe kids and put them to bed…