Joined

Aug 2, 2011
Messages

215
Reaction score

11
Location
This past July I completed an epic trip, and it deserves an epic trip report. I therefore ask for patience over the weeks as I get it put here. I probably won't even get the first couple days on here before I head off on another vacation, but hope is eternal and so will be the wait unless I get it started. So here goes.
The trip in question was the first-ever successful navigation completely across the State of Rhode Island, north to south, using a primarily inland route. It was not the first attempt, though. The first attempt was made by two college kids, aged 19 and 20, who decided on a whim in 1958 to have a summer adventure paddling across the state in a wood and canvas canoe. It was not exactly the smoothest trip in history. They flipped in the first rapids of the Blackstone, got lost somewhere mid-state, had to get at least two rides, ended up on a stream somewhere that was choked with brush and had barely enough water to float a boat…...even had their boat confiscated for a few days by an angry farmer on who'se property they had left their canoe. Despite these issues, and despite the total lack of anything coming close to a good map, they almost did it. They had to pull out about 25 miles short of their goal because one of them had to get back to school.
The second attempt was made by me, last year, and I have to say I fared exponentially worse than those two kids, despite Google Earth, better gear, and a lot more experience. I even had better beer. I and two others were primed and ready to make history. And then along came Tropical Storm Andrea. Although she was downgraded before she hit New England, all of that extratropical moisture got dumped on our tiny state, and the river gauges spiked. Overnight, the Branch River spiked from about 100 cfs to almost 2000 cfs. In this small river, that is well into flood.
At this point, I knew the attempt was over for the year. Even if we made it down a flooded Branch River and Blackstone River, there was no way we were paddling UP a flooded Pawtuxet River, a significant upstream leg. But, the day dawned bright and sunny, we had already planned to paddle the first segment without camping gear, and we were an experienced group with good knowledge of what flood conditions would bring. We figured it would at least be an exciting day trip. And in that, we weren't wrong.
At first, it was a fun, fast ride.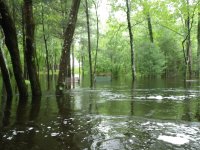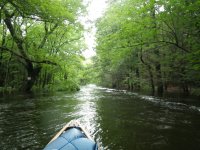 These trestle supports are usually well overhead when we pass through them.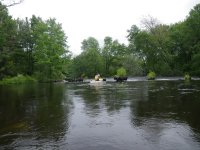 Disaster struck, however, in trying to portage Mohegan Rapid. I had already taken one swim in the preceding rapid, and we were proceeding cautiously. But portaging river left was not an option due to a factory being in the way, and portaging river right took us MOST of the way past the rapid, but put us in a nasty eddy with a must-make ferry past a deadly strainer of trees and branches. Tommy went first and made it. Then Jim went, and didn't. He had time to go back right before dropping in a channel blocked by two branches on river right, and hung on, trying not to flip. He eventually made it through.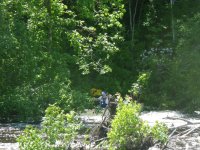 I, on the other hand, did not. As I was ferrying, I was mostly across when the boat just stopped on a surge of water, and I went in and had to swim for my life. I just made it around the edge. My boat didn't.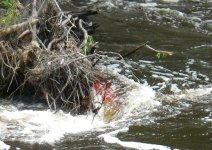 Two days later, when the water had dropped enough for a recovery, this is what my boat looked like.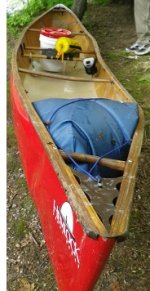 Thus ended the second attempt to paddle across the state. Our crew assembled at a nearby friends field to camp and drink some excess beer that we had packed. I resolved to try again, thinking that the chances of being flooded out two years in a row was pretty low. Just to be safe, I scheduled it for the following July. I mean, what are the chances of another hurricane in July?
Last edited: