Joined

Feb 14, 2020
Messages

664
Reaction score

464
Location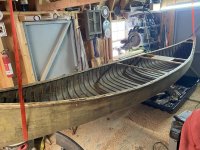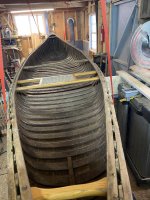 I am finally getting around to starting on this 1948 Old Town 15' 50 Pounder. I took it out of my garage rafters and squeezed it into my shop during the snow storm today. After taking a good look at things it will need 7 ribs, stem ends, inner and outer gunnels, decks, some planking, and obviously canvas, filler, and paint. I have all the eastern white cedar for the ribs and planking stock. I am picking up some Norway spruce for the long pieces. I will be leaving the canvas on while I strip the varnish to help with the mess a bit.
Some of the ribs are cracked badly- some are not. For those who have worked on these, when do you decide whether or not to fix a rib with a backside repair? I know some folks think replacement is easier and stain can be used to color match. Curious of the opinions out there. I have no intentions of restoring this back to factory specs so that doesn't enter into it- not sure what color yet and it was ordered with no seats (not an option for me). I am undecided on putting a keel back on. I am typically not a fan. Maybe I will try it without and tape a rope on it to see the difference.
I am looking forward to getting going on this and hope it will be ready for an ice out trip.
Bob