Joined

Feb 14, 2020
Messages

656
Reaction score

444
Location
After a few wood working projects recently, this sauntered into the shop.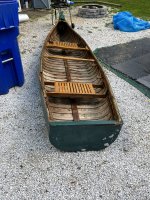 I knew it was rough. I had no idea who made it. I knew it had several not so subtle layers of "repair". The reason I bought it was an easy boat to launch or keep near the water for my 6 year old son and I to fish from. He is a fishing addict. I have a vintage Johnson 3hp that will work well for this.
The deck was covered so I figured that was mush underneath. What I didn't figure was that the upper 1/3 and stem was bondo…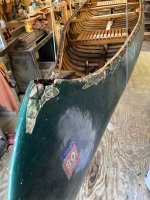 And I was peeling back fiberglass not canvas to discover this. Oh crud.
It gets worse. As I start peeling the onion, I find not one, not two, but three layers of fiberglass and the outmost is encapsulating a rotten outer stem.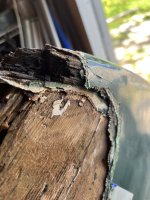 What did I do in a past life to deserve this?
The only bright side is the outermost layer of fiberglass is local to the bow. The rest is coming off easier. I imagine this was applied with older style resin.
So I'm looking at several ribs, couple cant ribs, stem, possible full inwales, outwales, deck, some planking, transom, transom knee, corner transom braces, outer stem, keel, rear seat, canvas, filler, paint, and losing my marbles. I am not going to worry about the rib ends being perfect as I am going to cap them.
Fortunately I can source all of this locally relatively cheaply and I like a project.
Any suggestions on transom material? I would like to keep it as light as possible, but I don't want it denting from the outboard clamps either.
Bob