I recently spent a few days on the Peace River trying out a number of new gear type items. My goal is to discover the minimum amount of gear I can bring and still be safe and reasonably comfortable. For this post, I am giving my impressions of two bivy sacks. One is from Outdoor Research and the other is, I think, Army surplus.
A couple of years ago, I tested an OR bivy sack on the Suwannee River. It was great, totally waterproof, comfortable. But...the hoop that keeps the fabric off your face kept falling down onto my head. After I got back, I called OR and was told that, yeah, they knew that was a problem and I should return it (to REI) and then buy the next version.
So, it's been a couple of year and I bought the most recent OR bivy. They have figured out, amazingly from my point of view, how to keep a half circle standing up without ties or stakes.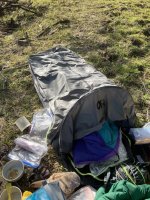 The bivy weighs less than a pound. It is totally waterproof, but breathable. The face screen is smaller than on the older bivy sack, which is disappointing to me. But the hoop keeps the fabric off my face and that trade off is worthwhile. The sleeping pad slides in easily and the sleeping bag on top of it. The combination was toasty on a very cool south Florida night (probably in the low 40s. When I unzipped the screen, I could see my breath, which does not happen very much where I live.)
I am about 5 foot 5 inches tall and there was plenty of room for me. I can see a larger person feeling squooshed on the head to feet axis. There was enough room for me to have a flashlight, a glasses case, a knife and a book.
The four sections that comprise the hoop are made of some kind of plastic that feels pretty flimsy. The pole is very light weight, but slips in easily. All in all, it takes about 30 seconds to set up the bivy. Another couple of minutes to slide in the sleeping pad and bag. And presto, you are warm and dry.
The other bag was some sort of army surplus. It weighs considerably more (about 3 pounds) and is sturdier. As you can see, there are two poles that create a sturdier frame for the head end. There is also a zipper about half way down one side, which would make it easier for taller people to get in and out. There is a second screen on the back side of the head space which probably helps with ventilation. The fabric is tougher (and heavier.) It is supposed to be waterproof, but I did not test it.
It might be a good bivy, but for 3 pounds, I can get an actual tent with more space. It also takes longer to set up this bivy, although not by much.
Finally, here is a picture comparing the two bivy sacks rolled up and in their drawstring bags: