Joined

Oct 29, 2019
Messages

380
Reaction score

398
Location
With a little free time and some cast off material from my recent barn renovation, I decided to make my first collapsible bucksaw. I cobbed together some bits and pieces without focusing too much on finish details, and made my first bucksaw with the intent to bring it along on a canoe trip for firewood processing. I had a collection of old Sven saws with 21" blades, both 'green' wood tooth patterns and 'dry wood' patterns, and I chose the dry obviously as the purpose was to process wood for a campfire.
Here's the result- pretty crude but remember it was a 1st experiment and not meant for close scrutiny! I only had one objection... the blade tends to bind in the deepest part of the cut. Admittedly, it was an old blade but I did sand off the minor corrosion on the blade before using it in the bucksaw. Maybe a new blade would do better, but it appears that the dry wood tooth pattern has little 'set' to the teeth, so the kerf is pretty narrow.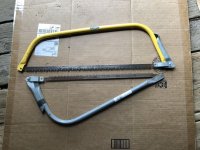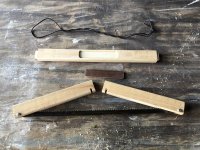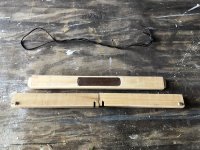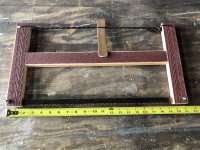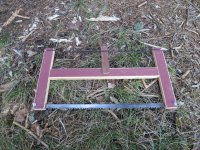 ​
​
​
​
filedata/fetch?filedataid=17851
​
I used the 21" blade from the gray Sven saw above. I ripped kerfs in the handles on the tablesaw to house the blade when folded, mortised the stretcher into the handles and routed a recess in the stretcher to accommodate the 'winder' so it wouldn't get lost when stowed in my portage pack- although any stick found on site would work as well. The whole thing folds pretty small - about 22' long - and is lightweight. With a new blade, I may try to make a more refined product next time. Does anyone else use these? On the whole, I see this as a decent alternative to the folding Silky saws or the Agawa folding saw.