Joined

Apr 30, 2023
Messages

71
Reaction score

83
Location
I'm keen not to shoot myself in the foot going to try a big chunk of the NFCT if not all of it, so I spent today making a PVC portage cart for myself. Bomb-proof? Probably not. Will it get me a hundred or so walking miles? I bet it will. (In fact I bet about seventy bucks it will.)
With a skin-on-frame, I needed a cart that supported the canoe perpindicular to its length, which ruled out buying a conventional portage cart, where the padding is invariably parallel to the length of the boat.
Knocked down. The longest part is the all-thread for the axel, probably 30 inches or so. Duct tape for scale.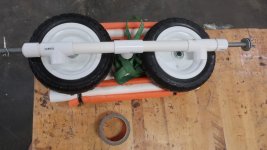 Assembled. Already thinking I need zip-ties, not duct tape, to keep the pool noodle padding on securely.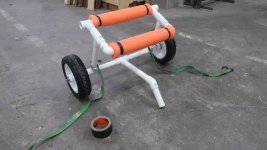 Sacrified a cargo strap, tied it around the uprights for the wheels, and it works like a charm, at least on the relatively smooth concrete of our shop floor.
The 'handle' is for adjusting the position of the padding without too much fuss, and worth the extra three or four ounces of PVC.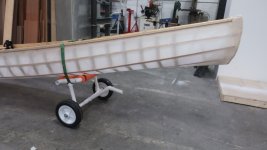 Went with a cotter-pin-in-hole capture, rather than wanting to fuss with bolts, so drilled a few holes in the allthread axel and it works well enough.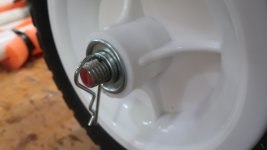 All in it ran me about seventy bucks, including a full can of PVC glue and several extra, discarded options for joints and such, so let's say $60 and a few hours in the shop. It's bulky, and I need to figure out some way to bag it up and carry it on non-wheelie portages, but it's at least another arrow in my quiver for now.