Joined

Oct 29, 2019
Messages

501
Reaction score

626
Location
While in college in central VT, I double-majored in botany and geology. Aside from being truly fascinated by these topics, I think truthfully it was an effort to follow an educational discipline that would allow me to spend lots of time outside.
One of my campus student jobs (along with being the slops guy at the tray return window in the cafeteria) was as a field collection assistant for my geology professor. He was (putting it mildly) obese- we're talking 400 lbs+! Consequently, he couldn't get out in the field in challenging terrain to collect samples for his Ph.D dissertation, so I was paid to go out and collect where he directed. While doing so I also collected specimens for my own botany courses, more specifically the Xantho (Yellow) Parmelia lichens which are abundant in the mid-Atlantic and New England states.
Although my career path didn't take me into the sciences I still retain a curiosity about identifying flora wherever I happen to be. On a canoe trip I make sure to find the time to admire and photograph plants for later identification. Today, while it's cold and rainy outside, I was looking through photos of my last trip in late September 2021 to the St. Regis Canoe Area in the Adirondacks, and came across this photo I took. It's located at site#1 Slang Pond.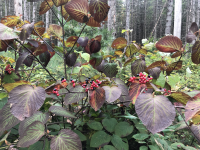 I started 'old school' with my copy of The Flora of Vermont;Seymour 1969, which is a dichotomous key to identifying nearly any flora. In a dichotomous key, the reader is asked a pair of questions, the answer to which directs one to the next pair of questions, and so on progressively to a more specific key for further identification.
Ultimately I landed at the Viburnam family of shrubs. It is the plethora of photographs and websites on the internet however which helped me identify (I think correctly) this species as Viburnam lantanoides; Hobblebush, Witch Hobble, Mooseberry
http://versicolor.ca/nswfsOLDsite/species/Caprifoliaceae/VibLan/species.html
https://wildadirondacks.org/adirondack-shrubs-hobblebush-viburnum-lantanoides.html
Hopefully, this little diversion of mine doesn't take you too far into the weeds (pun intended), but I know there are some of you who like knowing this sort of thing. While pondering this it occurred to me that birds like these berries, and of course, bird poop is a great distributor of seeds from one place to another. Therefore, this also answered a question that I've had about a photo from an earlier trip: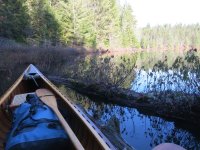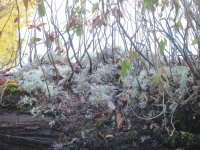 This photo of a floating log at the put-in to Nellie Pond always made me marvel at the opportunistic nature of plants. Clearly it took a very long time for plants to colonize this floating host and it just dawned on me that birds would land on such a log and deposit the seeds they carried internally. I'm sure some seeds have evolved to require the digestive enzymes within a stomach to breakdown the seed coat and make it more viable to grow in a new place!
Last edited: