Last trip to the Carolinas we paddled into Bear Island at Hammocks Beach, which allows no fires, even below the Atlantic high tide line. Joel brought an experimental "Fire in a can"; a shallow cookie tin with a tight spiral of cardboard, saturated to the full line with wax.
It made for a cheery fire, but the cookie tin began to rust in just a few days, and the spiral may have been too much cardboard and not enough wax.
As it oddly happens I have a good ten pounds or more of old candle wax, chunks enough to fill a 5 gallon pail. And plenty of cardboard. I search I vain for a cookie tin shape in stainless steel, and settled for a Dollar Store GraniteWare roaster pan, 3 ½" deep x 9" diameter.
My cardboard spiral may have been too loose; as it unwound a bit a stuck a couple of stubby candles in the middle to help take up space, but dang it took a lot of wax. I should have weighed the empty pan before I began. The finished candle weighs in at just over 6 Lbs, and 5+ pounds of that must be wax.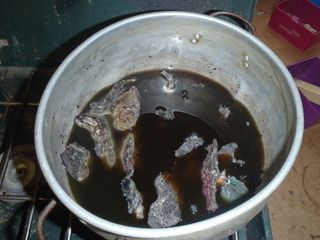 It was a time-intensive wax fill, as I underestimated the amount of wax needed by a factor of 3, and as it set wax sucking craters were continually forming, needing some additional hot wax to fill.
If it works at least as well as the first one I'll be happy. And I have enough wax left to make another, or possibly refill the cardboard wick on that one to some extent.
Hammocks Beach here I come.