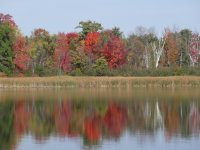 Friday night with another long work week behind us and daylight fading fast, we jumped into the car and headed north to car camp at Hartman Creek State Park near Waupaca, Wisconsin. This put us just down the road from Waupaca's Chain of Lakes, a beautiful spot to paddle.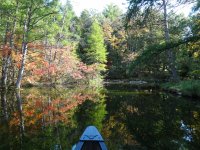 Saturday morning we put in at Marl Lake and started out on a peaceful paddle enjoying the cool morning air. Later into the paddle the lakes began to fill up as the day grew warm. On the paddle out, we encountered quite a cluster of kayaks and canoes in the channels between the lakes.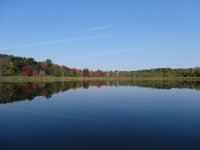 We started at Marl Lake, then we paddled across Shung-we Creek to Pope Lake, then Manomin Lake, then Knight Lake, then Lake Orlando, then Beasley Lake, then Long Lake, then Columbia Lake, then Dake Lake, then Miner Lake. From there, we headed back through the list in reverse, adding Youngs Lake and Ottman Lake on the return. All in all a nice, relaxing day to leaf peep and enjoy the glorious weather.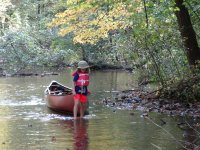 On our way back to the take out, our daughter, who likes to get our goats by saying she dislikes the canoe, begged to portage the canoe through the entire length of a shallow channel all by herself. At the takeout she didn't want to hop out of the canoe. She said she didn't want our time on the water to be over. What a happy moment for her Dad and me.
On this camping trip we also found time for a couple hikes, a sunset at the beach, and some fishing. It ended all too soon as Sunday quickly arrived. Want to see a few more pics or read a couple more details about the trip? Check out
http://mamasbasecamp.blogspot.com/2014/09/camping-at-hartman-creek-state-park-for.html
.