Well I've Dilly Dallied around long enough ! Time to Dive into another Composite build !
First off I want to say Fools Jump in where Wise men fear to tread. And I'm about to take a leap !
Friday, Kevlar, and S-glass arrived from Sweets. I'm very happy so far ! Sweets has been in business a long time, and they know what they are doing ! Their shipping is quite similar to RAKA's but they stock S-glass, and Kevlar in the sizes I wanted !
Earlier this week, I laid Window Heat Shrink film on Pearl, She will serve as my Male mold. Confused ?
The film will serve as a release agent between the two hulls ! I didn't use a blow drier to shrink the film. In the Past, it didn't work well, and so I'm taking my chances. The problem with the plastic film, it doesn't stick to the hull, used as the mold, in the Tumblehome area. It's a pain.
Thus the cloth doesn't willingly follow the Tumble home ! Well Jim ! Why don't you use a paint on release agent ? Glad you asked ! I've heard of people having trouble, getting hulls to release ! Plus, I don't want to deal with removing the release agent, from my plug (Pearl), and I don't want to have to remove it from the inside of Black Pearl ! Even though, a release agent, such as Partal, would probably work !
My plan. Untried, is to wet out the Kevlar, on the Starboard side of the hull. Then,TILT Pearl, and enlist gravity, to hold the Kevlar tight to her tumblehome. For This I attached my Trusty extra legs, so I can tilt Pearl ! The same legs I use when sanding !
I have a back up plan, and that is to clamp some plastic strips to force the wetted Kevlar tight to the mold. I probably will use both plans !
As I said, I'm Only wetting out the Starboard side. Once it has set, say 6 hours or more. I will wet out the Port side, and tilt it the other way, while the resin cures.
I will leave the ends open, for now, but will glass them shut. To remove the hull, I will just slice the ends. I put a couple of layers of Friction tape to provided a little barrier, so that when I cut the ends, I don't scar Pearl.
If all goes as planned, I'll add the Carbon.
I was thinking of glassing it today, but Chickened out ! Maybe tomorrow.
A few pics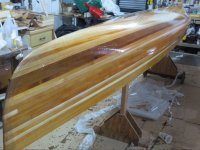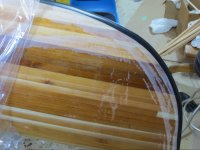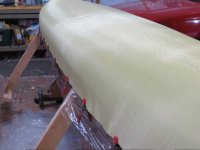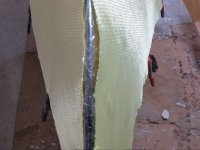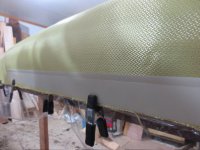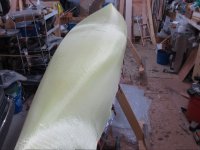 I