Joined

Jun 12, 2012
Messages

3,994
Reaction score

1,797
Location
When I go out solo for 7-14 days, I carry two packs in my 15' canoe. One bag is a Duluth Pack #4 Timber Cruiser at 4690 CI. My food goes into 2 Sealine water tight bags and is then placed in a Duluth Day pack at 1260 CI plus a pocket up front for another 200 CI.
I don't carry a stove or fuel with these two packs, just a twig stove.
If I carry a stove with fuel, I then move my food and stove to a Duluth Wanderer Pack at 1845 CI with added side pockets, making it about 2045 ci.
So, 2 packs, either about 6150 ci with a twig stove or 6730 with stove and fuel.
I like it that the two packs are somewhat equal in size, more cubes in one, the other more weight for it's size. I find it really helps trim the canoe better for different conditions when you can move the packs around.
I also like to throw the food pack on top of the #4 Timber Cruiser pack on a portage, although early in the trip when the food pack is full I sometimes have to make 3 trips if the trail is up hill.
Here's my outfit last August for 8 days. I have since ditched that little tackle bag for just a few fishing lures and jigs in my food pack.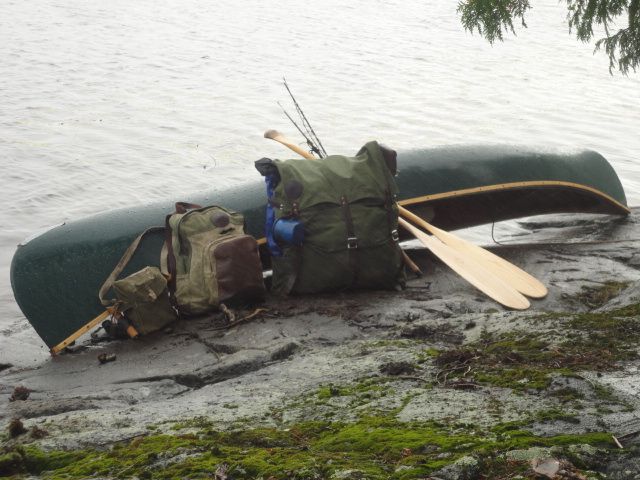 What are others using today. It took me a while to figure out what worked well for me, I'm curious to see others outfits and thoughts.