This is a trip that has been five or six years in the making. First, a little back-story: Before I even thought of remote travel via a canoe, I was looking for an adventurous backpacking trip. I bought a couple of guidebooks about the Adirondacks and began planning a five day trip in late May for the following year. Amongst my research I found it would be really wet and muddy during that time of year. The trip got put on hold and I ended up getting soaked on the Superior Hiking Trail on the north shore of Lake Superior that year. Flash forward a couple of years and I get into canoeing and find out my sister is moving to New York's North Country. I posted a commit about thinking about going out to the Adirondacks, and stripperguy sent me a private message saying if I needed any info on the area just ask. That trip also got put on hold due to my buddy planning a weeklong backpacking trip for his bachelor party. Forward another year and I think I can now make the trip. I sent stripperguy another PM with some info on what I think I would like to do while there. A few emails latter I settle on a plan. Now to the report.
Sunday June 8 and 9, Lake Lila
My sister and I leave her place around 6:00am headed to Saranac Lake via Tupper Lake. Upon recommendations I have seen and read we arrived at St Regis Outfitters to pick up our rental canoe. We chose upon discussing with the guys there, a Souris River Quietco 17. We get the canoe loaded and make the Lake Lila parking lot by 11:00am. The guys at the outfitter said it would be the worse road I had seen. I did not think it was bad at all. A short time later and we are at the landing ready to push off.
My first view of an Adirondack backcountry lake.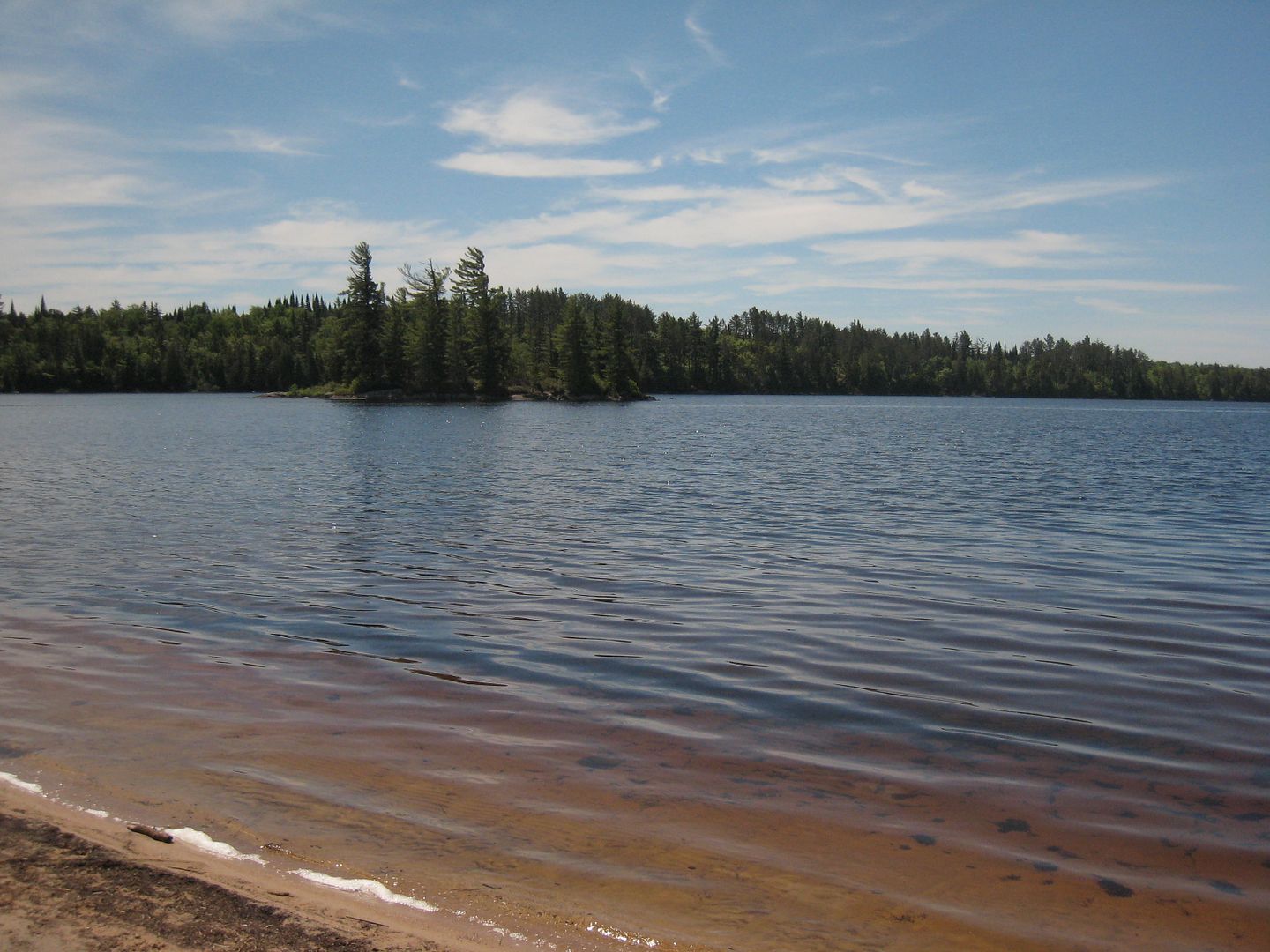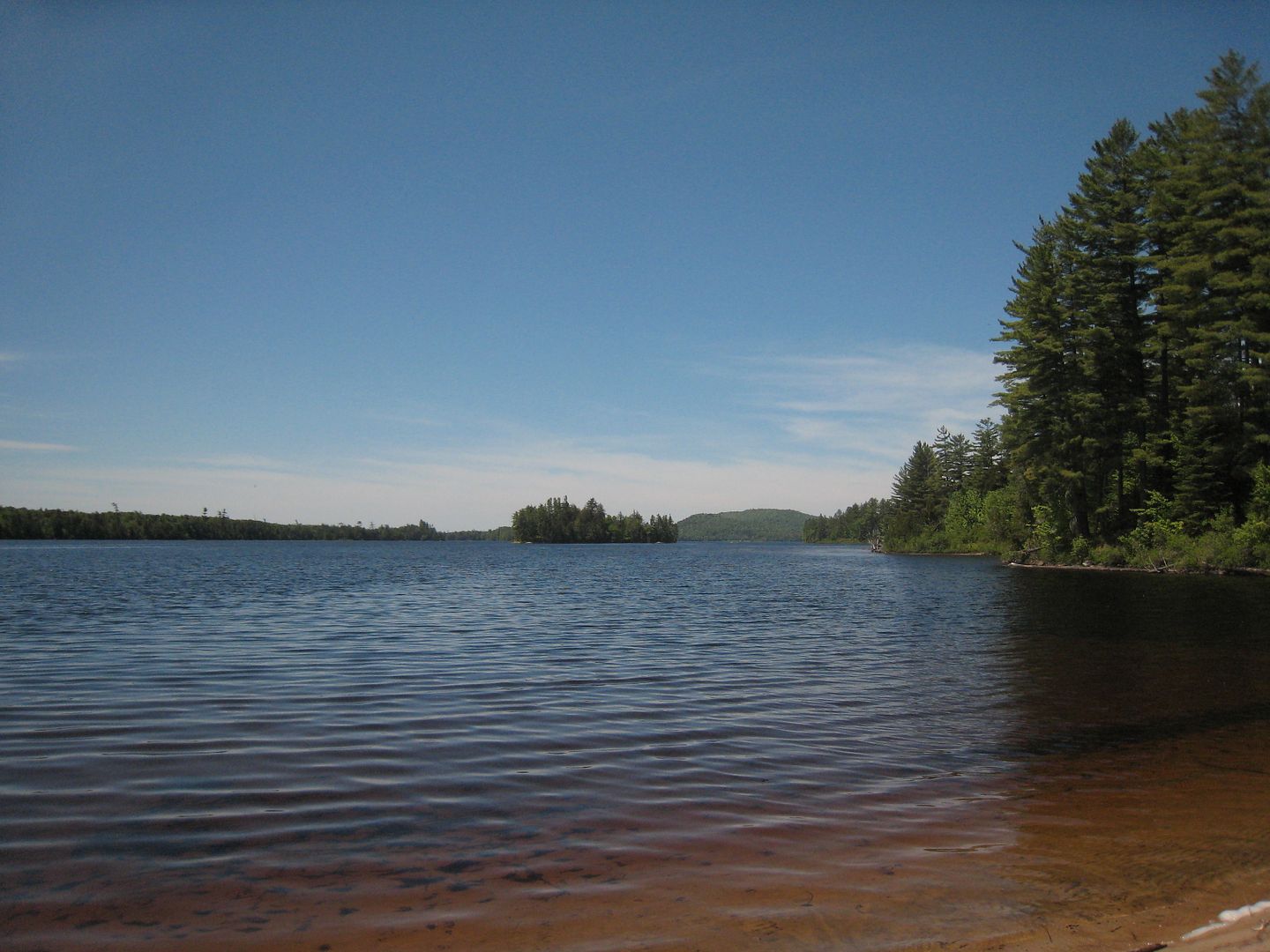 We had packed a couple of sandwiches for lunch and kind of wedged ourselves in between some large rocks in the lake to eat.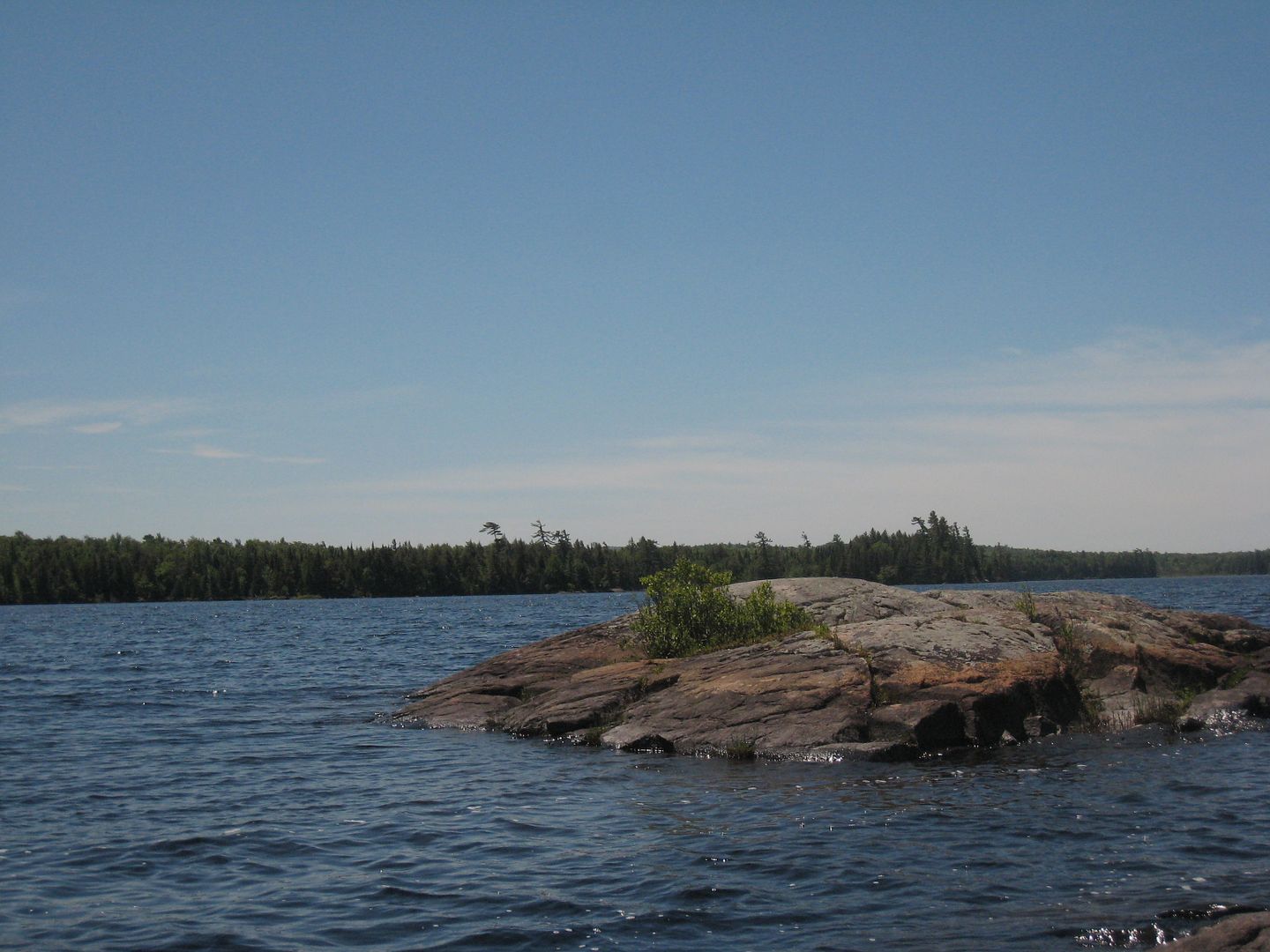 We paddle down the north shore amazed at the beauty of the area.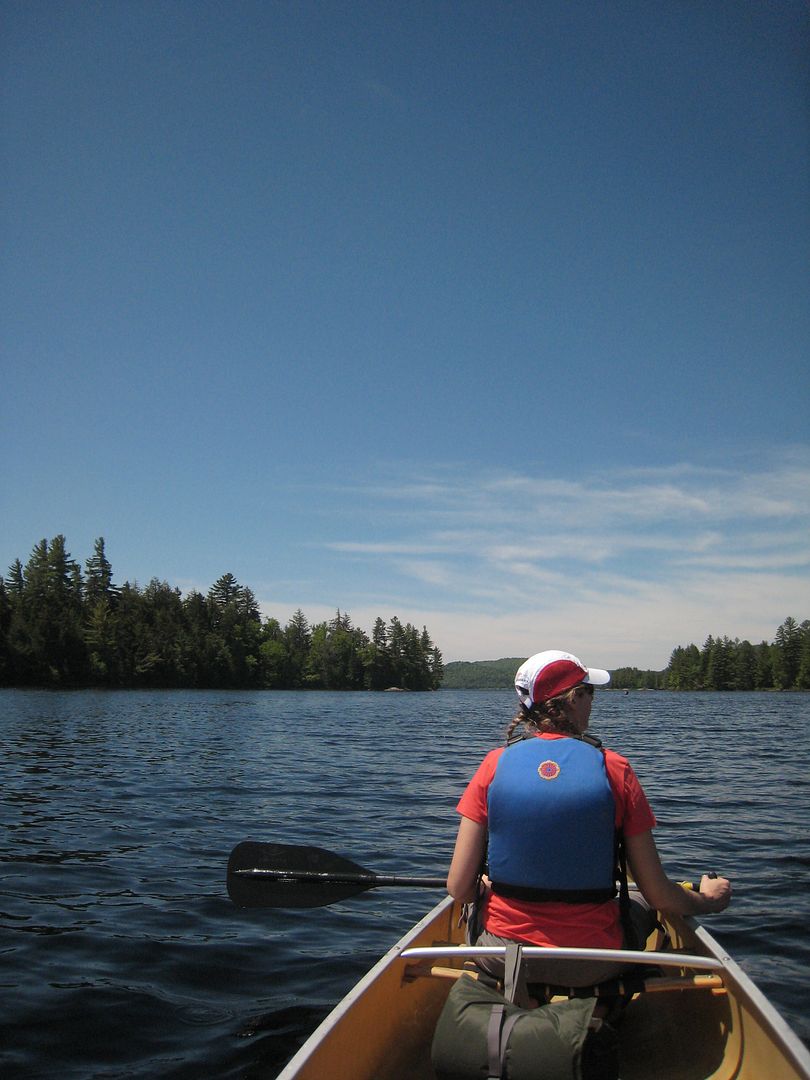 We head to the south shore looking for a great campsite.
The first one we come across fits our image. I think it is the one everyone talks about being really nice, so I will not say which one. We get our camp set up in short time. It was suggested we hike up Mt Frederica. We head off down the lake to find a place to land the canoe. We left the canoe around 2:00pm and make the summit around 3:00pm. This hike was not too bad and the views are stunning. Well worth the hike.
The view towards the High Peaks.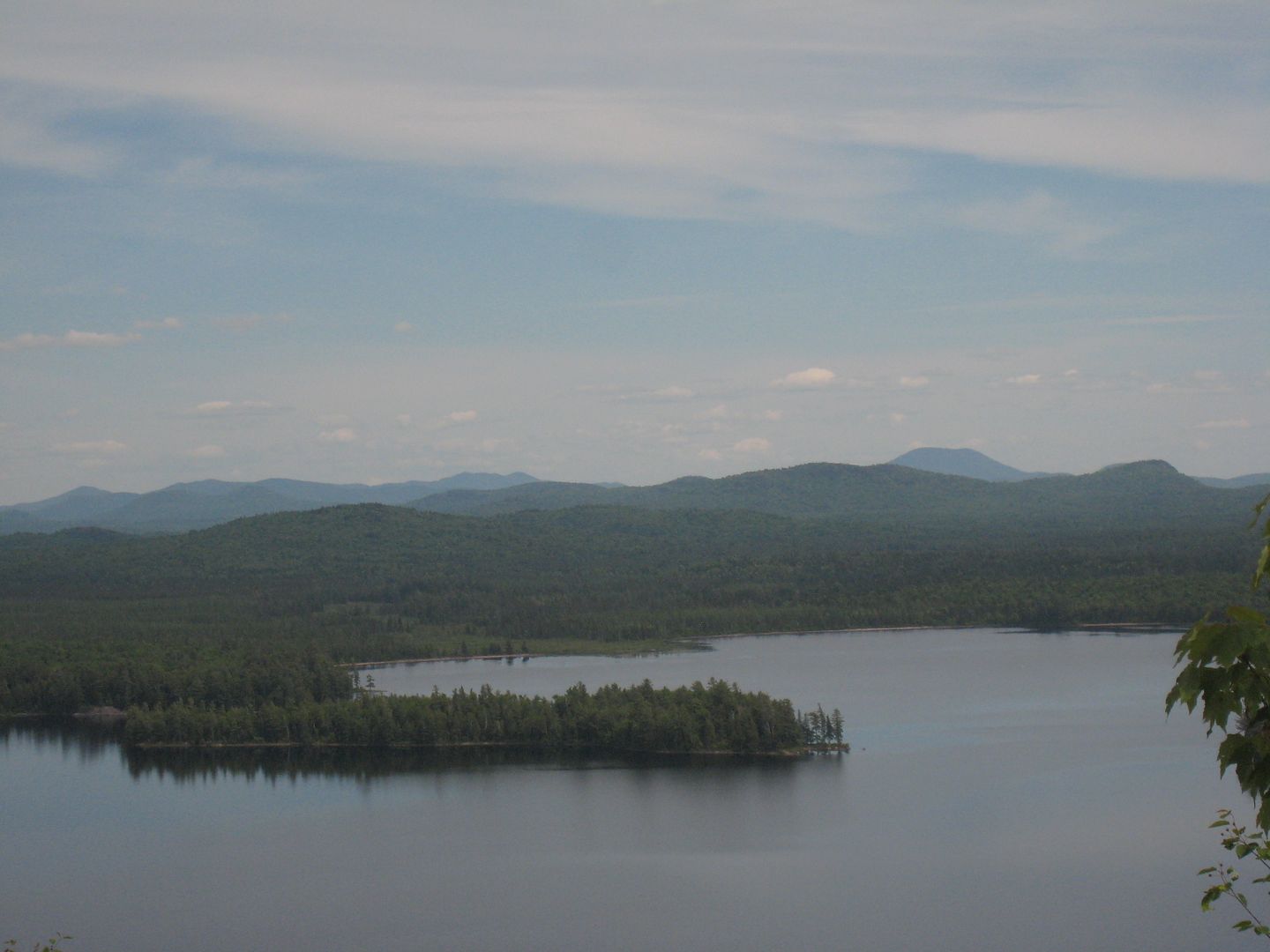 I think this might be Mud Pond in the distance.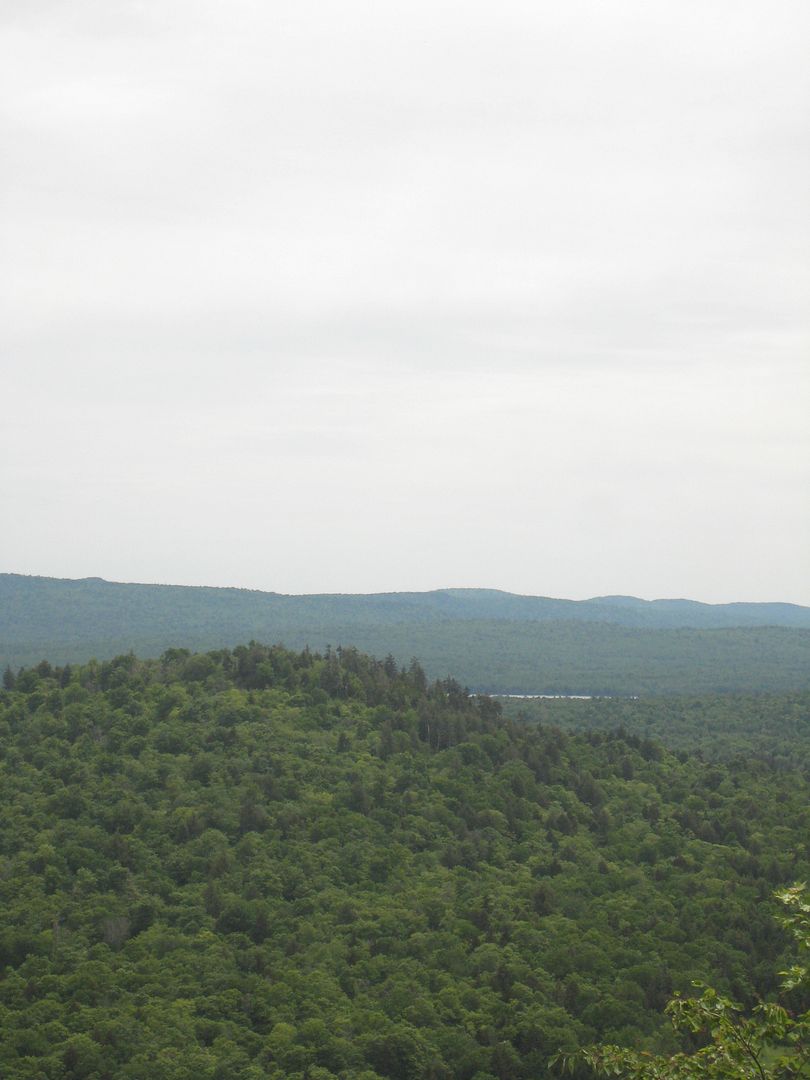 More views.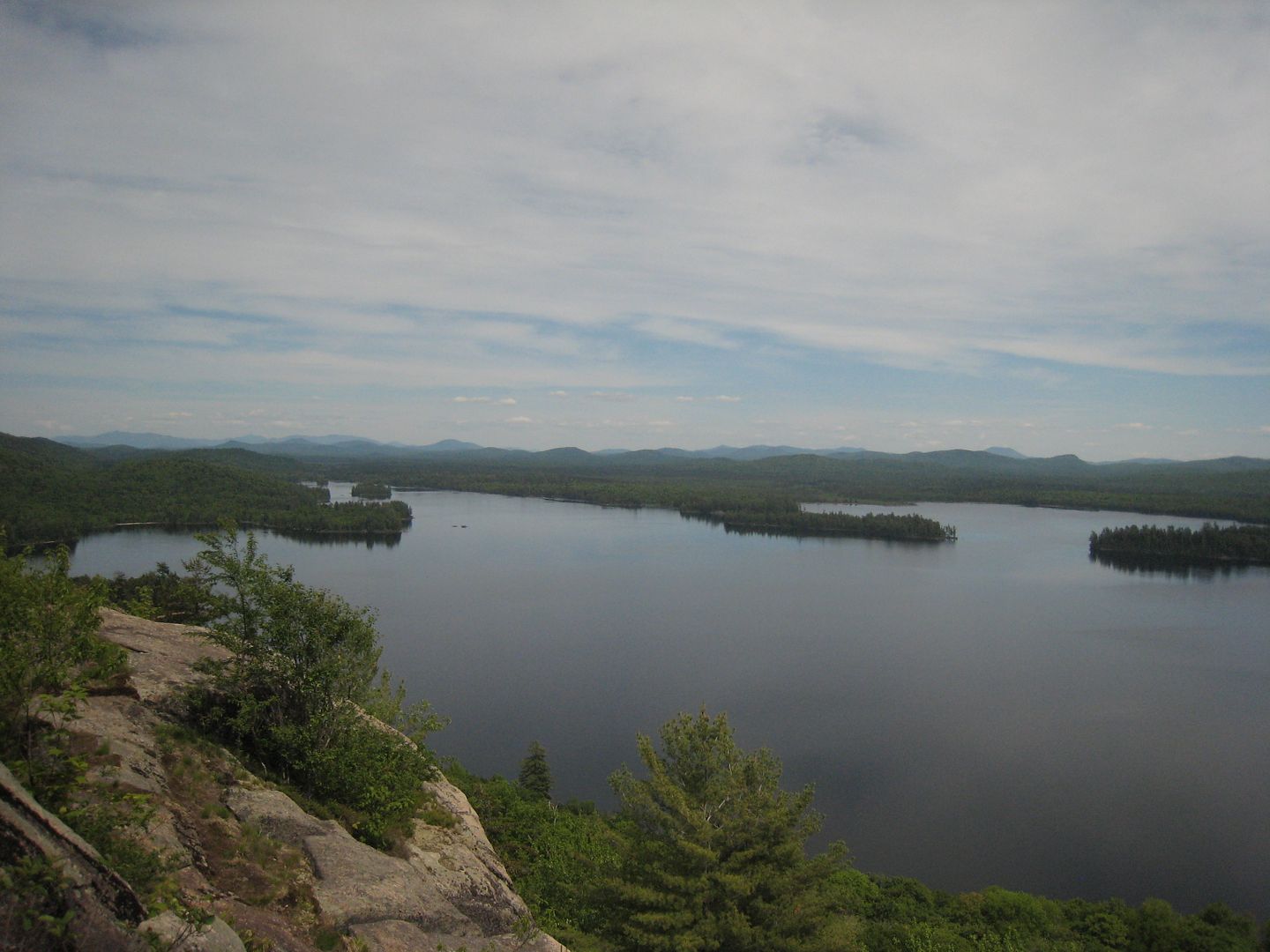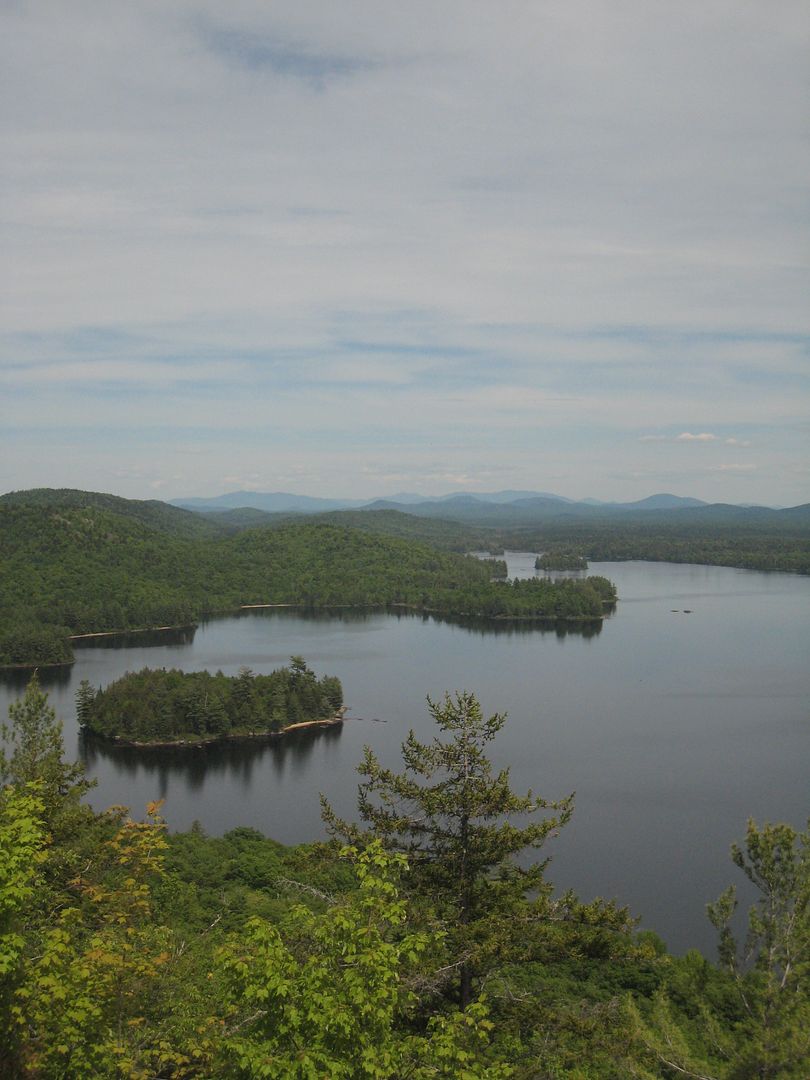 A while later we head back down. A grouse about four feet spooked me. It took off down the trail screaming.Something moving from where it had left caught my eye. It was a baby chick running deeper into the woods. We make it back to the canoe in about a half hour and start back across the lake.
A view back towards Frederica.
We arrived back at camp a short time later and made dinner. Afterword's, we walked around the area for a bit. We chit chatted for a while any place the wind was blowing to avoid the bugs. The flies were there but bearable. We went to bed around 10:00pm. The frogs were really loud all night and kept us up.
I woke up around 6:00am to a perfectly still lake with stunning views.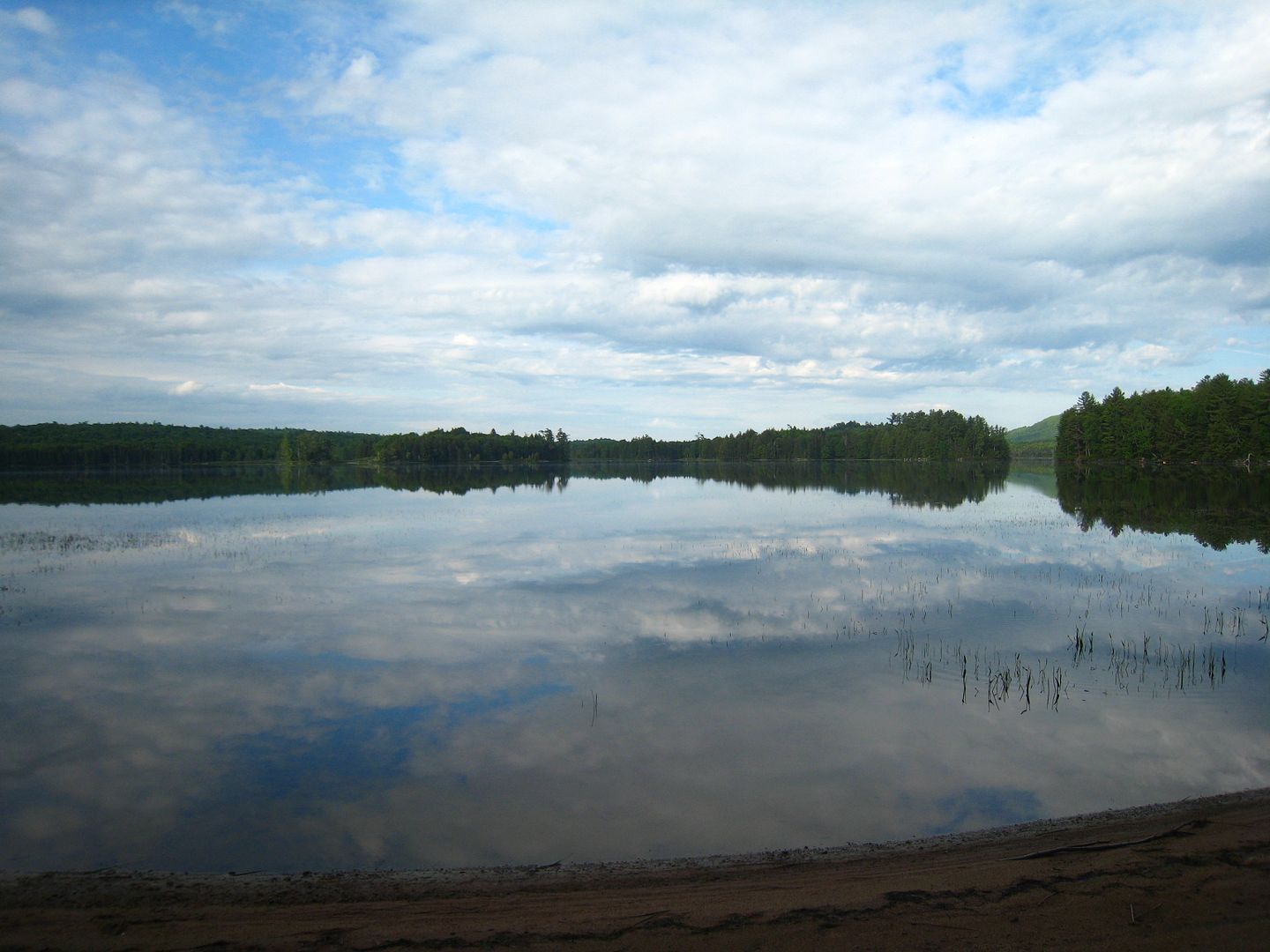 I did not pack enough stove fuel to boil water for breakfast. Some Birch bark, a few twigs, and we have a fire hot enough to boil water in the freshly cleaned out fire pit.
Luckily I had some leather gloves to handle the now soot covered pot. A little sand scrubbing later and we were ready to pack up camp. I gave my sister the option to paddle up Shingle Shanty Brook or head to another pond. She would later regret heading out.
June 9, Cheney Pond
The access road was a little hard to find coming from the west. The signs were tucked back a little and facing east. As everyone says the landing and adjacent campsite are dumpy. We both decide that Cheney is no Lila and load the canoe to head down the Boreas River.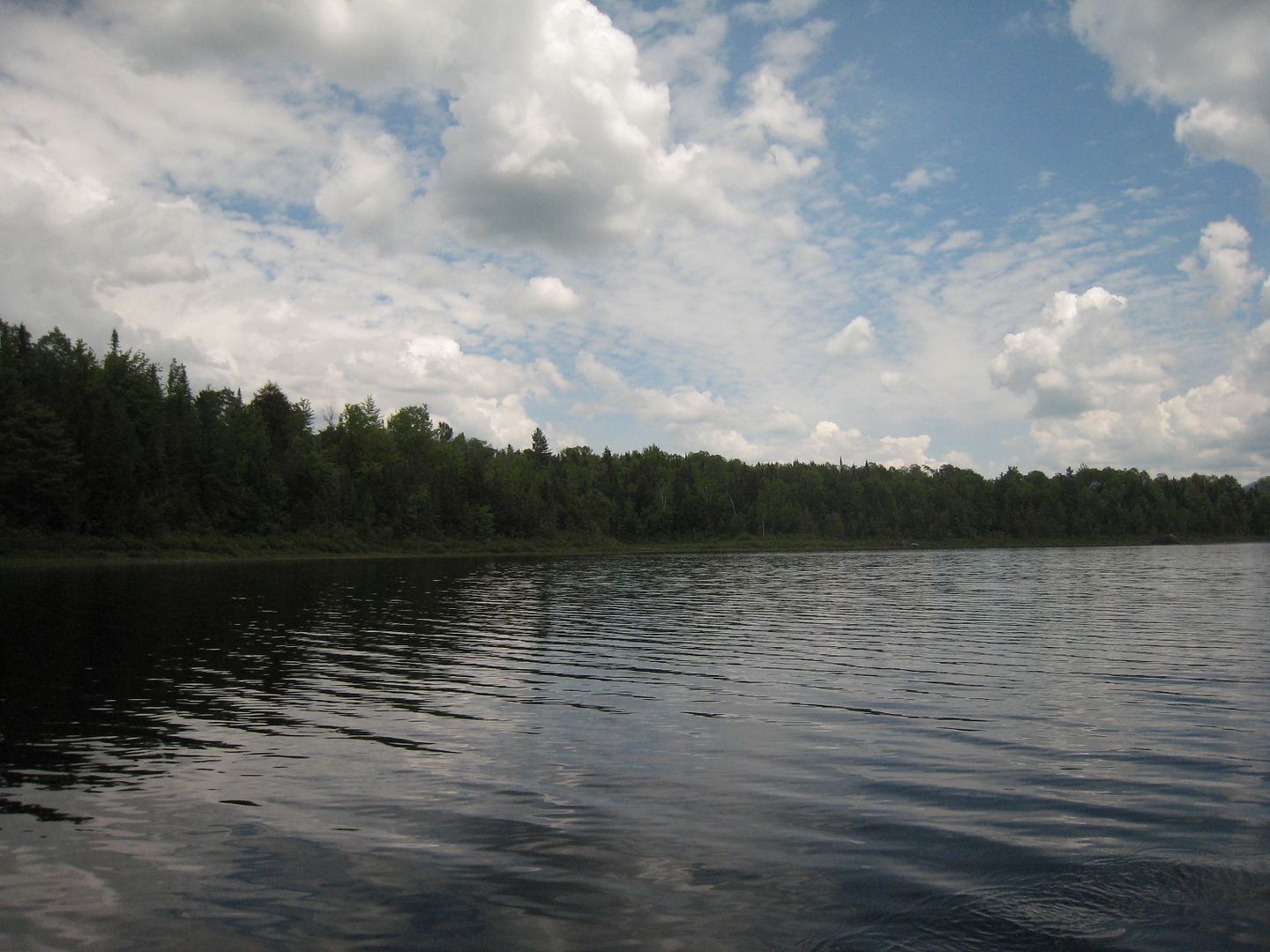 We notice a couple of large rocks on the north shore. We called them chocolate pot rocks due to their resemblance to the chocolate pots in Yellowstone National Park.
We made it to the really shallow outflow and drag and line the canoe down.
We make it to the river and than my sister notice this.
She said there is no way we are going any further with that lurking around. We decide to check out the lean-to. The beach is really nice.
We saw the same bear print all over the area around the lean-to.
The view out.
We had planned on camping down the river someplace, but since she nixed my Boreas River plans we headed out. I had already planned to camp the following night at Harris Lake State Park, so we headed there. When we arrived we found their showers were out of service. I pulled out the maps and we head towards Long Lake.
cont.
Last edited: