Joined

Jul 11, 2014
Messages

4,722
Reaction score

1,089
Location
lure (loor)

verb
tempt (a person or animal) to do something or to go somewhere, especially by offering some form of reward.
noun
something that tempts or is used to tempt a person or animal to do something.
Fishing lures have been around for at least 2,000 years, first having been made out of bone and then thin bronze. The first modern fishing lure is said to have been commercially made in the United States in the early 1900's.
"
According to the Antique Angler, a quarterly newsletter devoted to old fishing tackle and the history of the sport, the first commercial artificial lure was a spoon developed by a Vermonter, Julio T. Buel. He dropped a spoon of the household variety overboard, and as it oscillated down through the water a fish seized it. This launched him on a successful career in manufacturing fishing spoons.

It is difficult for today's young angler to realize that there was a time when tackle shops festooned with an angler, not finding what he wanted, often manufactured his own. I recall, on the New England seacoast in the 1930's, when extremely effective trolling spoons for bluefish, mackerel and pollock were fashioned from the headlights of automobiles. They had just the right curve and flash.
The most recent issue of the Antique Angler - the address is Post Office Box K, Stockton, N.J. 08559- also observes that the earliest commercial wooden lure, or plug, was probably made by the Comstock Company of Fulton, N.Y., in 1833. The spatre of wooden lures didn't begin until late in the century, however, when James J.Heddon of Dowagiac, Mich. formed his own lure company. Legend has it that Mr. Heddon, like Mr. Buel, also discovered the efficacy of his lure in a serendipitous manner: He is said to have been whittling a stick on the edge of a mill pond while waiting for a friend. When he tossed the stick in the water, a bass promptly engulfed it. This, the story goes, gave Mr. Heddon the idea for his first wooden plug
." Nelson Bryant, NY Times 1981
I have fished myself only occasionally since a child, and haven't really acquired the zeal for it. Not yet. But there have been moments.
I remember standing on the banks of the Grand River in S. Ontario with my fishing mad uncle Arch, feeling bored and neglected as 10 year olds do, and holding a rod and reel "waiting for the big one" I was convinced would never come. But it did. All of a sudden the fishing pole lurched towards the river with me holding on for dear life. The line screamed while my uncle barked with crazy joy "
Don't let go
!!" He helped me reel in the biggest blackest slimiest ugliest river monster I'd ever laid eyes on. He called it a Channel Cat. He warned me not to touch it, which of course I suddenly felt the urge to do, and learned why not to. He soon released it into the river perhaps to haunt other 10 year old boys that summer.
Over the years other fishing mad uncles treated me to early morning expeditions through the predawn mist to their secret spots on Lake Temagami. And by noonhour they'd be returning me to the dock empty handed and empty headed. No luck. No fun. No more of
that
nonsense.
A decade ago I and some friends went on a fishing charter from Cape Hatteras out in search of big fish. We all held on to whatever we could as our 30'er crashed it's way through wave action out of the sound. Soon the gentle ocean swells rocked us as we motored out to deeper water. I fought off seasickness laying on the cabin floor focusing on a point on the ceiling thinking "I'll never go fishing again." Eventually we arrived and the 1st mate rigged us up. It turned out to be a beautiful day with the ocean an impossible smooth blue green glass. I caught a yellowfin tuna! Most of us were rewarded that day with tuna and mahi mahi, all of which we ate later in the OBX trip. And although the trip had been memorable I decided it would be my last attempt at fishing.
But a few years ago my wife and I accompanied some friends on a canoe trip that included fishing, or was it the other way around, maybe it was a fishing trip with some canoeing? Below charming rapids, in many sweeping bays, and along promising stretches of languid waters the canoes would float quietly while lures were cast and hopes were gambled. After instruction and encouragement from my fellow trippers I finally caught one! And I felt the
lure
.
I got to thinking about lures this past summer as I was cleaning out my van. I came across a small collection I'd kept in a pocket just in case. The Mepps have seen no water but the Williams has. Oddly enough I found that many years ago up in a tree in an Algonquin campsite 20 feet above the lake. Strange place for a fishing lure.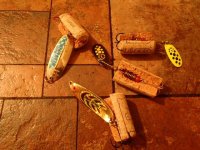 Another strange lure story for you. I was recently sitting on a bench beside a favourite cycling trail overlooking a marsh with rolling farmlands beyond, enjoying some rich (spiked) hot chocolate soaking up the sun and splendid view, when from the wetland below up flew a hummingbird. It raced right up to my bench and hovered within a couple feet of me flitting from side to side sizing up what I had sitting beside me. The little Rufous stayed for less than a minute before darting back down to the cattails and marsh marigolds. I'm not sure but I think I know what lured it to me. My Parisian Thermos I bought on a trip to the City of Light a few years ago. (They didn't have plaid.)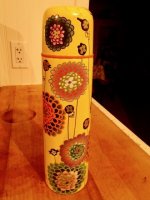 My Williams Wabler
was
my favourite lure, until the Thermos incident.
Show us your favourite lures
!!
Last edited: