Joined

Jul 25, 2012
Messages

838
Reaction score

3
For some time now I've been intrigued by the "Whelen Tent" from days of yore. I guess the big draw is the idea of being inside, out of the weather and still have the campfire to enjoy. By the way, my campfire is made in a very simple fire pan made from a cut down 5 gal. kerosene tin, some times with a Littlbug Sn. stove resting inside and sometimes just the open campfire confined in the pan. One way or another I've always got a large pot of water suspended over the fire, which acts to dampen sparks and defuse the heat directly above it.
When I'm thinking of shelter the first thing that comes to mind is Dan Cooke, he's willing to make a Whelen tent and was rapid answering my e-mail to him. The tent would be made of the same material that he uses on his wonderful tarps and given that I want to snug up to the fire, I decided it would be unwise on my part. Gosh, I like that guy though.
I checked out the Northwest Woodsman, his tents are canvas and interesting but not Whelens. I sent him some questions about his tents but received no answer.
Frost River carried a Whelen made from I believe it was seven ounce fire retardant canvas. I placed my order with them. The tent was defective and I returned it. Same exact problem happened to a guy over on Winter Trekking. I lost my money on the shipping both ways but did get it back on the tent.
Finally made a order with Tentsmiths for their Whelen. It's made from the standard tent canvas, I believe 10 ounce, so it is a little bit heavier, but super well made. Mine weighs in at fifteen pounds. No way around it: there it is, if weight is important to you this won't be for you.
But my stars do I love it!! Can't wait till spring!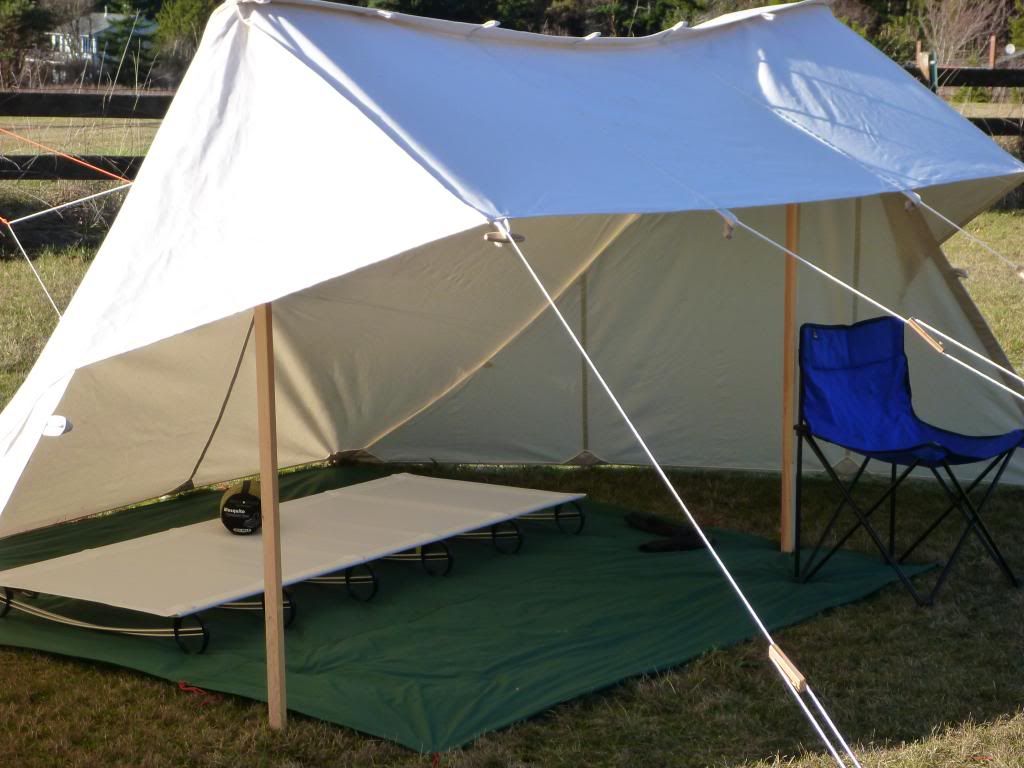 The back wall is eight feet wide and my cot is six feet. I need to develop some tie out that come off the ridge and out to the side to take care of that "droop" , I'm still playing with how I pitch it.
I asked the Tentsmith folks to place some tie tabs on the back wall so I could pull the back wall out a little bit, they were very willing to do it. Really, you couldn't ask for nicer people. Never made me feel rushed or like I was small potatoes. I don't know how often I'll use those tie outs but it's nice to have them in place.
I'm still fiddling with the tent, trying different ways to putting it up. Many times the drawings and photos of this tent show a horizontal ridge pole that the ridge is lashed to; and that's dandy if you can find the poles when you're read to make camp. I though that I'd see if I could make internal poles without hurting the floor space too much. (and of course no damage to the tent!)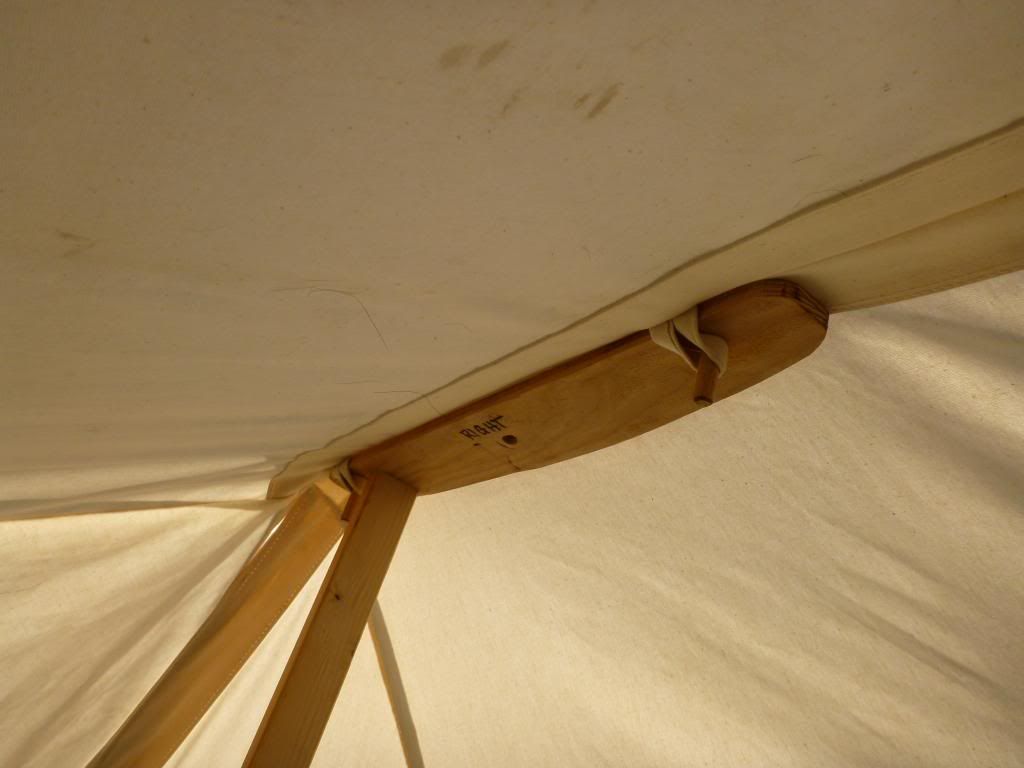 What you're looking at is the inside of the tent, right hand side, to your left and up is the front flap, to the right is the back wall of the tent. That flat board with the writing has two pegs that catch loops made in the tent to suspend bug netting. The board is all rounded off, so no sharp edges. The tent pole has a stub of a nail in it's upper end that lodges in the hole in the board. That hole by the word "right" didn't work so good, so I moved the hole over. Once in place the setup seems to be snug and firm. These poles are 5'3" tall, I'm going to try some taller ones just to see how I like it.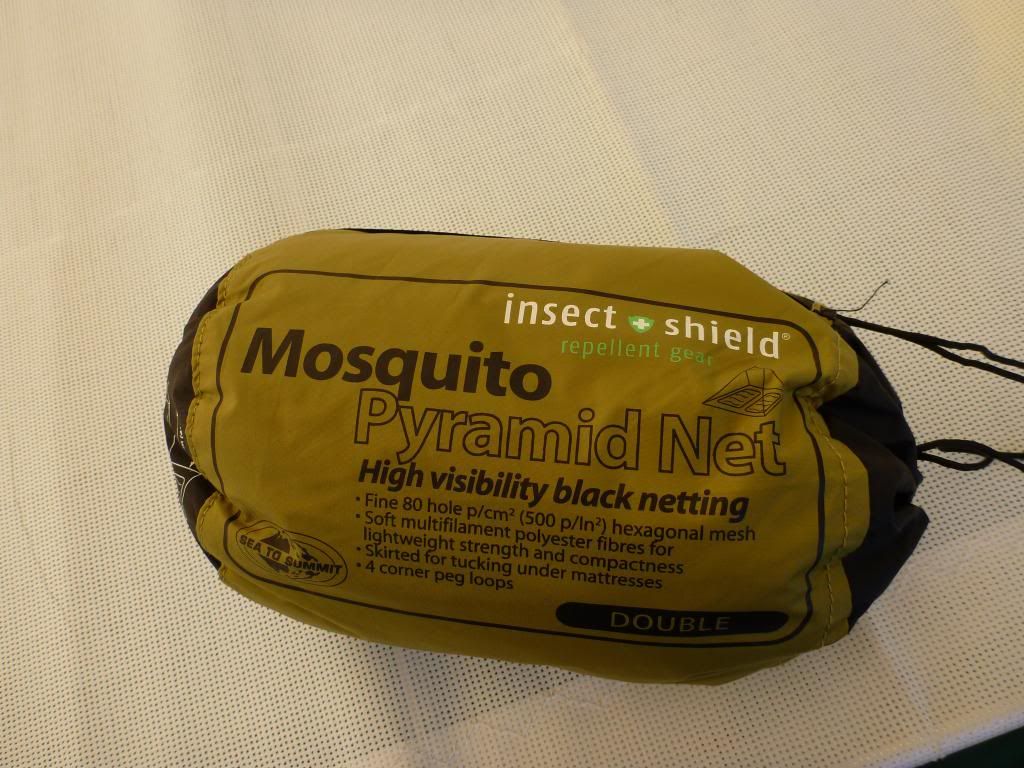 This is the set up I got to deal with the bugs. By and large every time I get a good look at a bug he's usually the worse for wear, so I don't have any idea what his size was before he meet his end. Will this mesh hold out little bugs? (the alive and well ones) I got this from REI and it said it's for two, my hope is Rowan (the pup) will calm down and sleep beside my cot. I hang it from two tie offs inside.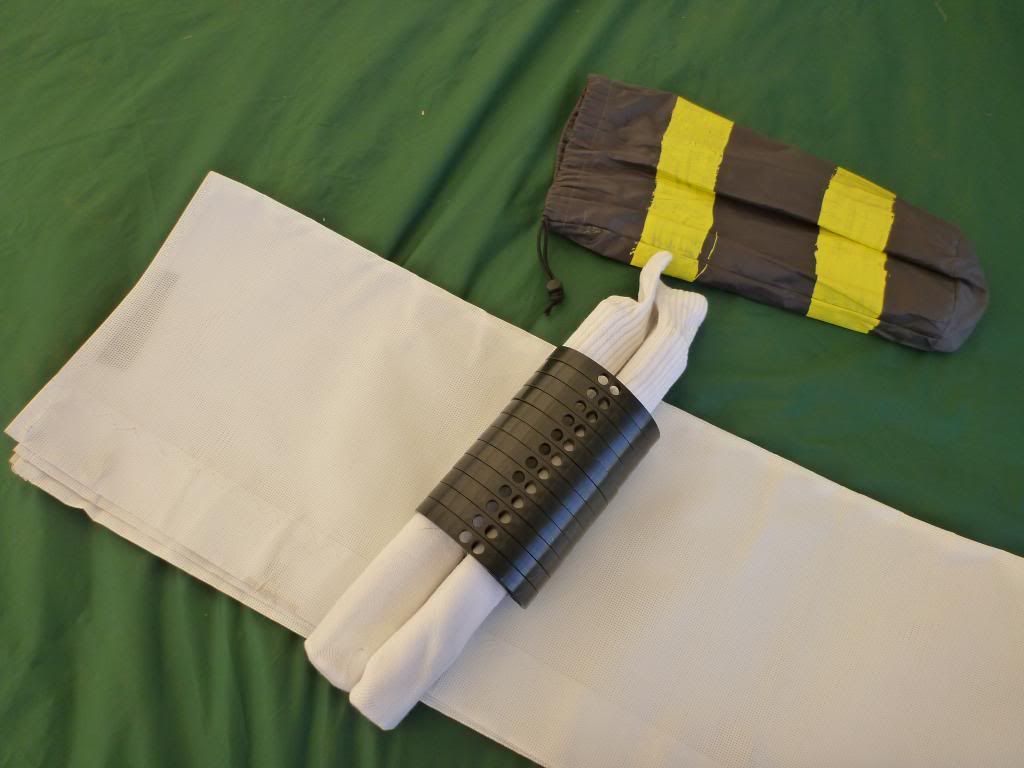 Memaquay and I have the same Therm-a-Rest cot and it has a bunch of slippery metal poles; I was worried that some might get lost so I placed them in two cotton sox and then I roll the thing up. I don't think overly much of these stuff bags that come with various gear, most times they are dark in color so I splash on something bright.
Best Wishes, Rob