Joined

Jul 25, 2012
Messages

838
I've had my little Collins axe for some time now, ever since I rescued it from a pile of discarded tools at the local thrift shop. It was in a sad way and needed to be sharpened to remove various nicks, the evidence of much pounding and subsequent mushrooming of the head removed. And of course a new handle. Never weighed the head but I'd guess somewhere around 2-2 1/4 pounds. Although it's quite sharp I've often wished for more heft to the head when I'm doing some serious chopping.
Discovered the Mueller line of axes; in business since 1675 in an Austrian village. traditionalwoodworker.com
Their forest axe has a 27 1/2" handle and a choice of heads: 2 1/4 or 2 3/4 pound head. I went with the heavier head. Well...I wanted more heft and I sure got it; side by side my poor little Collins seems to have shrunk! The new axe came with a serviceable sheath but I decided to make one just a little bit tougher.
This is the last photo where the Collins can even pretend that it's bigger!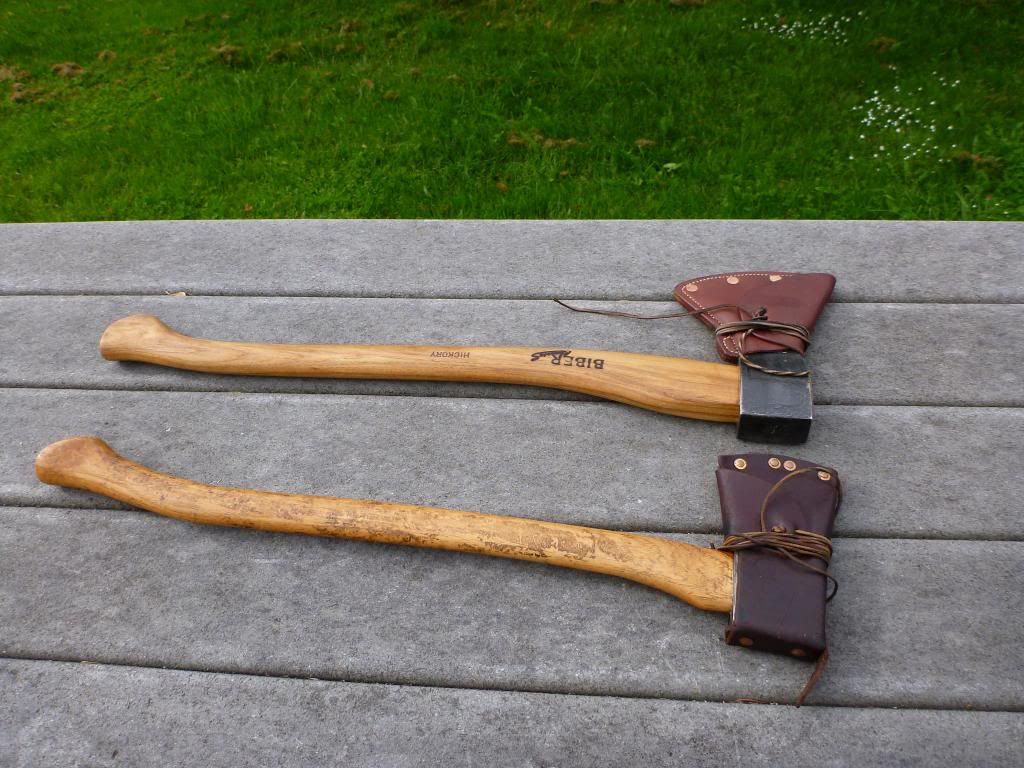 Note my scout knife for scale.
The difference in the weight of the two heads seems to be invested in a thicker eye on the axe; as this is a area subject to deformation under stress of use, I'm glad I got the heavier one.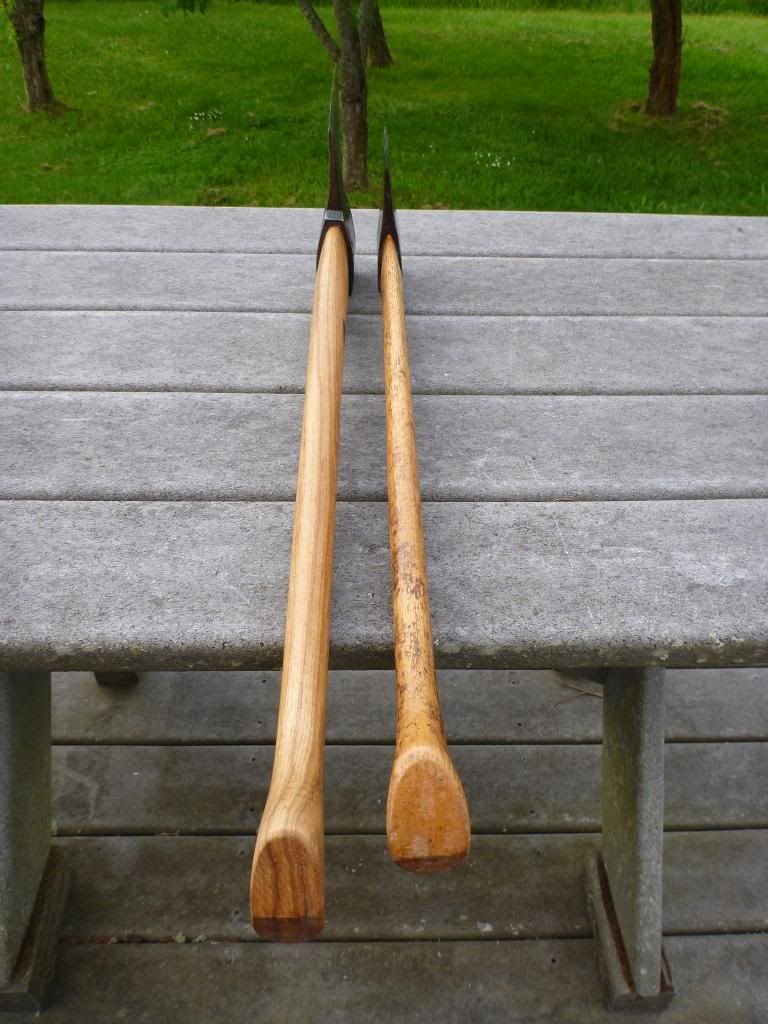 Some years ago I read a story about a fellow who went to cut firewood some distance from his camp. Turned out he gashed his leg pretty bad and could only stop the bleeding by holding the cut closed but he couldn't walk that way. He wound up using his boot lace to lash the wound closed. Made it back to camp and was able to doctor it up with his kit. So...anyways, from that I make all my axe sheaths to close with a top quality boot lace. Kind of like if you don't want it to rain, bring an umbrella.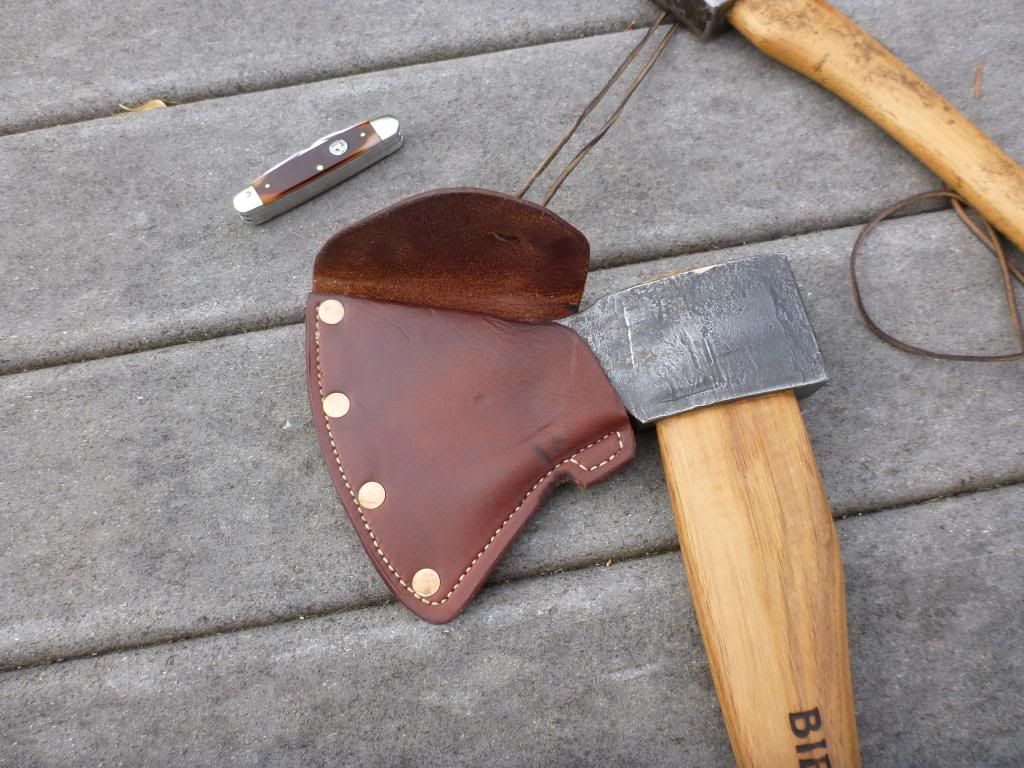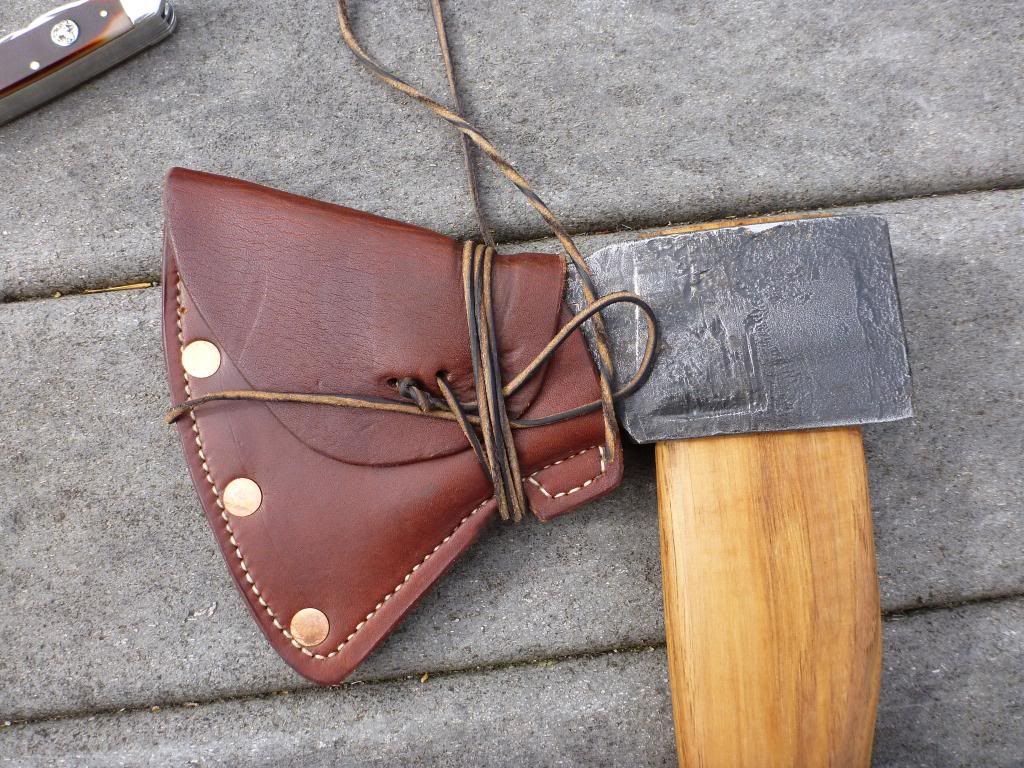 The two axes with sheath weigh, Collins 3 lbs. 2 oz. Biber 4 lbs. 5 oz. For me I'm glad I got it; for that pound and a little bit it looks like I got a whole lot more axe. Of course picking any real tool is a very personal thing and I wouldn't suggest the Biber is for everyone.
Best Wishes, Rob