Or "How to spend 3 hours cutting a piece of duct tape".
I needed to custom-cut a length of duct tape, and trim the edge of a vinyl sticker. I have scissors in the tape box, marked especially for that purpose. Dang those tape cutting scissor blades have become gummy over time. I had to clean those blades first to get a decent cut across the tape.
Hmm, crap, the non-tape shop scissor blades are not in much cleaner shape, and I can't find a pair to use on the vinyl sticker either. I've been lazily grabbing whatever scissors are handy for cutting whatever was at hand. I know better, and even the tiny surgical scissors I use for detail cuts could use some attention.
I might as well check the scissors stored in the FRP box, marked and reserved for cutting glass and kevlar. How the hell did those blades, never used for anything except cloth, acquire residue?
In for a penny, in for a pound. House scissors, bathroom scissors, 1[SUP]st[/SUP] aid kit scissors. EMT scissors, Swiss Army knife scissors. Dammit what have I gotten myself into?
I cleaned the blades with 0000 steel wool and acetone and wiped off any remaining softened grime. 22 scissors = 44 blades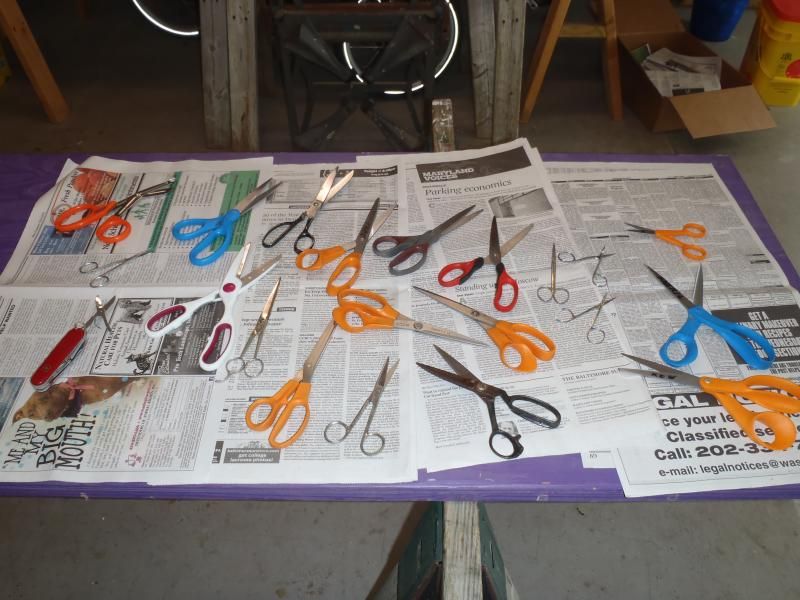 A couple are goners; I had cut wet epoxied glass strands with them and not immediately cleaned the blades.
Having cleaned the blades I went ahead and sharpened those that seemed dull.
Three hours to cut a piece of duct tape. No wonder I'm so slow in the shop.