These are reusable zip ties which I used on my most recent trip on the Peace River. I found them quite useful, functioning pretty much like zip ties, except you can use them over and over again.
They consist of a single thread of plastic (?) with a toggle to cinch tight and hold. There is also a bit at the end so you can't slip the toggle off accidentally when using it.
I used them to secure paddles/ hiking staff.
I also used them on the waterproof (I hope) plastic bags one would usually use a twist tie for. Works way better than twist ties.
The one limitation on them is that they don't fully open. You have to be able to put the loop over whatever you want to tie.
The one real con for this one is they only come in black. Keeping track of a small black item, should one drop it, would be difficult. I wish they made them in\
fluorescenct colors.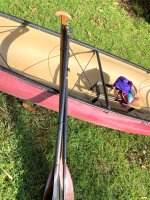 I found them at: garagegrowngear.com.