Administrator
Staff member
Joined

Oct 24, 2012
Messages

4,272
Reaction score

2,251
Location
REPORT ON THE POST-MIGRATION FUND RAISER
$2,639 (USD) was netted from 65 contributors.
That is an average donation of $40.60. However, the average is skewed upward by some very generous big donations, including four triple figure donations. Three of those triple figure donations (in USD) were from Canada, so those extremely generous members donated even more in Canadian dollars.
The median donation was $25.00. That would not have been enough to support the site, which formerly required at least $2,000 per year, unless there were at least 80 contributors, which I doubt we've ever had. However, as detailed below, it is highly unlikely that we will require $2,000 per year anymore.
51 donations were via PayPal and 14 were via check.
Of the PayPal donations, 33 were sent via the default Goods & Services option, which charged me a fee, and 18 were sent via the Friends and Family option, which presumably charges the contributor a fee. The Goods & Services fees charged to me varied from 3.5% to 10.5% of the donated amount, with the percentage increasing as the donation decreased. The fees totaled about $68.00.
Many members sent me very nice notes of thanks in their PayPal transactions or in their envelopes. That made my migration efforts very worthwhile. I even got some gifts. Just as examples,
Odyssey sent me a very nice card: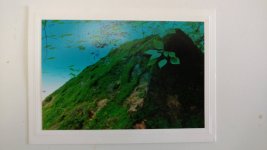 The wise guy artist formerly known as Guest sent a billion dollars and two cents: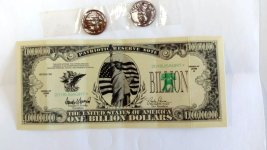 Will Derness sent four custom made coasters: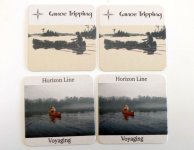 LanceR sent a t-shirt that he posted about in another thread: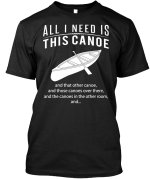 Again, thanks to all the contributors for a very successful and rewarding fund raiser. Which leads me to report on the current . . .
STATE OF THE SITE
I believe the site is in the strongest technical and financial position it has ever been in.
There have been no complaints about bugs, log-on problems or technical issues inherent to the Xenforo platform. None! Some minor issues arose as an inevitable result of the migration process because of vBulletin corruptions, but I have managed to resolve almost all of those working with the affected members.
Virtually all the feedback I have received about Xenforo has been to the effect that it is superior to vBulletin.
As to yearly costs, I have reduced every annual cost as follows:
- Software update license fee reduced from $209 for vBulletin (which included only one month of ticket support) to $65 for Xenforo (which includes 12 months support).
- Web hosting fee reduced from $1,296 at Siteground to $421 at Driven 2 (which includes Xenforo and server support).
- Spam scanner fee reduced from $20 at Siteground to $0, because spam scanning is built into Xenforo.
- Domain name ("canoetripping.net") registrar fee reduced from $20 at Siteground to $12 at Namesilo.
- IT bug fixing costs reduced from $500-$1,000+ under vBulletin to hopefully $0 under Xenforo, because Xenforo is very stable and bug free and because we get service included in our license and web hosting fees paid to Xenforo and Driven 2.
Thus, I hope to be able to run the site for about $500 per year and use any custom IT fees to pay, not for bug fixes, but for site enhancements such as the forum restructuring, logo changes, and new site color themes that already have been implemented and paid for.
As of today . . .
- the Xenforo base and XFES licenses are paid up through August 2022;
- the Driven 2 web hosting fees are paid up through April 2022;
- the Namesilo registrar fees are paid up through July 2023; and
. . . we have something over $2,000 remaining in the kitty. Hence, I don't anticipate the need for another fund raiser for about two years.
HOWEVER, WHAT WE DO NEED NOW
Is more user participation, thread starters and posters. We have registered 104 new members since the migrated site went live on August 31, but very few of those new members have posted.
We are averaging about 95 active users per day, which means people who view the site and click on some link to read or post something. Folks like to read our vast archives, but we must keep building them with new threads. You don't have compose a thread about a big trip or a boat build to attract discussion. Sometimes, the smallest or most mundane topic will provoke interest.
All in all, I'm very optimistic about the future of the site. We rank at or near the top in most internet searches related to canoeing. I think we have the best software platform and richest set of forum topics. And the best community of members.