Administrator
Staff member
Joined

Oct 24, 2012
Messages

2,883
Reaction score

1,079
Location
I have lots of canoes and paddles, but not an ottertail paddle and nothing made of butternut wood.
I don't like heavy paddles or blade heavy paddles, which is mainly why I don't like my beavertails. Back in 2009, I tried out the very narrow paddle that Yellowcanoe used for demonstrating solo Canadian style paddling a tandem, and didn't like it's weight, balance or propulsion. But it wasn't an ottertail -- more like a quill.
I'm now thinking of buying an expensive ottertail made of butternut that weighs only 19 ounces. However, it's from far away and I can't test it. So, I'd appreciate hearing any experiences with ottertail paddles and/or butternut wood.
First, let's be clear on paddle shape terminology. This isn't the paddle I'm considering, but on the left is an ottertail shape and on the right is a beavertail.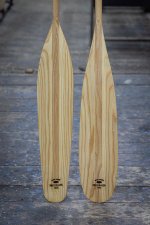 For those of you who have ottertails -- and I know this is a repetitive question -- why do you like or dislike them? As to likes, I'd appreciate something more specific than that an ottertail is a good deep water lake paddle. I've been paddling deep lakes successfully with a variety of paddles for 68 years, so I'm looking for more performance, control or handling details.
For those of you who are familiar with butternut wood, what is your opinion of it for a paddle? I'm assuming it's on the soft, weak and breakable end of the spectrum, but I'm after light weight and would be very careful with the paddle.