I'm sure these saws have been available and evolving, but it was only recently, at a paddling rendezvous, that I became interested. I came home and ordered one, a Thanos, 2.8 lb, 4" cordless electric chain saw.
My friend Steve and I regularly paddle woody stretches of my local river (Patuxent). Most of the time, I don't mess with timber blockages. I just want to get past them and get paddling again. But, on stretches where we regularly paddle, we sometimes invest the time to do a little clearing.
What can you do with a 4" saw. It's almost laughable. Turns out, you can do a lot. If you think about camp fire fuel, 4-6" logs are perfect, big enough to last a bit yet don't always need to be split. It's not hard to cut a 6" log with a 4" saw. One hand sawing with 2.8 pounds of saw is nice.
But Steve wanted more and upgraded to a Milwaukee, 6" saw, marketed as the Hatchet. I don't like the name. It's a little confusing when Steve asks me to pass him the Hatchet. But the saw cuts quickly and well. It weighs 4+lbs and cuts through 4" hardwood logs in about 20 seconds. True, the battery is a limitation, but I'd say yesterday we made 100 to 120 cuts before the battery gave out. Imagine how your arm would feel if you cut a 100 4-6" logs with your Sven saw.
Steve cutting a path through a strainer on the Patuxent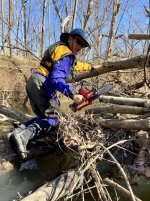 Anybody else packing mini chainsaws with their paddling gear? Impressions? Recommendations?