Administrator
Staff member
Joined

Oct 24, 2012
Messages

3,470
Reaction score

1,634
Location
So, I bought this beautiful Rollin Thurlow reproduction of a B.N. Morris 15' canoe.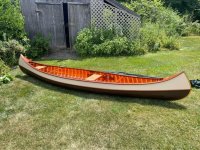 I wrote all about the canoe in this thread:
I saw this 15' custom, soloized B.N. Morris 2007 reproduction by Rollin Thurlow of Northwoods Canoe Company in Atkinson, Maine, appear on FB Marketplace 40 miles from my home. It turned out to be essentially an estate sale of a canoe/kayak lover who had moved out of state. Hoo boy, I've been...
But it was time to stop writing and put the canoe on my car or van and go canoeing in the thing. But, ancient and weakened creature that I am, plus a bad back for years, I COULDN'T LIFT IT.
Oh, I did it once after a long struggle with a traditional knee-and-jerk overhead lift . . . no thanks to the detachable portage thwart, which partially detached from its slot when the canoe was over my head. The detachable thwart is a great and essential idea for placing a centralized solo seat, but not confidence inspiring as a solid hand-hold for classic portage lifts. I stuffed some minicell into the wobbly slots to tighten up the thwart, but I still couldn't lift the canoe properly and safely.
So, I tried the half lift with one end of the canoe balanced on the lawn. That didn't work because of the highly up-swept ends of the canoe, which made upside-down balancing too precarious as I tried to walk under the half-lifted canoe to the portage thwart.
I did succeed once by first putting one end of the canoe on some lawn chairs and then rotating the canoe upside-down. I was then able to creep under the elevated end to the portage thwart at great risk to my back. This gave me the idea to buy two collapsible saw horses to carry in my sedan to enable this weird lift. But that didn't work because the horses were not wide enough to rotate the canoe upside-down, plus the whole idea was clumsy and kludgy and dangerous.
FAILURE!
I decided that I had four alternatives:
1. Continue to struggle and risk my back with a conventional lift onto my sedan. I don't doubt that I could have easily lifted this canoe up until my late 60's, but I'm now 77 and getting older and weaker. No thanks. And there is zero chance I will ever be able to lift the canoe onto my actual canoe vehicle, my magic bus full size van.
2. Don't paddle the dang thing. Just like I don't paddle a whole passel of other canoes and kayaks I have. Put it in its custom Bag Lady cover and keep it in the garage, unused, until I die. Fiddlesticks, that would really be a waste of money and of my dreams.
3. Sell it. I can probably get a little more than I paid. That's rational and recovers money. But totally gives up on my dream of again paddling a wood-canvas canoe.
Time for some serious decision-making.