Administrator
Staff member
Joined

Oct 24, 2012
Messages

3,852
Reaction score

1,962
Location
I used to consider different footwear for in the canoe, on the portage trail, and in camp. But three soon became too many pairs to bring for my lightweight taste. I was never willing to reduce my footwear to just one pair for all conditions, but I did get it down to two pairs.
As a canoe kneeler, I have to have in-boat footwear that is stretchy across the top of the foot (instep). That eliminates most all hard boots, shoes and most sandals. So, I have been a long-time user of neoprene footwear of various thicknesses and heights for wearing in the canoe.
For portages, a more substantial sole is needed than a skinny neoprene slipper, so I got a pair of over-ankle neoprene booties with drains and a substantial sole to wear both in the canoe and on portages. In warmer weather, I use these NRS Attack Shoes (though I did have to remove that grey ribbon along the instep):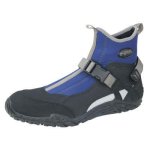 In colder weather for in the canoe and on portages, I use this older version of NRS Boundary Boots: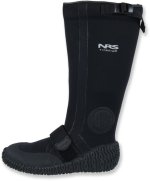 For around camp, I use an old, comfortable pair of moccasin style boating shoes.
So, I live with two pairs of footwear on portage trips. If I'm just on a day trip, I wear thin, low cut neoprene slippers or shoes. And I do have one pair of sandals with a stretchy instep that I can use in the canoe and on land in warmer weather.