Hi everyone, I've been around canoes since I was a little kid in various rivers and lakes! I recently decided to get back into it with an interest in doing camping trips and fishing local waterways that have 'no engine' rules. Currently I have an old 18' Northrop Grumman That's been in my family since it was new. It was beat up when I saved it from my parent's barn last month (where it's been for the last 10 years - at least - in favor of other boats) and even had a few holes in it. I welded it up and decided it desperately needed something for paint (first pic is after priming it). I made a handful of stencils and alternated colors and orientations to make the camo pattern. I think it came out well.
It's first trip out was a fishing trip in Bayou Jean Lafitte with my friend in the photo below (who had never been in a canoe before). I find myself using it enough now that I never take the rack off my truck.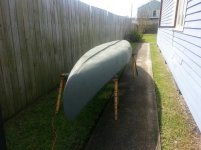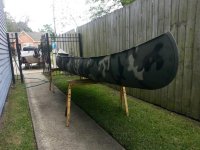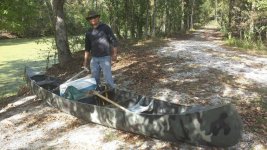 I can say I have the only camouflage canoe in the city's park - you should see the hate from the Kayakers!