Joined

Feb 1, 2013
Messages

3,687
Reaction score

1,151
Location
Now, while your hands are occupied, let your mind work on a really great ghost story to tell around the campfire to your students! Using that axe as a central pivot. There's nothing like telling stories with the magic of the campfire; it's almost a portal to all the other times that ever were.

Best Wishes, Rob
Rob gave me this great idea. I use the same old story every year on the first trip with the kids. We go to the same spot, the turn-around on the Steel River. I tell the same ghost story every year...the older kids are complicit in scaring the young ones.
Every good whopper starts with some truth. Around 30 or 40 years ago, a couple of guys went down the Steel in home made canvas kayaks or something of the sort. They wrecked their boats and spent two weeks eating frogs and bugs and stuff before they were rescued. I change the story to say that the guys were stranded on the very campsite where we are camped. I then tell them that one of the guys passed on, and when the other two got really hungry, the engaged in the "food that we dare not speak of" and ate their dead buddy. Once I see the kids buying into the story, I let out a loud shriek, or one of the older kids jumps out of the bushed screaming, and pandemonium ensues. Great fun!
Anyway, I'd like to propose a contest. Using the axehead shown below from the other thread, come up with a ghost story that I can use on the kids on that first trip. I will have the axe with me, and pass it around as the story is told. It has to be long enough to get around 12 to 15 people and back to me before the scare, so no one jumps and axes someone.
I have a good prize for the winner. I have several older canvas backpacks, some are Woods, others have unknown makers. I will select one in very good shape and mail it at my expense to the winner, as long as the winner is in North America. Robin, I hope this is OK, I should have asked first, but I'm impulsive.
Here's a pic of the axehead.
Here's a sample of the packs.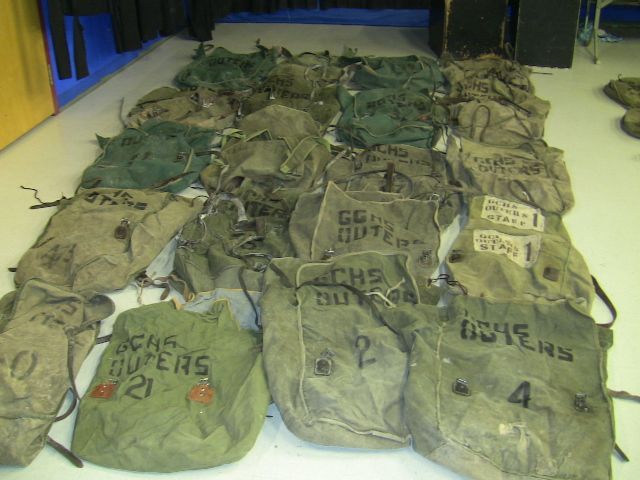 I'm hoping to get at least three entries!