I've been wanting to build a strip canoe for a long time, for some reason though I got started building kayaks. I've built six Skin on Frame kayaks and one strip kayak. This will be my first canoe, honestly I think it's the builds I've seen here as well as the trip reports that pushed me over the edge and finally got me started. Of course every build I've seen I've loved and wanted to build...I was going to build a solo boat because so many are being built here but I settled on a tandem tripper so it will be easier to get out on the water with my kids.
I'm expecting this to take all winter, so don't expect me to go as fast as Stripperguy! This is where I am so far.
I bought a sheet of 3/4" birch ply for the forms for $35 at HD. I know it's a little excessive but the MDF I was going to get was $30 which seemed ridiculous so I splurged. I'm using an almost internal strongback which means I don't need plywood extensions to reach the ext. strongback thus I can get all my forms on one sheet of plywood.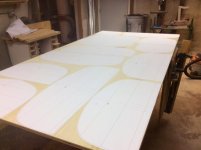 This is a detail of one of the forms, I'm an engineer so I have access to ACAD and large format printers so this made the lofting a little easier. The slot in the middle is for the internal strongback which is a 2"x 4" x 12' aluminum beam. I use the same technique Nick Schade shows in one of his kayak books, basically you cut the slots very accurately and drop the forms on the beam and everything magically aligns. It works really well.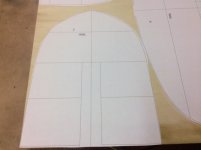 Here the form is roughed out, the mouse ears are relief for the template router bit I use in the next step.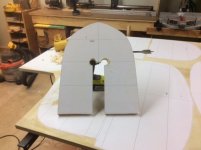 The template is really simple to make, just outline the piece of aluminum with scrap wood. Then cut most of it out with a bandsaw and use the router to get it perfect. Then through away the scrap wood and you're left with a plywood template that fits the aluminum extrusion. BTW the picture shows a 2" x 2" extrusion, the beam I use is really 2" x 4"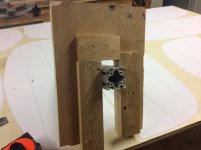 The finished product, all sanded up to the line, and the slot routed out.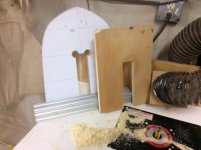 I'm going to try to keep track of the time spent on this build. So far I've spent 2hrs to draw and print forms, 1/2 hr cutting out paper, 4 hours cutting forms. I still have to finish about 8 forms.
Total 6.5hrs