I desperately needed to feel some bare earth under my feet, so another winter trip to Assateague was in order. I left my driveway in this
And arrive on the coast to find not a trace of snow. Yippee!
The canoe launch was empty – zero vehicles – and I was quickly on the water paddling south in a rare Chincoteague Bay calm. Windless enough that the only sound was the chuckling of Bufflehead in scattered flocks all around me. Frisky Bufflehead, with the males jousting and waterslapping around stray females to prove their worth. Somebody's getting some tonight.
Into the Pine Tree site in short order I began setting up. Unpacking was a revelation. I had originally packed for this trip two weeks ago, but postponed several times as my weather windows repeatedly closed and I couldn't get the truck up the driveway.
Apparently each time a new window opened I packed certain items yet again. I have three pair of winter gloves and enough toilet paper for a cholera outbreak. I really should remember to cross things out on the gear list.
First up, the winter wind chair.
Next, the Tundra Tarp set as a windbreak, and spaced so that my day hammock can be hung below. With a thousand closely spaced Loblolly pines the perfect selection of two specific trees for best wind orientation and distance would be tricky, but I have a length of cord, knotted at minimum tree spread for the both tarp and hammock.
The golf ball and eye screw are excellent for tossing a line over a branch, and the pushpin allows me to tack the measuring line to a trunk and determine which two trees offer the perfect tarp and hammock spacing and wind orientation.
That'll do nicely.
That pre-measured hammock space fits nicely in the tarp's wind block.
I'm pleased to find that the Thermarest pad cut for the wind chair seat fits well in the pocket my simplistic ENO hammock pad.
That ENO pad is crude compared to an underquilt, but I don't sleep in the hammock and that pad is multi-functional.
I've used that little folding ENO pad in a number of guises. Folded lengthwise it fits across the backrest of the windchair for additional insulation and wind deflecting side "wings". I've folded it and stuffed it under one side of my sleeping pad when tenting on an incline. In especially thorny areas it makes a comforting puncture barrier below my sleeping pad.
http://www.eaglesnestoutfittersinc.com/product/A4011.html
The wind is predicted to shift from west to south. An auxiliary tarp blocks the open end of the Tundra Tarp in that direction.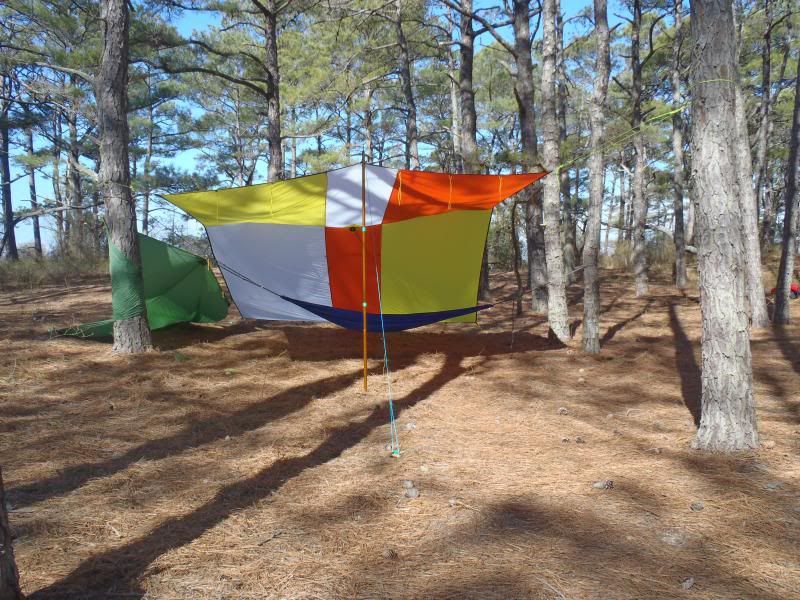 Wind protection is critical when winter camping on the windswept coast; even a sunny 50F day becomes chilling in 20 knot winds.
Camp warmly established it was time generate some body heat by walking out to the ocean. I don't much care for the beachfront itself, but the walk out and back across the island traverses several distinct zones all compressed in a mile's width.
From the edge of Chincoteague Bay and back marshes.
To the piney hammock of camp.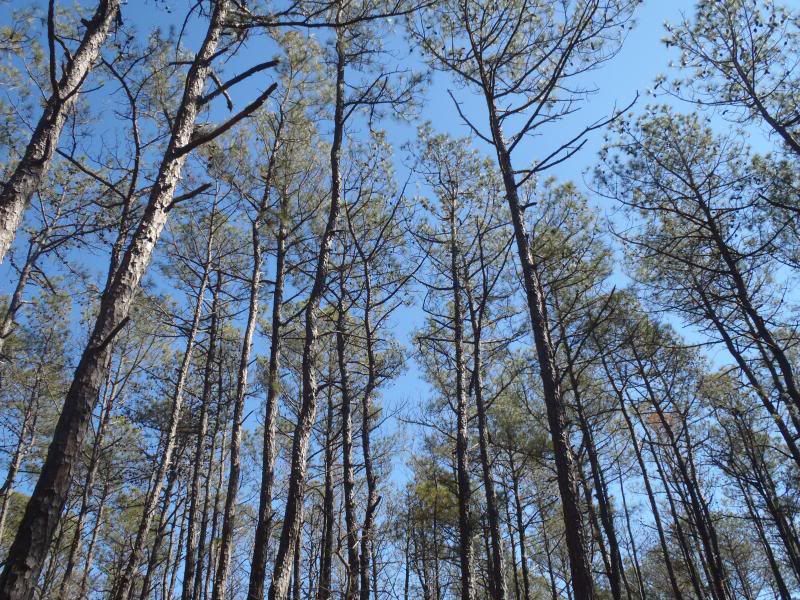 To the inner marshes, with another berm of hillocks and scrubbier pine looming in the distance.
Past that second stand of loblolly to one of my favorite zones, an easily wanderable stretch of open sand that meanders amidst the stunted growth behind the dunes, slowly opening to the beachfront further east.
And out to the beach, and the inter-tidal zone.
On the hike back into camp I take note of recent visitors.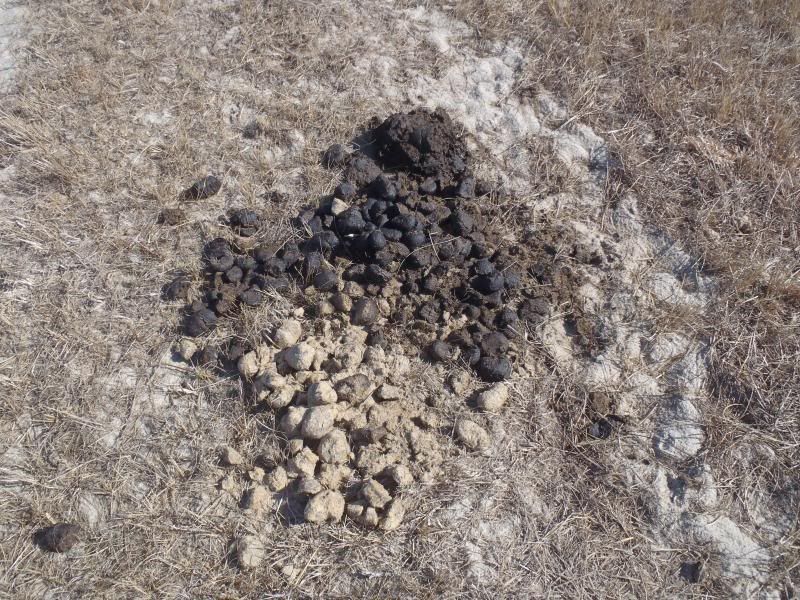 I'm assuming that the ponies revisiting the same pile repeatedly is a way of marking territory, so I've begun urinating on them in response. That was originally intended as a gesture of contempt, but I'm beginning to think that it actually keeps the ponies away. I've not had many ponies in camp since I started marking my territory atop their piles.
Back acamp I'd like the warmth of a brief fire to take off the chill of inactivity, but I don't want to start a real campfire just yet, nor have to extinguish it if I decide to wander away from camp again afoot or afloat.
Time to deploy the fire in a can. From spiral wick first lit (with feeder bars of extra wax at the ready nearby)
To this in (I timed it) 2 minutes and change.
I added a feeder brick to refill it, let it burned it for 5 minutes until the "wick" was refilled and I was rewarmed, and put it out. Putting it out may be the best part of fire in a can.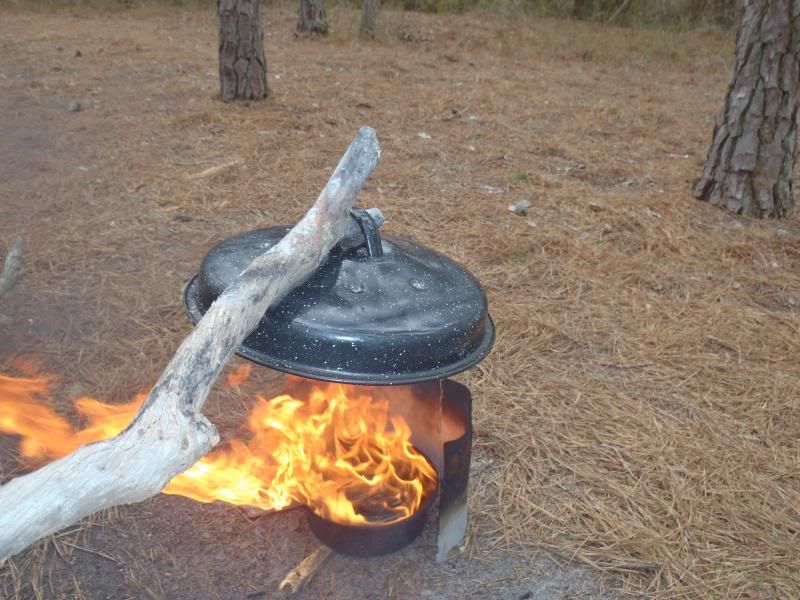 The complete and instant darkness when covering the FIAC at night is freaky. (I should make feeder bricks with citronella oil before spring bug season)
Sufficiently rewarmed it must be hammock time.
It's a tough life, but somebody's gotta do it.
I awoke the next morning to an odd flapping and rustling behind the tent. I ignored it at first, but it got louder. The tent and tarp are still taut and unflappable, but the noise continues, seemingly closer. There is no clump of hooves, so it ain't ponies ignoring my territorial claims. WTF?
Curiosity finally gets the better of me. I exit the tent, turn and stand up. And am greeted by abrupt and startling thunder as a flock of a dozen or more turkey explode away, the nearest ones just a few feet from the tent. They had turned up the pine duff behind the tent like a pack of rooting hogs,
Even before the awareness of morning coffee it was easy to track their route into camp, and find other sign. This had been a whole rotting log the night before.
Other birdlife was abundant as usual, and in calm winds there was constant birdsound, from songbirds singing in the trees and shrubs to ducks and shorebirds squabbling in the adjacent marsh. A wonderful aural sensation, absent any sound of syphilization.
I had human visitors but once, a trio of young field biologists studying piping plover predation. I must be doing something right, that is the second trip in a row on which I've enjoyed the company of young field biologists. Time spent with old field biologists in more familiar.
I had not appreciated how much technology had changed that kind of fieldwork; GPS, game cameras, GIS specialists and computers. As part of that study they were measuring and recoding both plover and predator habitat at several hundred locations on the island and recording images on game cameras.
And some things haven't changed a bit. Two of the three visitors were students and they were doing the dirty work, running 100' tapes into the dense greenbriar, retrieving cameras and recording data. And, from what I gathered, spending hours (and hours) looking at many (many) thousands of game camera photos.
I had seen their camera box a couple of years ago, and avoided it was best I could, but having heard about the extended battery and image capacity of their game cameras I couldn't resist leaving them a special photo or two.
Repeat the above routine for four continually bluebird days. Day hike, day paddle, sit in the wind chair or lay in the hammock. No people. The only sound is the birds, the wind in the treetops, the distant surf.
The day's activities assemble in an exceedingly slow and deliberate manner, wherein time matters only in the most basic form; it's getting light out, it's getting dark, it's hungry time, it's time to wander, time to read, time to write, time to sit with an unoccupied mind and just look and listen in the quiet. Time.
I had a permit good through a forecast-to-be-questionably Thursday. I had a printed copy of the extended Weather Underground forecast, and updated that long range prediction with the more accurate weather radio forecasts each morning.
Tuesday forecast remained perfect. Maybe more than perfect. Unquestionably the best day weather-wise at Assateague thus far in 2014. Tuesday: Highs in the low 60's. SW winds 15 knots, becoming south in the afternoon.
Wednesday the bottom drops out – still warm, with rain after midnight and thunderstorms throughout the day, winds NW 30 knots, gusts to 40.
Thursday is worse, highs in the 30's, west winds, gusts to 50. Um, I've got sufficient food and water left, but no thanks. I don't need to pack up and paddle out in high winds and rain. I can linger most of Tuesday, pack up slowly and incrementally and sail out on a perfect southerly breeze late in the day.
And so it was. I do enjoy a leisurely take down, with time to dry and repack everything properly. The wind chair is always the last thing to go, but in the meantime it makes a handy repository to keep the tent and tarp off the sand and out of the greenbriar thorns.
There were a few gusty days along the way, but the Tundra Tarp, even set as a \ windbreak, was rock solid and far more wind protective than a parawing.
I've come to appreciate mil-spec stakes for windy venues. They are heavy and not appropriate for portage, but they are indestructible, hold very well and nestle superbly.
The square of green reflective tape on the stakes is an anti-toe stubbing addition, and the yellow cord makes them even more visible and easier to extract if I've buried them completely.
Slowly packed (the hammock went back up for a spell, I still had some book left), slowly carried down to the landing and into the boat and it was getting on towards dusk. Time to take advantage of an ideal sailing wind for an effortless ride back. I know the compass route well, 0 north outboard of Tingles Island, come 30 east to the canoe launch.
I turned the Monarch's rudder but once and sailed out under yet another bluebird day at Assateague.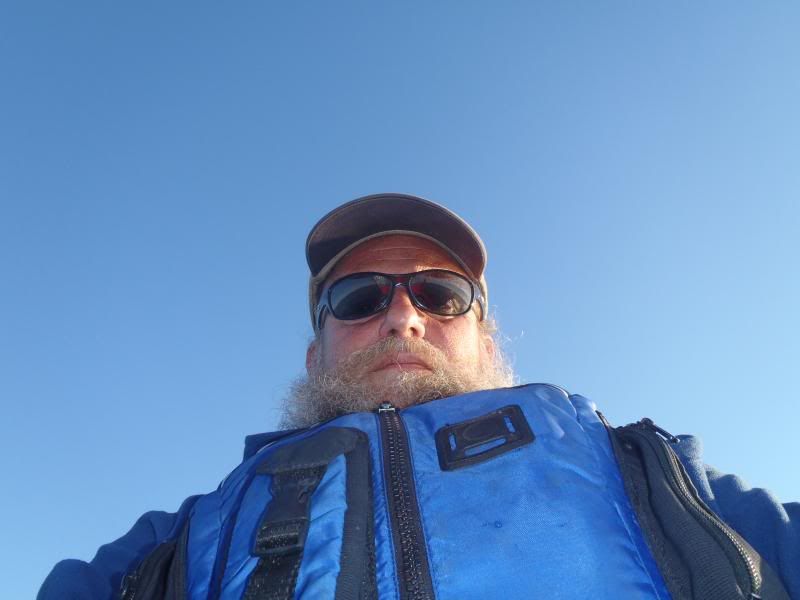 I sailed to within 50 feet of the still vacant canoe launch, arriving in the dwindling light just after sunset. Unpacking and racking was done in the dark, squeezing the absolute most out of the day.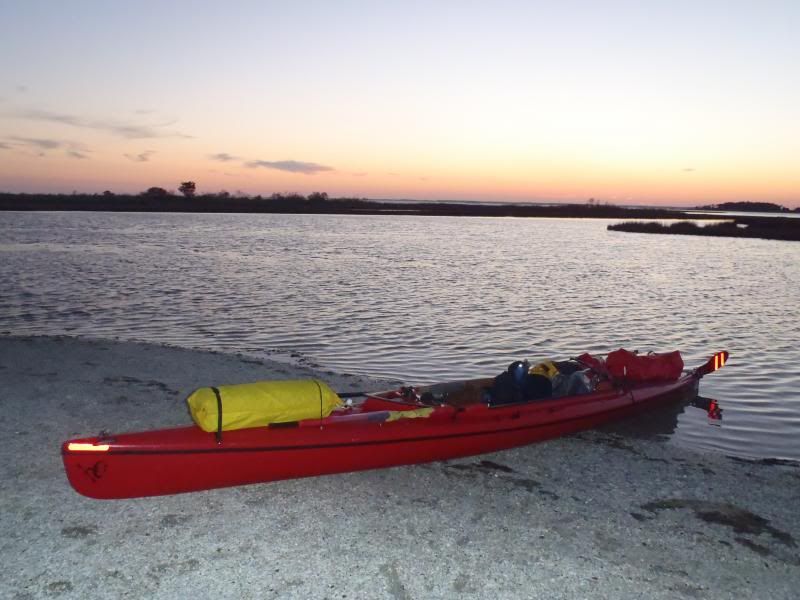 The ride home was equally unhurried and nighttime traffic unharried, with a diner stop for real food and continuous coffee refills. That first freshwater-&-soap hand washing in a diner restroom is a grungy thing of swirling effluent revelation. And the first look in a mirror is always a surprise.
Assateague in March doesn't get much better than that.
Last edited: