Joined

Sep 11, 2023
Messages

4
Reaction score

10
Location
I made a cart today using an instructables tutorial.
Easy Canoe/kayak Portage Cart: This is a super cheap super easy canoe cart I made for portaging our canoe. It is made out of a large milk crate,a golf bag caddy,a pool noodle,and zipties. It was easy to make and is made out of salvaged materials. Thanks for reading! Please commen…
www.instructables.com
You need a milk crate, golf bag pull cart, zip ties, pipe insulation foam And a few household tools like screwdrivers and adjustable wrench. I took apart the golf cart until I had the wheel assembly. Then zip tied the crate on and padded the rim.
It worked very well going downhill to the water, but not coming out. That is due to my situation of sinking into the mud and not a flaw in the cart itself. A couple of slabs of leftover lumber or Driftwood to make some ramps for the tires would do the trick, I hope.
I did put a bungee cord around the seat and anchored it to the strap to keep the strap from sliding off. I'll probably come up with something better. I did not attach the foam yet, as I want to get bigger diameter foam or a jumbo swim noodle and double it up before I zip tie the foam down. I was thinking in case I ever tip over, the crate might not sink to the bottom with the foam Zip tied to the rim.
My canoe is dented already, it is not being bent by the cart, though the angle looks terrible now that I am really looking at it. It was a very easy project and I could have used a bigger milk crate or custom built a box, as there was still a couple of inches of room. I would like to add that the wheels are meant to be easily removed on this particular cart, though I simply left them on as I have the room for the whole rig in my canoe. I don't golf and don't know if this is a normal feature, but was a pleasant surprise once I started taking the golf cart apart. I could have put it closer to the middle for better balance, but I was in too big of a hurry to go fishing to go hunt down a longer ratchet strap to make it around the middle. I grabbed a damaged short one, but it's a little too short for the project.
There are other diy plans leaving the whole cart and handle in place and putting strategic pads on the frame, and the frame still folds. I did not damage anything taking it apart, so I could try that system too. The advantage of that is you have the supports stretched out over the length of the frame, so if you have a longer canoe or kayak, it has more support. I included a picture and link to that style, too.
.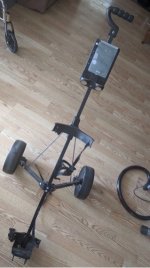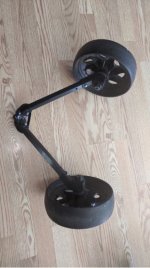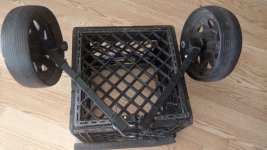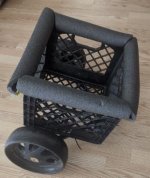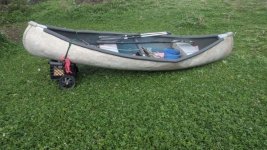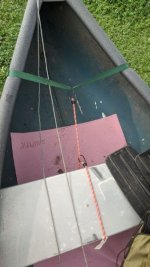 using the full frame and it still folds. At the bottom of this instrucable page, someone else made a cart and enhanced the frame with pvc pipe. It looks pretty good and sturdy if you don't need something super portable.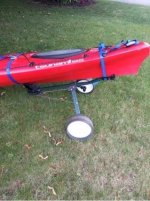 Turn a Golf Cart Into Kayak Dolly: I have kayaks and carrying them from the car to the water's edge can be a problem, especially if you are alone. They are a bit awkward to carry. Commercial kayak dollies cost upwards of $100, a sum I didn't want to spend. It came to me that perhaps …
www.instructables.com
I hope someone finds this useful. Golf bag carts are really cheap to find second hand. I got mine for $10 and the crate for $2.
Best regards, Lisa