Joined

Apr 25, 2022
Messages

130
Reaction score

218
Location
Wow, Brian:
As with your solo tripper thread, awesome detail and pictures, not to mention incredible craftsmanship. Just as I'm looking for information on paddle making to while away my winter work time, I come across your thread. How fortunate for me! I'm planning to make 4 straight shaft and 2 bent shaft paddles next week. I haven't made any before, but I have done glue-ups similar to your designs for other purposes. For your "feather" design, which I call herringbone (I like feather better) I do the glue-up all at once. I don't have a photo to share, but I will when I am back in that shop early next week. I've got a sketch of it here.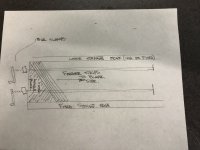 Basically, I have a flat base, with a fixed straight edge. I leave the other straight edge "loose" to accomodate different width glue-ups, but once that is determined, I clamp it in place leaving a little wiggle room for the individual strips. On one end, I have a fixed angle block. On the other end a moveable angle block (not shown in sketch). These blocks are cut at the same time on a miter saw at chosen angle. One side becomes fixed, other side moveable. Once all of the strips are coated with glue, put them in place and 2 bar clamps.
I ALWAYS dry fit any glue-up to make sure it looks right, and my clamps are all set.
I ALSO COAT THE FIXTURE AND LOOSE PARTS WITH A FAIR AMOUNT OF PASTE WAX.
I've also cut curves similar to your paddles with the free form curved stripes. I've done it in cutting boards, that I call "lazy river". Basically, I cut my curve out of 1/4" plywood. This I made longer than any project I envisioned using it on, with multiple curves, so I can pick a different section every time I use it. I have a piece of 1 by 6 that just serves as a spacer to lift the plywood off my project. The spacer is back from the plywood by 1/4-1/2" Using a flush trim bit with a bottom bearing, I follow the plywood template, cutting about 1/4" deep. Separate the two halves using a band saw or scroll saw. Trim the rough edge with the same router bit. I have it set so I don't have to change depth at all. I don't have any in progress pictures, but here's on of the router, bit, template, and finished glue-up. this gives me edges smooth enough for a tight fit with wood glue. No gap filling epoxy needed.