Administrator
Staff member
Joined

Oct 24, 2012
Messages

2,596
Reaction score

875
Location
This topic is too variable for a poll because lots of people have lots of knives and carry different ones on different places on different trips.
I usually carry four or five knives in recent years.
First, I've always carried a knife on my PFD, but I have hardly ever ever used my various PFD knives for anything in 40+ years. I just stays permanently on the PFD. Currently, I use an orange Spyderco folding rescue knife (serrated) -- the kind paramedics use to cut car crash victims out of seat belts.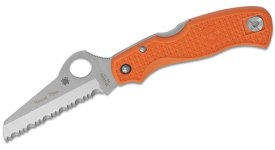 Second, I always have a folding pocket knife, but I'm afraid of losing it in an upset if I actually keep it in my pocket while paddling. Thus, I usually have it inside my waterproof day/ditch bag in my canoe. When in camp, I put it in my pocket and probably use it the most for minor tasks. I have several, but my current favorite pocket knife for canoe trips and EDC at home is my thin and light (1.8 oz.) Benchmade Bugout made of S30V steel.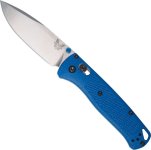 My third knife is one of my fixed blades, my current favorite being my Bark River Canadian LT.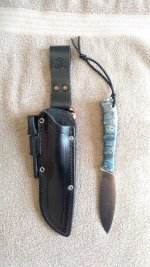 This is an all-purpose knife. However, I don't always wear belts as much anymore on my expanding waistline, so I will usually fasten the sheathed knife to the outside of my day pack while paddling. In camp, I'll just have it around for tasks that require more heft than my pocket knife, and I'll take it and the pocket knife when hiking from camp.
Fourth, I have an inexpensive Mora Light My Fire knife with a fire steel built into the handle packed with my cooking kit. I hardly ever use it for anything in camp, preferring my other knives to the Mora Scandi grind. I do use it at home as a not-very-good kitchen knife.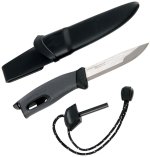 Finally, if you want to call it a knife, I now usually take one of my Condor Duku Parang machetes with me, usually the shorter one with a 10.5" blade, for chopping, limbing and tap splitting chores.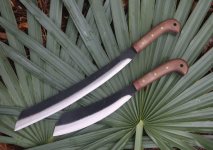 For several functional and safety reasons, I much prefer a machete over a hatchet or axe for the light wood processing chores on a canoe trip. Paired with Silky BigBoy 2000 saw, a wood chopping machete, parang or golok can do everything necessary. My parang is sheathed and strapped or pocketed on my Duluth Pack.