Upper Manistee River Hike/Canoe Trip
April 20 through April 23, 2012
Manistee River Flow- 2000 Cubic Feet per Second
Group Members- Kaine Kailein and Adam
This trip is a little different than most canoe trips. We only took one car, so we needed a way to get to the start of the trip at Hodenpyl Dam. The Manistee River Trail follows the east side of the river from Tippy Dam Pond to Red Bridge (Hodenpyl Dam Pond) about 10 miles. I have read a lot about the trial and decided it was time for me to see what is like.
Friday 4-20
We arrived in the area around 4:00pm and drive up the west side of the river to Hodenpyl. We found where the Manistee River trail crosses the river and joins the North Country Trail on the west side and decide this is a good place to stash our boats. After hiding and locking them in the woods we drive back south to Red Bridge to begin our hike. On the drive up the weather changed from high 60's to low 30's with rain and a brisk west wind. After a little prep time to add a couple of layers, we start on the trial around 5:00pm. We take our typical start of the trail pictures and begin the hike.
Me
We knew the time on the river would be quick and decide to hike a short 2 miles to camp on a nice bend in the river. We call this "white lighting" camp because across the river is the brightest white birch tree tipped down the bank looking like a lighting bolt.
White Lighting
We get camp all set up by 7:00pm and decide to gather some firewood to build a fire. It has been raining off and on all day. After scouring up the few pieces of dry wood we can find we start the fire. Thankfully we had some cedar and birch bark to aid in getting the fire going. We enjoy a nice fire for a while. Around 9:30pm, while chatting and catching up with my sister and good friend, I can see lights bouncing their way along the trial. It turns out to be a group of 3 kids, who settle for a camp site a little further up the river from us. We call it a day around 10:00pm
Saturday 4-21
We wake up cold around 8:30am and are packed up by 10:00.
My Tent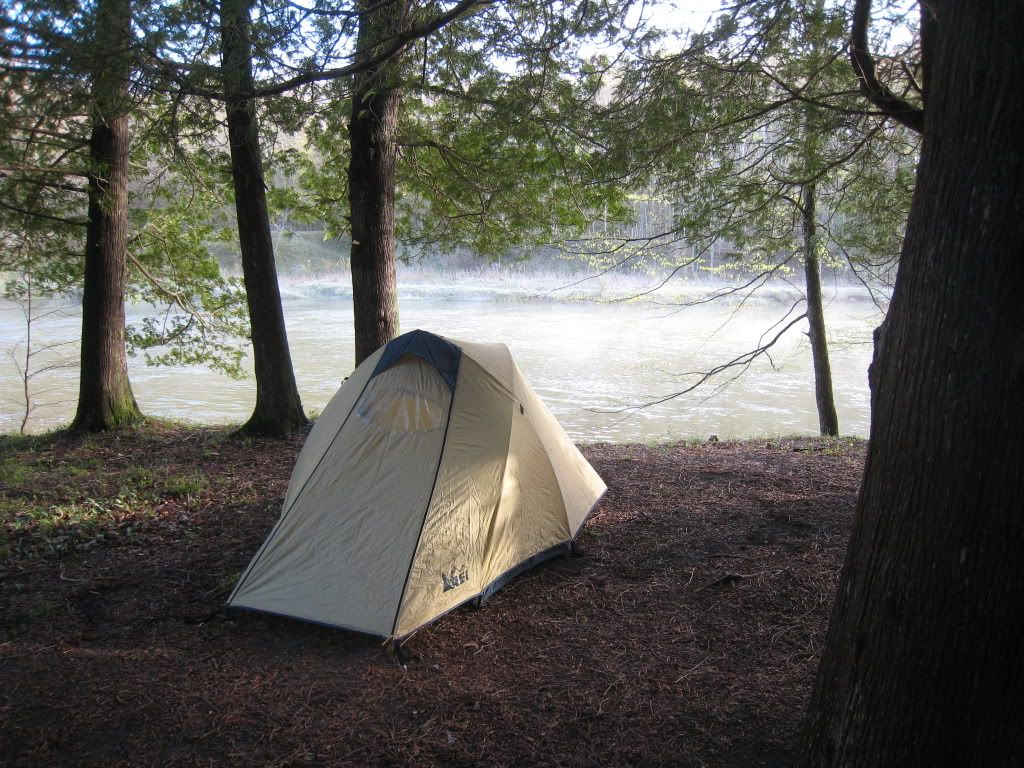 After a last check around camp we bid our good byes to white lighting camp. About a mile up the trail we let a large group of boy scouts pass us on their southbound journey. Little did we know that this was just the beginning of the southbound parade of people. Another mile or so up the trial we come across "camp 7" which is on a scenic bluff high above the river. Looking across the river is a nice flat area that we all agree could be our next camp.
View from camp 7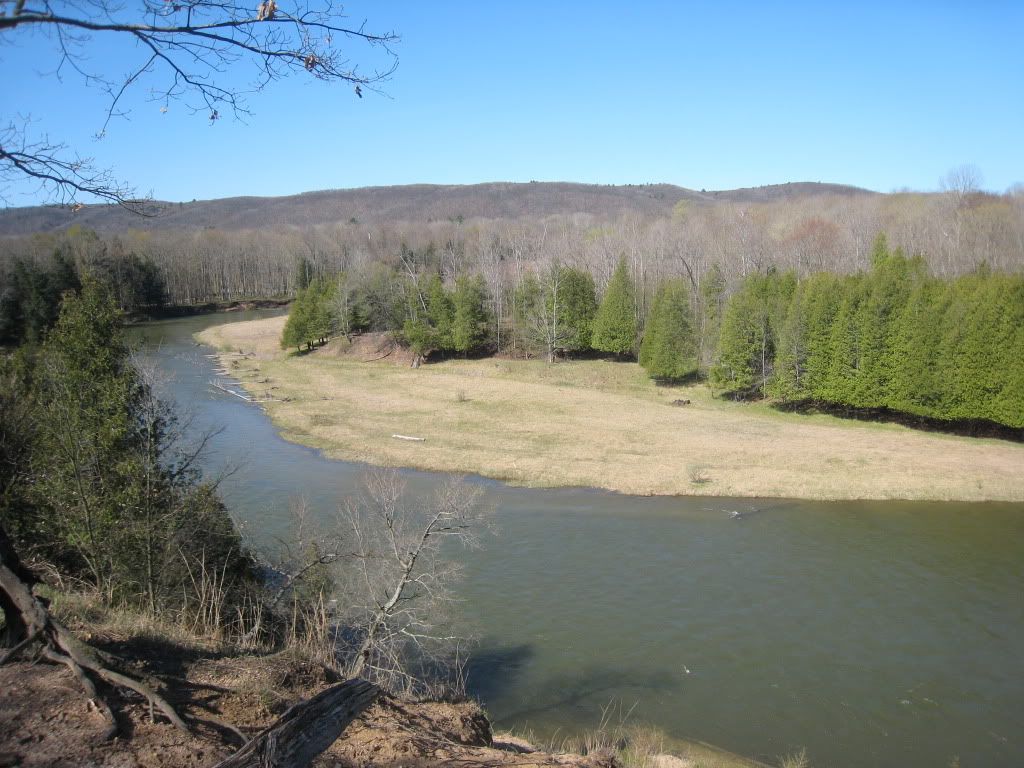 A little further up the trail we come across a birch tree that people have used as a tail journal. The oldest name on the tree is Brian Slater dated 1971.
Than we come across what is supposed to be lower Michigan's highest waterfall. A whole five tall.
Finally, we see "Little Mac" and know the river fun is about to begin.
We get the boats out of the woods and down to the river. By 3:00pm we have Adam's gear stuffed into his kayak, and Kailein's (also in a Kayak) gear in my canoe. A cooler (filled with dinner and iced down adult beverages) completed the load in my Argosy. Fully loaded we push off down the river around 3:30pm.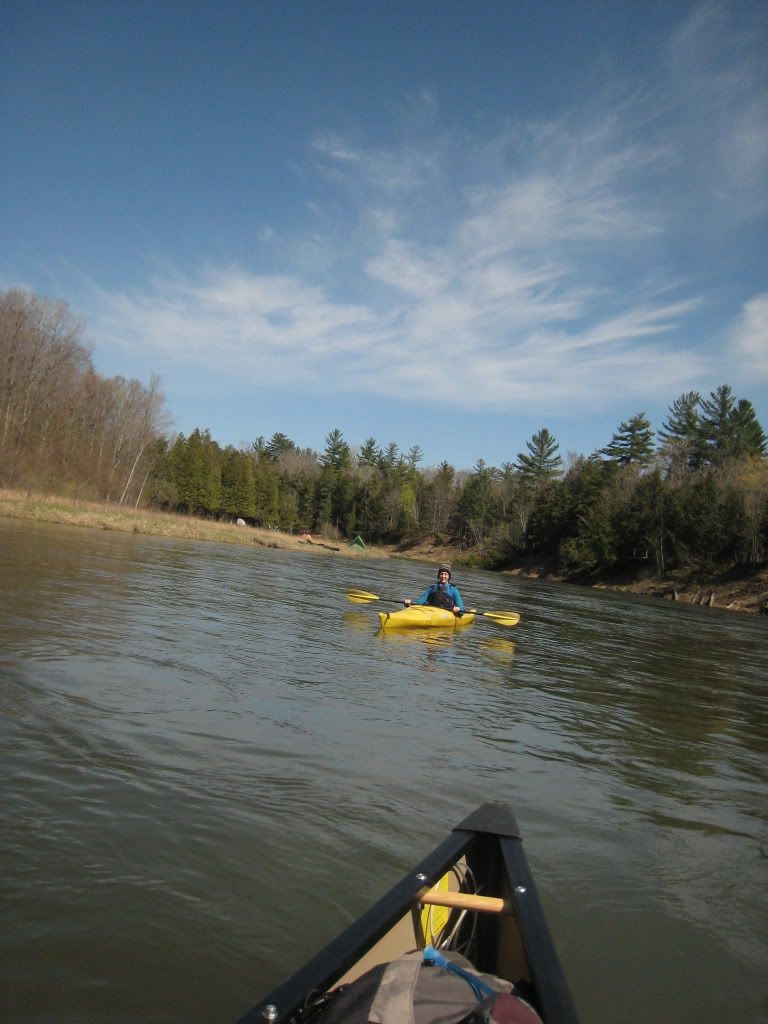 Around 5:00pm we pull up to the flat area across from "camp 7" and decide this will be camp. Adam and I crack open our celebration beers and Kailein takes a shot of her whisky.
We take a break and lounge around for awhile. By 6:00pm we have camp set up and plenty of fire wood gathered. After our dinner of hotdogs, cooked over the fire and the rest of our beer we enjoyed the star shows as it was a clear night. We called it a night around 10:30pm.
Sunday 4-23
We sleep in till 9:00am. After leisurely cleaning and packing up camp we push off around 11:00am. We mostly float down the river the rest of the morning. Towards Tippy Dam Pond the river splits into 3 channels, the left, according to the map is shallow and filled with sand bars, the middle is chocked with logs, so we settle on the third(most western) channel which is clogged but passable with logs and two geese.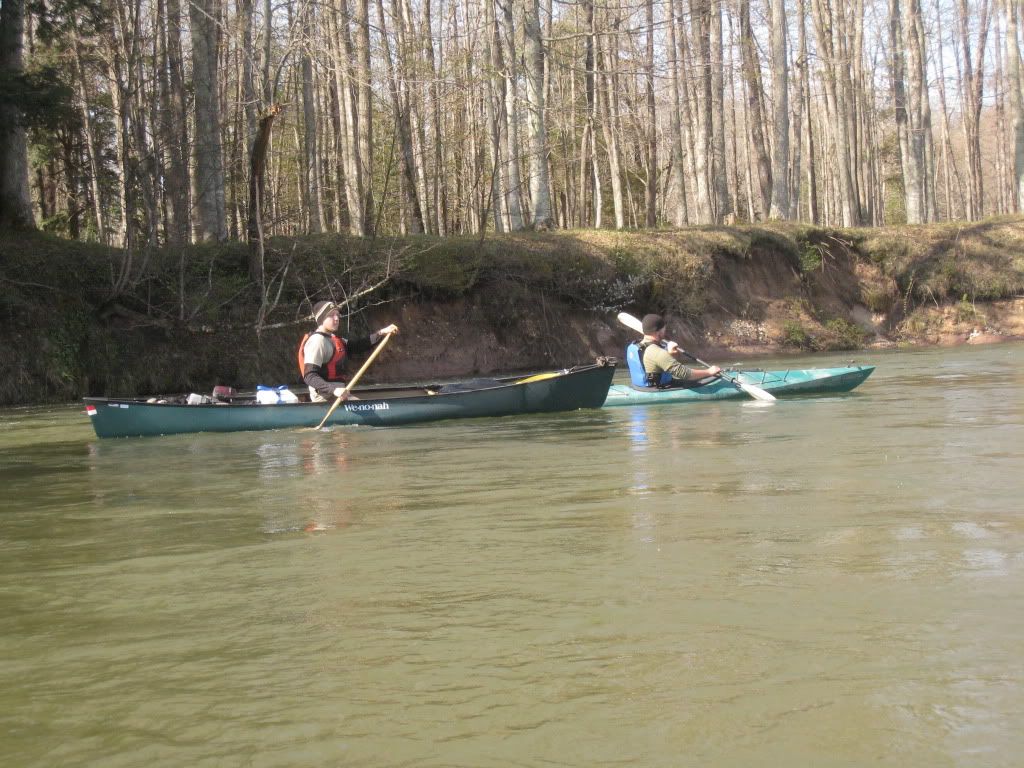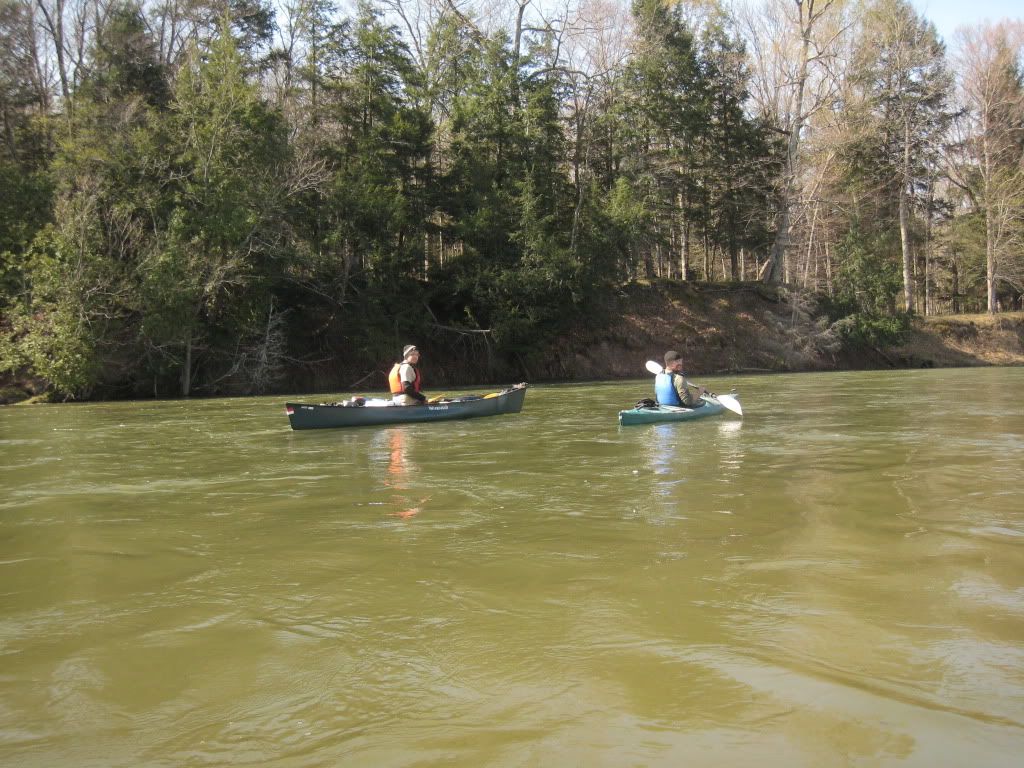 We finish our trip at Red Bridge around 12:00 and begin the three and half hour ride home.
All in all, a vary good trip. We learned a lot, after all it was all of ours first river tripping trip. Although we all agree we will never hike the Manistee River Trail again except during the off season. We figure we passed no less than 100 people. Thankfully only a couple dozen on the river. We also agree this was a good shake down trip for our next one.
Last edited: