Found this video, nice to hear comparisons of the way they sound while figuring out what to buy.
A video comparing the Storm to the Hyperwhistle:
The other thing besides sound that I consider important is size/form factor. I may have a Storm whistle in the dry box for my outboard, but I'm not going to carry one in my PFD. This pic from the Fox 40 website shows relative size of their product line: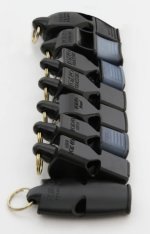 The Micro did very well in the test that Glenn posted, and I like the compact form factor. I'll be ordering a batch of Micros for our PFDs.
Last edited: