We took off early one morning for a paddle on Telegraph Creek. The access is located just east of the town of Arcadia. There is a small parking area just east of the bridge on the south side of the road. There is a sign.
Not pristine wilderness, but we spent a pleasant several hours poking around.
The banks are lined with live oaks near the start.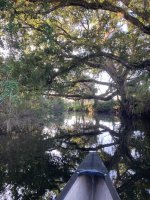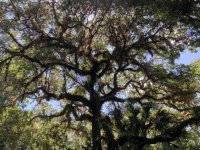 It had rained, so the resurrection fern was luxuriant. For those of you who don't know, resurrection fern is luxuriant when it rains; it is totally desiccated, curled up and brown when dry.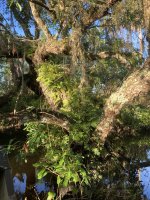 Once you get up above the scattered vacation homes, the creek becomes wilder. Here there are cypress trees and royal ferns. Cypress trees are deciduous conifers. In lay terms: pine trees that lose their needles every year in the winter.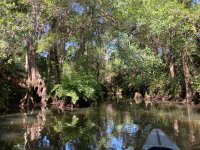 Brad did not see many fish until we got upstream of the buildings. Telegraph Creek connects to the Calusa River which connects to the Gulf. He expects there to be snook here. He may have seen some, but I don't remember. These are the ones I caught giving me fishie kisses.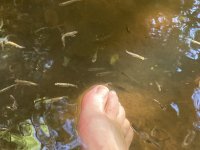 The banks were studded with coral bean, a native shrub attractive to hummingbirds.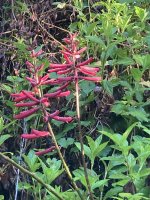 Here is a large clump of royal fern perched on cypress knees. If I had managed to get the photos in the correct order, you would have already seen the cypress knees. But since I didn't, you'll have to wait for the last photo. Sorry!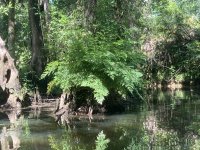 And here, we run out of water. It was quite shallow by this point anyway.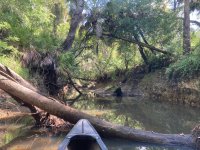 And here are the cypress knees. Brad thinks this creek may be tidal because in several places, the mud, limestone banks and knees were damp up about 2 feet from the water level. We had not had any recent rain to justify the higher water level. The growth of what I think are liverworts at the tops of the knees would also indicate a high water line.