I finally finished topcoating the 2" bias weave fiberglass tape skid plates on the Cronje with black enamel spray paint and thought it was an opportune time to look at some past skid plates and experiments.
A Vermont era RX Explorer, with kevlar felt (and I suspect urethane resin) skid plate kits. That skid plate was on the boat when I bought it and was so horribly rough that I topcoated it excess urethane resin from another kit and later spray painted it white. Still nasty, rough and unnecessarily heavy.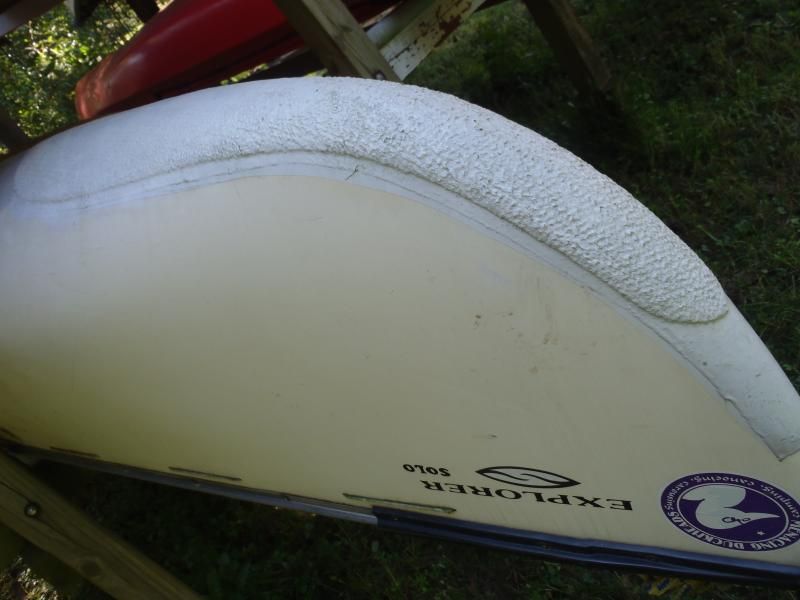 2008 RX Penobscot, again with kevlar felt and urethane epoxy, but DIY (wax paper) covered to compress the thick kevlar felt unsmoothieness. Green pigment in the resin, which didn't turn out a very matching green, later spray painted for a UV topcoat. Still heavy and thick, but at least not nasty rough.
Then some experiments.
Small Kevlar felt skid plate and urethane resin on a Freedom Solo
And a similar small kevlar felt and G/flex skid plate on the other stem of that same canoe. Not much difference in scraping and rock bashing wear and tear. Both epoxies pigmented red and spray painted red.
BTW – Most manufactured skid plate kits now seem to come with some kind of epoxy resin. Old Town kits, at least as of a few years ago, still had urethane resin (the thick, vile smelling stuff that seems superior to epoxy resin in impact and wear resistance).
Mohawk Odyssey 14. Stern skid plate kevlar felt and red tinted G/flex (spray painted red), bow just a teardrop of tinted G/flex with no cloth. I have smacked a rock or two with the bow of that clothless Odyssey. G\flex is amazing stuff.
Further experiments. 1971 Old Town Sockeye. Bow and stern with 2-layer skid plates of 1" glass atop 2" glass with epoxy resin. Untinted epoxy, but top coated with black spray paint for UV protection. Much nicer lighter and tighter conforming to the stem. I'll never use kevlar felt again, and I don't take that boat places where I'd smack a rock, so West 105/206 resin seemed sufficient.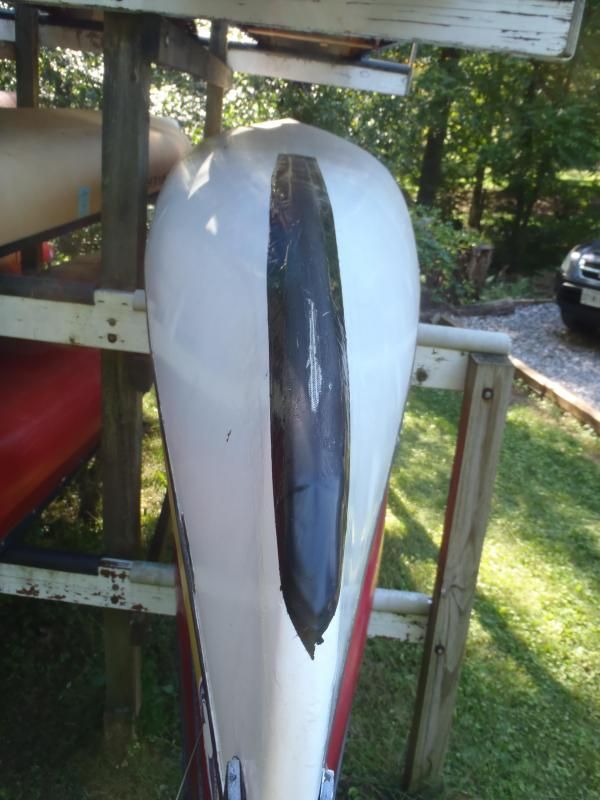 Nova Craft Cronje done right. Dynel cloth (1 layer), G/flex and West 105/206 mix, graphite powder and black pigment. Peel ply smoothed and compressed. Black spray paint topcoat on the stern.
Samesame technique on the bow, except using 2" bias woven (thick, German) fiberglass tape. I probably won't use that thick bias tape again; even though it worked and was easy enough the Dylel is easier still and wrinkled less, even with release treated peel ply smushing down the fabric.
So far the clear winner for my purposes and a combination ruggedness, durability, ease of application and weight is a single layer of Dynel with G/flex, with peel ply as a release fabric to compression/smooth out the cloth. With graphite powder, black pigment and black spray paint top coat an aesthetic option.
I know there is some question about Dynel's impact durability (it is definitely a very abrasion resistant cloth), but I have slammed the bejeepers out of rocks with dynel skid plates, as have friends with similar DIY Dynel and G/flex grunch pads, and so far so good.