Yesterday we spent a few hours on Silver River, a short river (6 miles) draining Silver Springs and then connecting with the Ocklawaha River (and eventually, on to St John's River and the Atlantic Ocean.) The river has a couple of main springs near the put in and then little springs spring up, so to speak, all along the route. Many are as much as 60 feet deep, but the water is so clear, you feel like you can reach out and touch the bottom.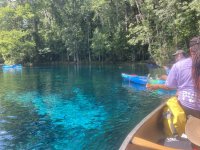 We started out about 10:30 am. It is a popular spot and various canoes, kayaks and paddleboards can be seen along the trip, although it thins out toward the last couple of miles. It looks like there is a vendor take out at about 4 miles. The put in is at Silver Springs State Park and the take out is at Ray Wayside Park, an easy shuttle of only about 3 miles. Both sites charge a few bucks for entry and/or put in.
This was the first canoe outing taken with our (now adult) former foster daughter since we were caring for her, so it was quite the occasion. We were determined to see everything Silver Springs had to offer, stopping to see every turtle and flower and fish we could see. The water is so clear, fish swimming or just hanging out were easily visible. (No fishing.) Wildlife seems to have adjusted to all the boat traffic and few make the effort to move away. Anhingas were plentiful, drying their wings or snaking through the water, and even a near-fledging young one in a small colony of three nests.
We saw Snowy Egrets, Little Blue Herons, Limpkins, Gallinules, Pileated Woodpeckers.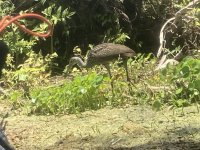 And then, there were the manatees. We saw several small groups of manatees, who also showed no particular interest in our presence. They appear almost as ghosts in the clear water, raising their noses only enough to grab a lungful of air. One displayed a fine breach, giving us a good look at his arched gray back.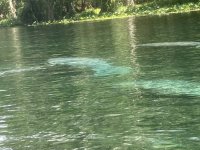 We also stopped to see every flower blooming. There were bunches of cardinal flowers in full bloom, so red they are almost garish, especially in the large clumps.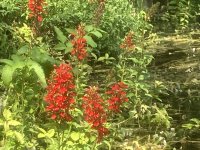 There were also hemlock, spadderdock, a tiny white-flowered water plant, and spider lilies.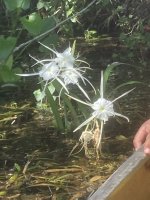 But the most unusual resident on this river are the monkeys. Silver Springs State Park is host to a resident population of several hundred rhesus macaques. According to an overheard glass bottom boat guide, the monkeys were brought to the park as a tourist attraction. The monkeys were placed on an island in the river, thinking the river would be a barrier to further movement. It wasn't. Since then they have reproduced happily and spread across much of Florida and other states and islands.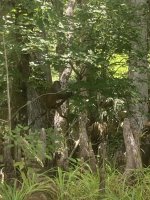 It was like National Geographic viewing the adults climbing over the cypress knees, a mother grooming her baby, another baby scampering up a log.
May, in Florida, is hot. It is definitely wide-brim hat-wearing weather for me. This trip I tried a new tactic, an umbrella. I was turned on to light weight portable umbrellas by the ultra light-weight backpacking community who have found these umbrellas the best way to stay cool when hiking through the deserts of the Southwest.
I must say, it worked wonderfully. It was much cooler than a hat.