Joined

Jan 3, 2015
Messages

1,234
Reaction score

625
Location
So with all the wet dreary weather we have had lately I haven't been too motivated to get out in the shop. I decided to do some sewing projects I'd been thinking about for a while. Last fall I bought for little money some Sunforger fabric remnants form a local sailmaker. First I made a duffle bag of a size that would permit carry on airlines. Then I made a slightly smaller one. The bigger one already has accrued air miles as my wife took it to Santa Fe to do some painting.
The real project I wanted to make was what I am calling a field bag. A shoulder bag fitted out with pockets and sized for day hikes. I found a YouTube video of someone making a 'messenger bag' that looked close to what I envisioned, based on that I sewed one up and before I had even made the shoulder strap my wife said it would be perfect for a sketching kit when she wasn't going to paint. I hadn't even finished it yet and I lost it already. The shoulder strap was then made to her specifications. I made another one for me while she was away. I changed the pockets and a few other details on the second one, it's also just a wee bit wider so it can fit the laptop if need be for a weekend visit with family. Some of her painting friends admired her bag and will probably be looking for someone to sew one up for them. Not sure I'm interested in going into production, I still have a lot to learn in the sewing trade. The best part of making something yourself is the ability to customize to fit your needs. After living and using this for a while I might make another with new modifications or size. I still want to make a Whelen tent, and a few other things.
Anybody else sew their own gear? Feel free to share it here.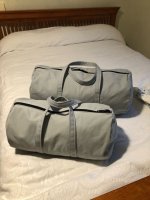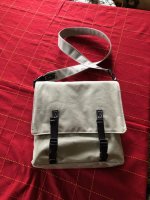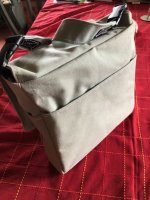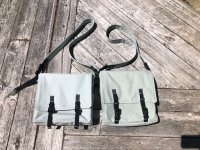 Jim