Joined

Jun 12, 2012
Messages

3,670
Location
What with the heavy snow we received yesterday, work on my friend's Old Town OCTA was put on hold down the road at Schuyler's shop, so I fired up the wood stove and went to work on a long waiting project.
This canoe is an old 15' wood canvas Chestnut Bob's. The plank on this canoe is 4 & 3/4". I have a 1970 Chestnut Bob's and it has 4" plank. I'm not sure when Chestnut stopped using 4 3/4" plank, but I have been told it indicates an older Chestnut.
The canoe has the classic rotted in-wales at the decks and my first thought was to splice in repairs. After replacing the in-wales in the Old Town OTCA under Schuyler's guidance, I feel confident I can do the same to this canoe. These are the previous owners attempt at splicing, which wasn't bad, but the canoes decks are in need of replacement also, so it proved to be a tough job for anyone. So, new decks and inwales first, after stripping the varnish.
First I need to remove the old varnish, which is what I started yesterday. I removed the seats, which luckily are in excellent condition. I finally got the shop warmed up and started stripping.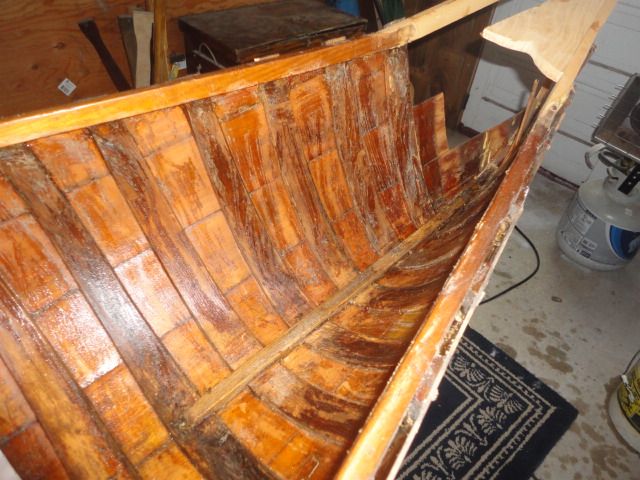 The canoe had a nice patina, but that's coming off with the stripper. The stripper was cold and really wasn't as effective as it is in the summer, but it I kept at it and made some progress.
First coat of stripper 1/3 done
Just when the shop was staring to get nice and warm, I finished the first coat of stripper. Looks like my green Chum could use some new paint....