Administrator
Staff member
Joined

Oct 24, 2012
Messages

2,862
Reaction score

1,047
Location
Seems to me that if glass is weak in the inside of the canoe that another material might be better. I get that cedar strip boats are beautiful; but would Kevlar be a better performing interior layer?
Just
considering strength, which is not the only factor in hull building and patching, you want a material with high compressive strength as the outside layer of a canoe hull, and a material with high tensile strength on the inside.
The green bars in this chart shows that S-glass followed closely by carbon have the highest relative compressive strength/weight, so that is why those two material are frequently used as the outside layers of a canoe. Carbon is lighter and stiffer than S-glass, so it is often chosen as the exterior layer to lighten and stiffen the canoe overall, but at a much higher dollar cost than glass. Kevlar is very low in compressive strength, so it is rarely put on the outside. The exception is the rare all-Kevlar hull, which might be made simply to prioritize total canoe weight as much as possible, because Kevlar is lighter than glass or carbon.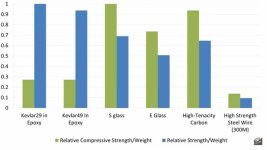 For the inside hull layer where you want tensile strength, here is a chart that shows the relative ultimate tensile strengths. S-glass is the strongest here, too, followed in a close almost-tie between Kevlar and E-glass.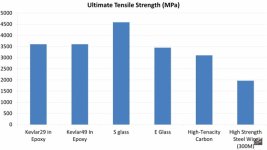 So, to build the strongest canoe, these charts would suggest S-glass on both outside and inside. And, indeed, such canoes are made. But they are heavy because fiberglass is much heavier than carbon, which is slightly heavier than Kevlar.
The blue bars on this next chart take fabric weight into account and show the relative tensile strength/weight of the fabrics. Kevlar is very commonly used as the inside layer of a composite canoe hull because its tensile strength is high and its weight is the lowest, resulting in the best tensile strength to weight ratio by a significant margin.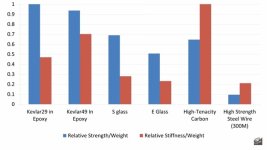 So, Woodpuppy, you are correct that Kevlar would be a very good choice for an inside patch on a hull because of its tensile strength and especially its low weight. I believe Cruiser agrees with this.
However, there are other considerations besides tensile strength, compressive strength and fabric weight. On a wood strip canoe, like Jeff's Raven, one likely would want the internal patch to be as invisible and transparent as possible so that the wood will show through. Only glass is transparent, and no one would likely want a yellow Kevlar patch on wood.
In addition, Kevlar is harder to cut, easily frays, is hard to sand, and is generally reputed to be harder to work with than fiberglass. That's why even on a canoe with a Kevlar interior an inside repair may be made with fiberglass instead of Kevlar, unless the repairer is quite experienced working with Kevlar. And perhaps unless the Kevlar patch can be closely color matched to the older, sun-darkened Kevlar hull interior—another aesthetic factor, which is a concern except maybe for banged-up dedicated whitewater canoes.
I took these charts from the video I linked in one of my posts above.