It's been a few years since I poled the canoe. Local paddling spots don't lend themselves well to poling: most are too deep or too muddy. But over the halloween weekend, I joined a group that was paddling the upper Potomac near Greenridge State Forest. I paddled that section before, and remember wishing I was poling because there are a lot of shallow rocky areas. I'd planned to go with the group which paddled Paw Paw to Bonds Landing and next day paddled Bonds to Little Orleans, striking beautiful sections where the river flows between steep ridges.
The group were mostly sea kayakers, and I knew I'd struggle to keep up with them. They were setting shuttles. Sea kayakers are not so good at figuring out shuttles. We were camped at Bonds Landing, at the end of a rough, dusty, pot-holed, stream-fording, road, which I'd just as soon avoid anyway. So, I thought I'd simplify it for them by opting out of their trip and just poling and out and back. None of the kayakers were set up to shuttle a canoe anyhow. "See you on the river," I said as they motored off.
It surprised me how excited I was to be going poling. I worked my way upstream. The river was very low with clear, 52-degree water. Air temp about 50. I love how much control standing gives me when leaning the boat. The push and the glide. The increased visibility of river features when standing. I kind of got lost looking at bottom features and fish, so much easier to see while standing. Yep, I really enjoy poling and missed it these last few years. Paddling, I think I would strike the paddle on the bottom probably half or more of the time. There were a lot of 4-6" stretches. Average was probably 1-2 feet, 30-60cm. Deep spots may have been 5 feet, 150cm. Great levels for poling. There were several Class I, ledgey sections to add a little challenge. F-U-N!
I also forgot how tired poling makes my legs. I had a few cramps overnight. Sunday I went 3.5 miles, 6k, downriver. That's a fairly modest distance but I was tired by the time I'd come back upriver, so glad I didn't go further. There were few eddies, so no resting. A kayaker said he GPS-ed the current at 2mph, though it seemed 1 - 2 to me.
I get cold hands, so was glad I brought Kinco brand Frost Breaker, thermal knit, latex coated gloves. They worked well, but the knit back of the glove isn't water proof, so I kept one end of the pole dry. Wind-milling the pole brought a cascade of water onto my hands, so I cut that out right away. I wished I'd brought a wood pole. My "Ed Hayden" aluminum pole was clanking on the rocks and they do a great job at conducting heat out of my hands, though the gloves were effective at keeping my hands warm.
On Saturday, I ended up driving five paddlers back to their vehicles at Paw Paw, so my plan to excuse myself from the shuttles was a failure. On Sunday, the same thing happened, although I only carried three people. On the Sunday trip, I was going to go with them to Little Orleans until I learned they had positioned only one vehicle at the landing. WTF, over a dozen boaters and one vehicle?
The TL's plan was for that vehicle to carry four drivers back to Bonds, then those four would go get the rest of the people. Inevitably, some boats would have to wait for the third wave for rack space So, I bailed again, then, upon my return to Bonds, I drove my vehicle to go get the paddlers who needed rides. My round trip was 1:15. I didn't mind the drive time, but I'd had enough of that road. I guess that's what I get for hanging out with sea kayakers. Nice folks, all, but they just don't get shuttles.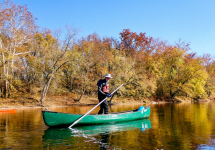 Photo by kayaker Ricardo