Joined

Jun 12, 2012
Messages

4,036
Reaction score

1,896
Location
My first wood canvas canoe. I visited Schuyler Thomson's Norfolk, Connecticut shop sometime in the 80's looking for guidance, I wanted a wood canvas canoe, a tandem but one I could solo, a user to take north. I'll never forget the smile on his face. Schuyler had restored and built many wood canvas canoes, some really beautiful canoes, but few where used for tripping. Many ended up on a rack or in a barn, used sparingly. He did restore many wood canvas canoes for Keewaydin Canoe Camp in Vermont and it was a great to see these old Chestnut Cruisers in his shop being given a new lease on life, then all loaded on a trailer come spring for another few seasons of hard use by young campers headed for far northern canoe routes.
He took me out back and uncovered an old Chestnut Pal, he said it was just the canoe I was looking for. To my inexperienced eye she looked good, just needed some paint. Ha, I had a lot to learn. I bought the canoe and part of the deal was he would let me work in his shop doing any repairs I thought it needed. Was I ever in for a surprise.
Long story short, I managed to get her seaworthy after a few new ribs, some plank and some splices to the rotted inwale tips, new canned seats, new gunnels, canvas and probably the worst paint job ever,
My first trip was an early visit to Lows Lake, NY ADKs, with my sons and my Old Town Camper,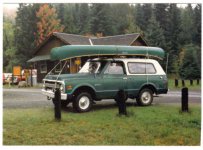 Soon I was taking her to LaVerendrye in Quebec for many trips,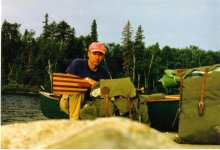 many canoe in deer camps with my wall tent too,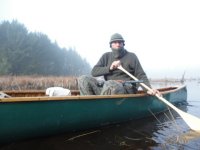 Some river trips in Quebec and Maine too,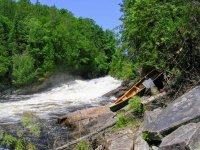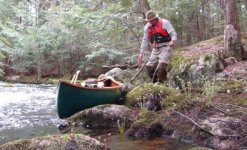 Two weeks in Woodlandand Caribou was her final trip before I started using my Chestnut Chum,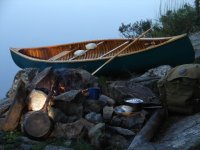 She sat on the rack for a while till I decided to give her a total makeover, replace all the old damaged ribs, new inwales too. As sometimes happens, life got in the way and she sat for more than a few years.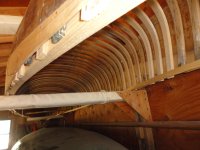 So now she sits in my small pond, I'm letting all those new ribs soak up some water before I place her on the driveway with some weighed down 2x4's to sort of smooth out the hull. She was so beat up that I had to replace a lot of ribs and some ribs just don't match the neighbor. I'm hoping to smooth things out. It's been a good canoe, I hope to do her right and have her back in "tripping" condition soon.