Joined

Jul 26, 2017
Messages

88
Reaction score

21
Location
Well...I spent almost all last year doing training hikes for the Colorado Trail. This year, I'll be spending most of the summer preparing to
bike
pack the Colorado Trail. If I've gotten my canoe out for a paddle in the last two seasons, I don't remember it. Rather than have it continue to collect dust and take up space in my garage, it's time to sell.
It's a
2017 Swift Keewaydin 15 solo with the full carbon package
that was made for me in the fall of 2017; I think it weighs 27 or 28 pounds if I remember correctly. It has been
very
lightly used and is in really good condition with no significant damage. I posted three YouTube videos of the trips I took with the canoe and
this video of my three-day solo trip in Algonquin
has garnered over 10k views.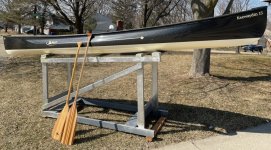 I priced this boat on Swift's website a couple days ago and a new one will cost $4,995 US plus HST. I'm selling the canoe, plus two decent paddles, a homemade custom fit pickup truck carry rack, bailer/tow-line accessory safety thing, seat pad, and two Algonquin Outfitters tied-down straps for $3,500 US. The boat's located less than an hour north of Detroit in Michigan. I have many more pictures and some video showing all the angles and details which I'll post if there's any interest.
I really would like someone who will appreciate it to buy it and use it. It really is way too nice to just sit and gather dust for another year in my garage.
Jim