Joined

Jul 25, 2012
Messages

838
Reaction score

3
Dog gone it, I really like that Wetterlings Forester's Axe but I find it just a little bit too small. So, looking around at all the options I saw that both Husquvarna and Wetterlings offer a carpenters hatchet. The carpenters hatchet is the same idea as that little foresters axe just on a slightly larger scale. Heads: forester's is 1.5 lbs. and the Husquvarna is 2.2 lbs.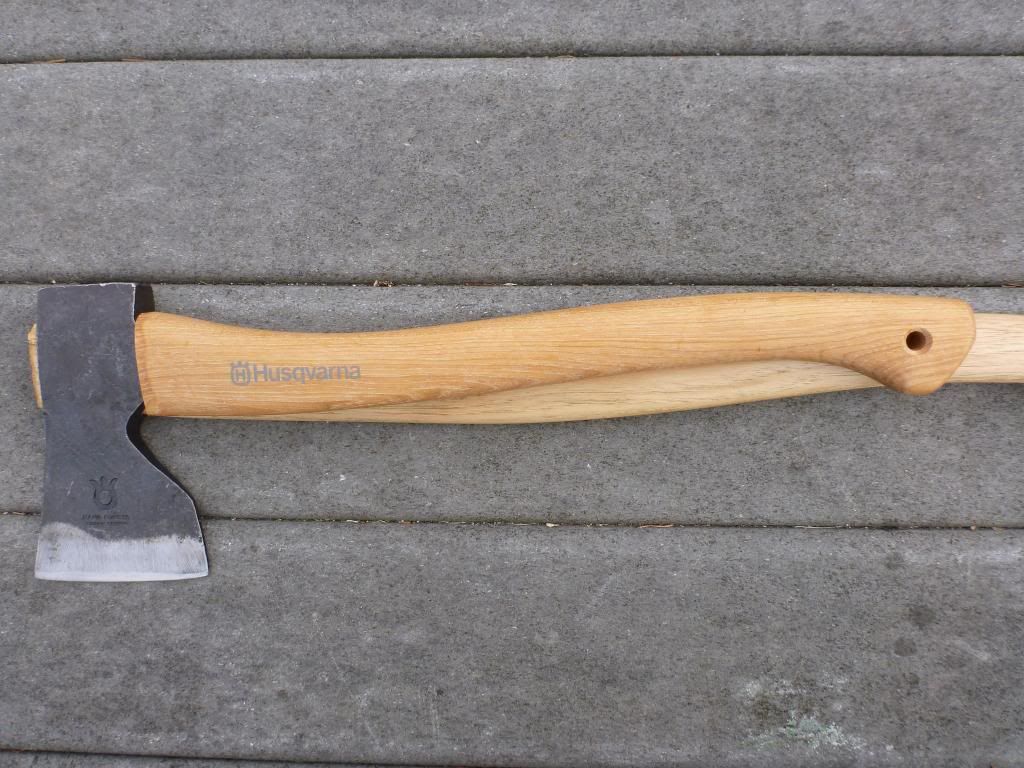 It came with a nice handle that you can see here. Now it might be swell if your name is Thor, and you've got arms like Popeye, but for the likes of me it needs a longer handle. While I was on a roll I ordered a Muller hatchet with a 1 3/4 pound head as well, just to see.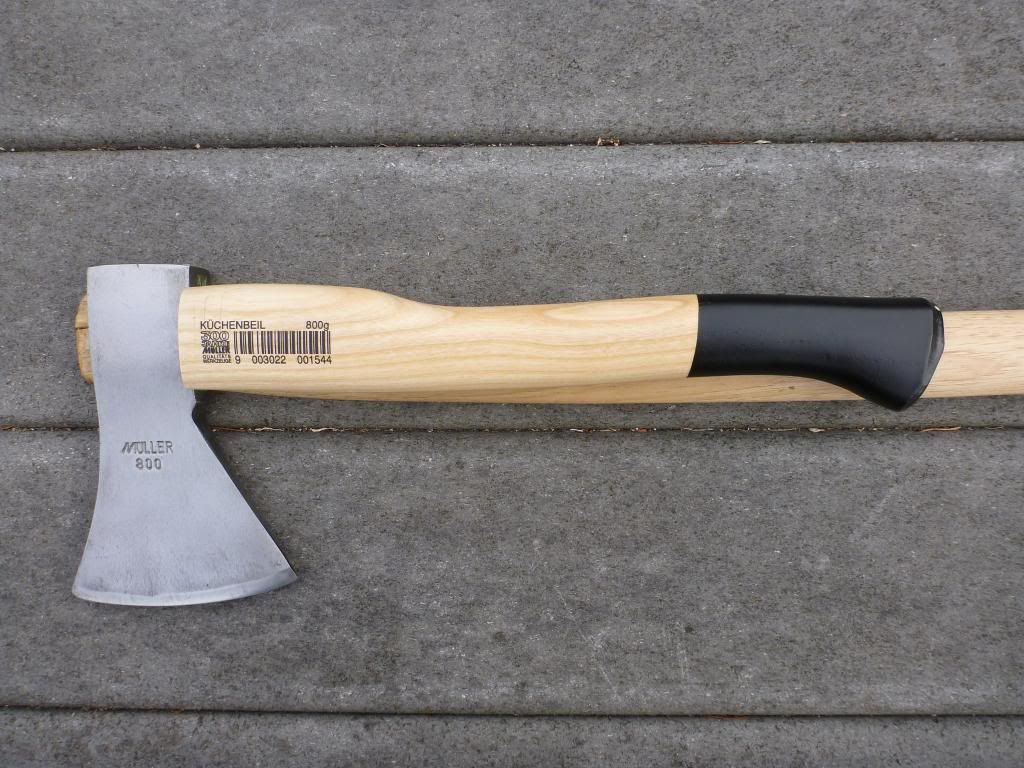 Here it is, the head had a nice green paint that I removed, I don't need any help in loosing things in the woods.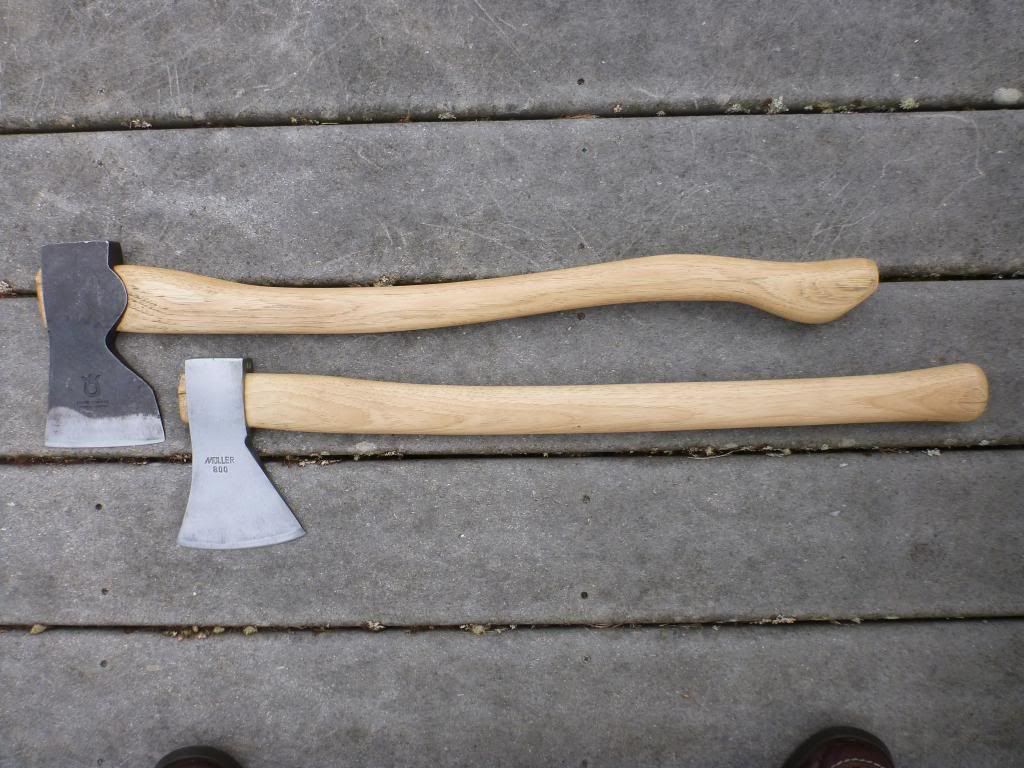 I sure enjoyed hanging these axes, a lot of careful removal and fitting. I did place the wedge down on my little anvil and drove it home buy pounding on the end of the handle and it worked slick, didn't crack the wedge at all. Looked for a slow setting glue to use on the wedge, couldn't find any, decided not to use it after all. I left the handle extended past the edge of the axe head a little bit. I think I like that way.
I had steel wedges as well and I decided to put them in too, very, very hard to drive in, probably didn't need them and they did split the part of the handle that extends above the head. I doubt the crack extends any farther.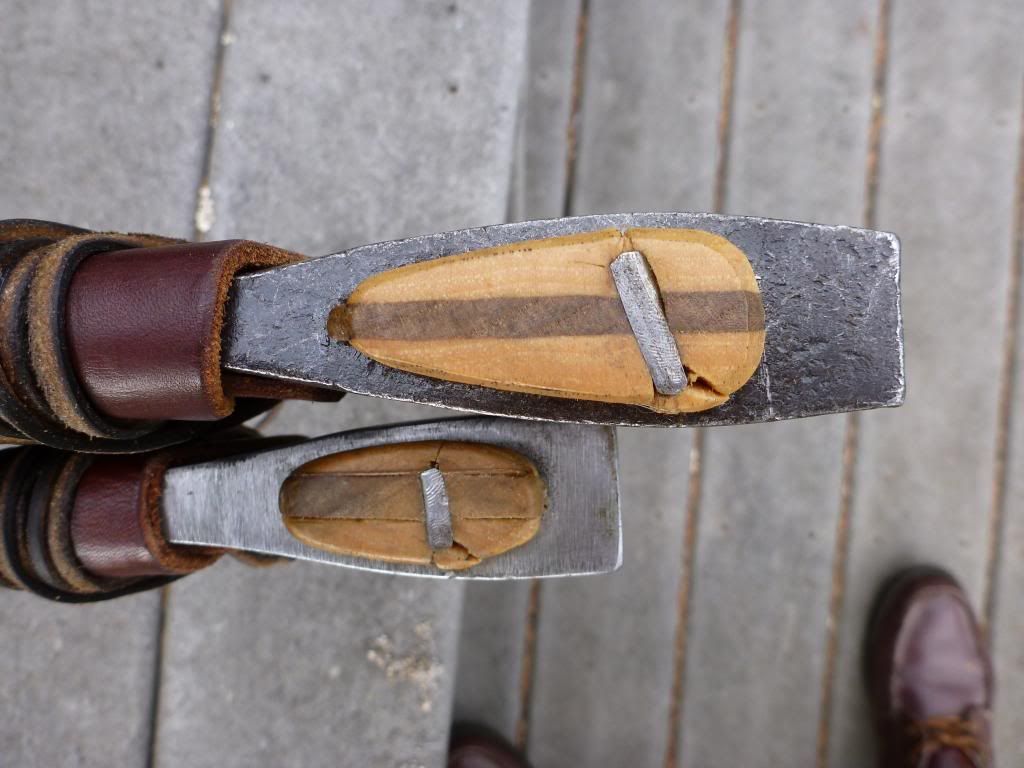 I've used them both here at home and I really like that narrow cutting blade on these axes. It's true it will get stuck more if you're splitting large chunks, but will it ever cut smooth and deep in normal chopping! I've never used a straight handle before and I really like it, it's not as pretty as the graceful curves on the other one but it seems to work better for me, I might change out that handle on the Husquvarna to a straight one.
The catalog at Traditional Woodworkers tells you right up front that the blades on the Muller hatchets are a little rough and dull; and they weren't kidding, I've seen sharper shovels! But no matter, some work with the file and it's just a dandy. For all that they are thin, both axe heads have held their edges no problem.
Now there is no way I need all these (and others) axes, but with out them I'd never discovered how much a slight difference in head weight and design and also handle length and shape can affect how the axe works for you. It seems to be a very unique thing, particular to a person's body.
Best Wishes, Rob
P.s. Happy People: A Year in the Tiaga........a movie not to miss!