Joined

Jan 3, 2015
Messages

899
Reaction score

270
Location
For quite a while I have been interested in the Mason fore box that he talks about in his book Song Of The Paddle. This spring I finally got around to making some. I did buy a cheap sheet metal brake from Harbor Freight and it did work but not great and I could have used a work around.
At first I made the middle size because it was an economical use of the material I had on hand. Then I made the bigger one which seemed to be a better size, but made in steel it weighs about 4 1/4 pounds.. next I made the little one out of aluminum and it weighs a mere 1/2 pound. I did a burn in the aluminum and it held up fine at least once. Aluminum melts around 1200 degrees so keep that in mind.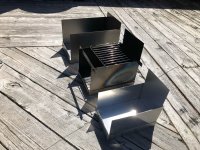 Finally I made another one of the bigger box out of some titanium that I had. That stuff is tough I cut it with a jigsaw but used up a couple blades. Folding in the brake was how I started but the brake flexed (I did mention it was cheap) and in the end I had to finish the bends with a dead blow hammer because of the spring back. Here is a pick of the pieces, all the bends are 90° So nothing really complicated.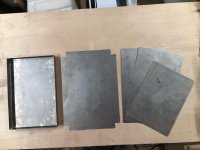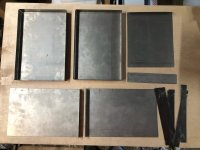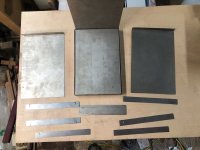 The first one I made I used a rack from a toaster oven to support the pots but the sides warped some in the heat so on the titanium one I made interlocking cross bars. They are light, pack flatter, and give great support to the pots and sides.
The last couple pics are of the titanium and that box weighs only 2 1/4 pounds. This is a step up from a twig stove for sure.
Here is the box in action. With a big pot of water boiling. The bottom of the box only gets warm so I can put it on stump and sit in a chair.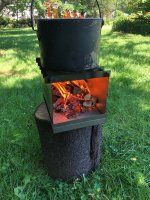 Things I like over my twig stove bigger wood so not the constant feeding the fire. Load the wood from the side. With a pot on top there is quite a draft going into the box. I find no need for other air holes and that reduces the chance of sparks or ember escaping where I might not see them. Plus a frying pan handle can hang over the side and not get unduly hot or sooty.
More of the musings in the next post.
Jim