Joined

Feb 14, 2020
Messages

546
Reaction score

346
Location
Last March I picked up this well used Kevlar TW Special from Paddlin Hal (great guy- was a pleasure to meet him). I don't expect it to win any best in show awards, but I would like to get it in usable shape for a couple trips later this year. I have done a fair amount of fiberglass work over the years, but do not have any experience working on such a light layup. For those experienced in such things, I would appreciate any lessons learned or approaches to similar issues that have worked for you. The main issues I see are some hogging, chips and cracks in the gel coat, the v-shape keel line has lost some of it's shape, and a bit of flex (not bad) in the middle.
My planned approach is to put the gunnels and center thwart in first to add some rigidity to the sheer line, squeeze the sides to the correct width, and give something to brace the bottom vertically from the inside with some temporary horizontal pieces to push the bottom into shape with a v-shape board running the length of the keel. After the keel line is pushed back my plan is to sand the skid plates down/off, fill any chips and exposed Kevlar in those areas with thickened epoxy and to glass 6" 6oz fiberglass tape down the keel line. I am hoping that will retain the proper shape. On the inside I would patch any holes with epoxy and fiberglass tape, fair previous patching/reinforcement, and glass a 4oz football shaped cloth in the middle to help with the flex. On the outside I will fill any chips, holes, cracks with thickened epoxy and roll the entire outside with epoxy and finally paint.
I am not certain what I will do for decks. I really don't care for the plastic screw on top the gunnel look. I may just screw in traditional wood decks or glass the top of the foam. I am open to suggestions.
Does this approach seem reasonable? Any suggestions on types of cloth/tape? Where is the best place to get a 5 gallon drum of resin...? Joking. And just for Mike, I will weigh it before and after.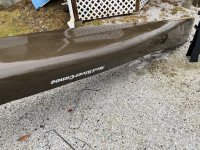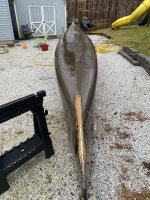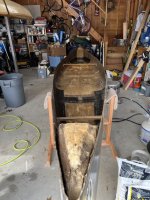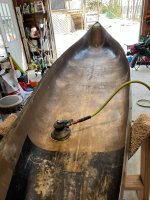 Bob