Joined

May 24, 2013
Messages

186
Reaction score

56
Location
Well, I finally got out with a couple of friends for some fresh air. The destination was Lobster Lake, west of Katahdin and east of Northeast Carry. Since it was after Labor Day, we expected to have the whole lake to ourselves, but sadly that was not the case. Most of the campsites were spoken for. There was also a great deal of seaplane activity and some fly in campers.
We took the 20 foot, Chestnut Canoe Company, Ogilvy "Pool" model. It has a wine glass transom that we mounted a 3HP kicker on. This served us very well in the wind and the chop.
I tried out a backpacking tent that I bought pre-Covid and hadn't got around to trying. It rained hard all night the first night and Sadie dog and I were as snug as two bugs in a rug. I can't say as much for the lack of performance of a new Sawyer Squeeze water filter. I have to play with it more, but I had to rely on the filters brought by the team. Very disappointing to say the least.
All in all, a good trip. The leaves are just starting to change. It won't be long until snow flies. Get out while you can!
The Chestnut Canoe Company, Ogilvy, 20 foot, "Pool" we restored a few years ago.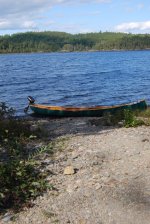 Sadie dog enjoying a boat ride in the Maine sun.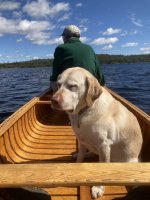 View of Katahdin and points east from the summit of Lobster Mountain.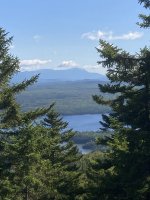 A view of Big Spencer Mountain to the south. A big body of rhyolite that sticks up like a sore thumb.