Joined

Sep 9, 2020
Messages

52
Reaction score

11
Location
My fist canoe and camping trip is now complete. Lake Lila was as beautiful as promised by many here. Beautiful fall colors and overall decent weather made for an enjoyable four days.
Thursday was all travel and set up. We arrived at the parking area around noon. The road in was easily passable with only a few potholes and rough spots. The portage trail was much more difficult but still entirely passable. The volume of gear did add quite a bit of work for us, as we had to make three trips back and forth from the parking lot to the launch. Twice. Our plan was to camp, fish, hunt and hike and each of those activities added to our list of items to carry. Added to that was our decision to camp at the furthest campsite, #10, known as the Old Lodge Site. Our fist trip across the lake had a wind in our face and rolling waves with a few small whitecaps and took an hour and twenty minutes. After finding our campsite and dropping off our gear, we headed back to the launch to get another boatload.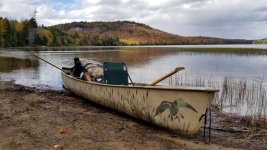 Our second trip took one hour back to the launch, an hour to reload, and then another hour back to the campsite. Again, we battled wind and waves and a full canoe. No question, we need to reconsider our gear situation.
Friday's weather looked rainy and changeable, so we decided to stay close to camp and fish. We paddled out to a nearby island and my friend caught a nice bass on his first cast. I was not far behind and within an hour of fishing we landed several fish. We kept two for breakfast.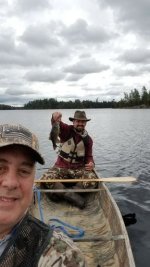 It rained off and on the rest of the day so we went back to camp and finished setting up. We saw a beautiful double rainbow!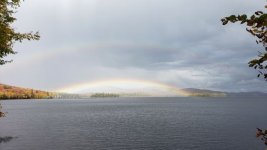 Saturday was a hunting day. We walked the main trail to Mt Frederich and went past the turn up the hill to our hunting grounds. I sat while my friend slowly stalked and still hunted. He bumped two deer at one point, but never had a shot at them. I saw nothing except a grouse that came within 15 feet of me. It rained off and on all day, sometimes heavy downpours. Finally at 4pm, we started to head back to camp.
​​​​​We had a nice dinner along with a campfire, cigars and bourbon.
Sunday morning we decided to hunt closer to camp so we climbed to the top of Camp Hill. We both sat for almost two hours and decided it was too nice a day to sit in the woods. We headed back to camp, had breakfast and decided to climb to the top of Mt. Frederich. Amazing views and colors!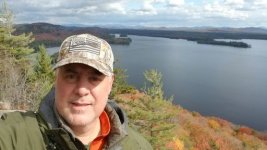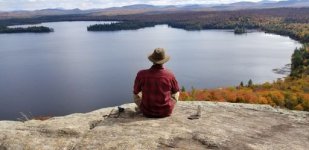 We were back at camp by 3pm, so we decided to fish again. We both caught a couple of bass, but wanted to try to catch a lake trout. No luck however, and having never fished for them, no surprise.
Monday was bug out day and we packed up in about an hour. The wind and lake were calm, and we wanted to bring everything back in one trip. Instead of a straight shot back to the launch, we stayed within 50 feet of the northern shore. The trip back took an hour and a half, by noon we were packed up in the car and heading home.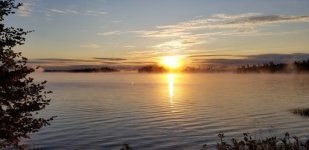 This trip was my 3rd, 4th, 5th and 6th night sleeping in a tent. The new Wiggy's 0 degree bag was very comfortable and warm. I was well stocked with warm and layered clothes, and my friend had all the camping gear in line, We have already talked about next year and hope we can arrange for as nice a trip as this one.